Made for Each Other – a Valentine's Day Note about Approved Respirator Configurations
Posted on

by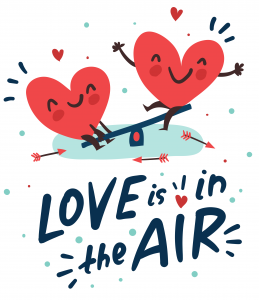 It's Valentine's day, which means that NIOSH has some relationship advice for you … and your respirator. Have you ever become infatuated with thinking about your compatibility in a relationship – inspecting and examining every detail? Yeah. We do that too. In fact, NIOSH evaluates every respirator assembly configuration to determine that the performance requirements are met to ensure reliability. Much like when you bring your new "special someone" home to meet your parents, we must approve the relationship.
Labels – Letting the world know that you belong together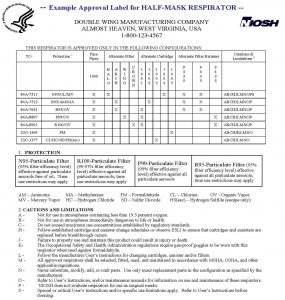 Ah labels – they can be tricky. How should you introduce your significant other? Are you official? While you might be personally spending this Valentine's day trying to figure out the label on your own relationship, NIOSH will at least make sure your respirator label is straight forward. It's important to understand if the components of the respirator that you are using make an official NIOSH-approved assembly. That's why NIOSH issues approval labels for every respirator assembly as a whole and not for each individual part of the respirator. These labels indicate the compatibility of each component within the greater assembly. It's downright romantic.
Approval labels also contain information to assist users in understanding the respirator, its protections, and its cautions and limitations of use. NIOSH approval labels, when used in conjunction with the respirator user instructions, provide essential information about safe and appropriate use of the respirator. Please note that there are abbreviated labels that also come with your respirator, however these labels do not identify the approved respirator's complete configuration of components. For this, you want to look for the "full" label, which must be provided with the respirator facepiece and with each air-purifying component.
Using a component that is not listed on the full NIOSH approval label means that you are no longer using a NIOSH-approved configuration. This could cause serious injury to the wearer.
The NIOSH Certified Equipment List
How does one even find the right respirator in this day and age? Think of the NIOSH Certified Equipment List (CEL) like an online dating site to match you with your perfect respirator. This tool helps users, safety managers, industrial hygienists, and others to:
Determine if the respirator they are currently using or considering using is NIOSH-approved,
Select the appropriate respirator to protect against the hazard(s) they are exposed to,
Learn what respirators are designed to provide protection from chemical, biological, radiological, and nuclear agents, and how to locate the correct replacement component parts.
When searching the CEL, look for the respirator's TC number. This is the official NIOSH approval number. The search engine will also include the manufacturer name and product line/model numbers to help you determine the components included in the configuration under this approval number.
The CEL is regularly updated. We let you know when a respirator's status changes – as in whether it's still considered approved or if it has become obsolete. (And no, "it's complicated" is not a third option in this case.)
At the end of the day, it's all about compatibility. As tempting as it is to assume that all the components are a perfect match, such assumptions can leave you disappointed with the performance of the assembled respirator. It's important to ensure that the respirator assembly you are using, or providing for your employees, is NIOSH-approved.
Jaclyn Krah Cichowicz, MA, is a Health Communications Specialist in the NIOSH National Personal Protective Technology Laboratory.
Posted on

by
---
Page last reviewed:
November 14, 2022
Page last updated:
November 14, 2022