Occupational Exposure Banding and Workplace Chemicals
Posted on

by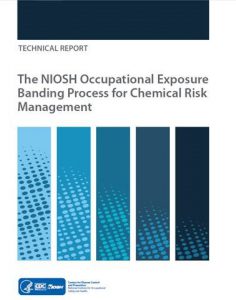 For workers in a variety of industries, exposure to chemicals is commonplace. American workers handle, transport, or encounter thousands of chemicals every day, from cleaning products to industrial solvents. Although many of these chemicals have important uses, they can also be harmful to workers who are exposed to them.
Occupational exposure limits (OELs) are developed for hazardous chemicals to reduce the risk of adverse health effects for workers with potential exposures. Unfortunately, of the more than 85,000 chemicals manufactured, processed, or imported in the United States, only about 1,000 have an OEL. Likewise, the rate at which new chemicals are introduced into commerce significantly outpaces the rate at which new OELs are established. As a result, workers may not be adequately protected from many chemical exposures. To address this problem, NIOSH recently released a report on occupational exposure banding as a tool to assess chemical hazards in the workplace.
Occupational exposure banding is a voluntary process used to evaluate chemicals that have not been assigned an OEL. Users of the NIOSH occupational exposure banding process follow a detailed methodology to assign chemicals to one of five occupational exposure bands (OEBs). Intended users include public health agencies, practicing occupational health and safety professionals, employers, trade associations, labor organizations, and state-level programs who may share an interest in protecting workers from occupational exposures, in­juries, and illnesses.
Banding assignments reflect the potency of the chemical and the nature of the health effects associated with exposure. OEBs range from band A (least potent/reversible health effects) to band E (most potent/serious or irreversible health effects). Each OEB is associated with a range of exposure concentrations that can be used to target occupational control strategies.
The NIOSH occupational exposure banding technical report lays out detailed instructions for assigning OEBs. Users collect easy-to-access hazard data from several publicly accessible databases. Qualitative and quantitative data are then compared to the NIOSH occupational exposure banding criteria to determine the appropriate band. The guidance provides enough detail for users to calculate OEBs by hand, but the process can be partially automated through the accompanying Occupational Exposure Banding e-Tool.
The e-Tool serves as a supplementary application that provides users with an automated means of linking to publicly available databases, collecting toxicological data, and calculating the OEB. Stakeholders and experts provided feedback to help NIOSH develop the banding strategy and e-Tool as a way to use knowledge about toxicology and risk assessment to inform risk management decisions.
NIOSH recognizes the need for updated, accurate, authoritative OELs for workplace chemicals. However, for the thousands of chemicals that have yet to be assigned an OEL, NIOSH believes that occupational exposure banding is a practical tool to guide risk management. To learn more, please visit the NIOSH Occupational Exposure Banding webpage.  NIOSH would welcome feedback and suggestions from those who have used the occupational exposure banding process and the e-Tool.
Melissa Seaton, MS, is an Industrial Hygienist in the Science Application Branch in the NIOSH Division of Science Integration.
Thomas J. Lentz, PhD, is Chief of the Science Application Branch in the NIOSH Division of Science Integration.
Posted on

by
---
Page last reviewed:
October 24, 2019
Page last updated:
October 24, 2019