NIOSH Launches Respiratory Protection Week in Celebration of 100 Years of Respiratory Protection
Posted on

by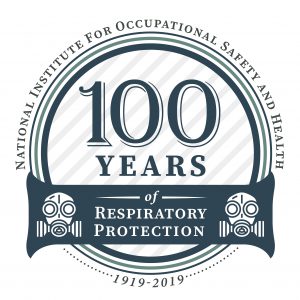 September is here, and we NIOSH employees have put away our Labor Day picnics to get back to the work of protecting the American labor force…. And, of course, celebrating N95 Day! Right?
Yes and no. You see, this year is special. This year marks an important anniversary in the history of respiratory protection. One century ago, the U.S. Bureau of Mines initiated the first respirator certification program in the United States. Today, the NIOSH National Personal Protective Technology Laboratory (NPPTL) carries out those evaluation and testing duties in order to protect workers who rely on personal protective equipment (PPE). Therefore, as we recognize this important milestone, we are also using this event as an opportunity to expand N95 Day into an annual observance that will include all types of NIOSH-approved respirators.
Welcome to the first Respiratory Protection Week, September 3-6, 2019!
As we celebrate 100 Years of Respiratory Protection, this first Respiratory Protection Week will specifically highlight information pertaining to the rich history and exciting future of respiratory protection. Amidst our reminiscing about the past and looking to the future, this observance will be chalked full of tools and tips for the "right now" of respiratory protection from both NIOSH and the dozens of partners who have pledged to recognize and spread the word about this special observance.
Where to begin?
Be sure to check out our Respiratory Protection Week landing page, where you can find links to new NIOSH products, webinar registration, and general event happenings. Specifically, we want to encourage workers in fields of firefighting and healthcare to check out this year's two webinars. We are offering a webinar on September 3 to discuss Respiratory Protection Advancements and Potential Options for Firefighters. For our healthcare audience, on September 5, NIOSH is teaming up with presenters from the Association of periOperative Registered Nurses (AORN) and the Association of Occupational Health Professionals in Healthcare (AOHP) for a webinar to discuss the current state of knowledge of PAPRs in Healthcare: Facing Challenges using the Current State of Knowledge.
Late to the game?
Perhaps you didn't catch this article in time to register and attend one of the webinars above. Don't worry, a link will be available after the observance on the Respiratory Protection Week landing page.
As we honor the history of respiratory protection, we also want to look to the future. We are hosting a virtual poster session, highlighting some of own, and our partners, research efforts. You can read the poster abstracts and click to watch short presentations on each poster, which will be available all week (and beyond!).
A look at the history
Respiratory protection has a surprisingly long, complex history. We did our best to offer the highlights of that history on our new History of Respiratory Protection webpage. This page is a must-read for all history buffs who also have a professional relationship with respiratory protection.
A little bit of everything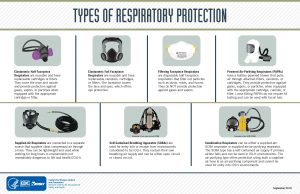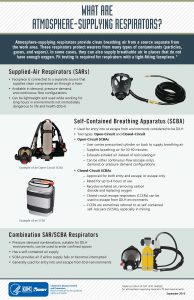 This year we truly do try to cover a little bit of everything, whether you are interested in the complexities of Respirator Fit Capability Test in Enhancing the Efficacy of Filtering Facepiece   (See this month's web edition of the Synergist!) or are just trying to answer some basic questions … like what even are all the different types of respirators? We hope that you will find information to help make your daily work life, or that of your employees, a little bit safer.
In addition to the observance landing page, you will find information sources via social media, using #100yrsRespirators on Twitter, Facebook, and Instagram. We invite you to join to conversation, pass on valuable information, and have a little bit of fun with us along the way!
Jaclyn Krah Cichowicz, MA, is a Health Communications Specialist in the NIOSH National Personal Protective Technology Laboratory.
Posted on

by
---
Page last reviewed:
September 3, 2019
Page last updated:
September 3, 2019