Low Back Pain among Workers: The Problem and What to Do About It
Posted on

by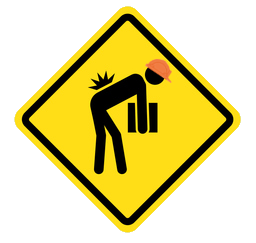 Are you a worker who is experiencing low back pain?  You aren't alone! A recently published article from NIOSH reports that more than 1 in 4 (26%) working adults experience low back pain.
Some groups of workers have more pain than others. For example, workers in construction occupations are more likely to experience low back pain than those in other occupations. And, workers 45-64 years old have more pain than younger workers.
The findings, laid out in the Annals of Internal Medicine, explore data from the National Health Interview Survey and highlight the need to prevent low back pain- a condition affecting almost 40 million U.S. workers.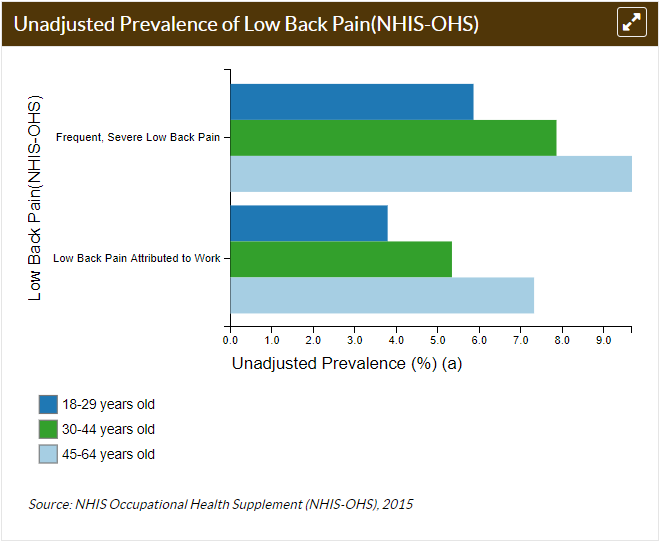 More about the problem:
Of all workers with back pain, 20% were told by a health professional that their pain was work-related.  This is likely an underrepresentation of work-relatedness as the majority of workers did not discuss with their healthcare provider whether their pain might be work-related at all.
If work factors are not considered, occasional low back pain can develop into a more serious problem. Physical job demands, poor supervisory support and job dissatisfaction may contribute to back pain, and an early diagnosis and intervention can be key to a full recovery.
Regardless of cause, low back pain can affect a person's ability to perform work tasks. Between 6 and 10% of workers stopped working, changed jobs, or made a major change in work activities because of their low back pain.
What can be done?
Addressing workplace factors that contribute to low back pain can potentially reduce symptoms and prevent worsening. But best of all, addressing low back pain as part of a workplace prevention strategy can prevent additional workers from developing pain in the first place.
Have you ever heard the phrase "an ounce of prevention is worth a pound of cure"? Well, NIOSH has a webpage for exactly this. Check out these resources on preventing musculoskeletal disorders among workers to learn more about how workplaces can help prevent or reduce back pain among workers.
We'd like to hear from you!
What are some ways your workplace prevents or addresses low back pain? Leave a comment below!
Kristen Iker, MPH, is a health communication specialist in the World Trade Center Health Program and a former ORISE Fellow in the NIOSH Division of Field Studies and Engineering. 
CAPT Sara E. Luckhaupt, MD, MPH, is a Team Leader in the NIOSH Division of Field Studies and Engineering.
Posted on

by
---
Page last reviewed:
July 8, 2019
Page last updated:
July 8, 2019