AI and Workers' Comp
Posted on

by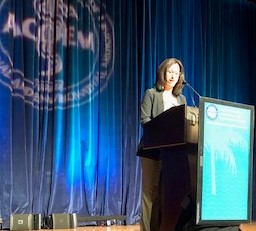 The Journal of Occupational and Environmental Medicine just awarded the article "Applying Machine Learning to Workers' Compensation Data to Identify Industry-Specific Ergonomic and Safety Prevention Priorities, Ohio, 2001 to 2011" with an Adolph G. Kammer Merit in Authorship Award for the best article published in their journal last year.
The article details how researchers used artificial intelligence (AI) or machine learning methods to successfully auto-code over 1 million workers compensation claims. Essentially, researchers "taught" a computer to use an extensive and complicated data set to answer the research question "What caused this injury?"
Researchers from the National Institute for Occupational Safety and Health (NIOSH) together with colleagues from the Ohio Bureau of Workers' Compensation (OHBWC) used auto-coding to determine the cause of 1.2 million workers' compensation claims. The claims were placed into one of three, broad categories: (1) ergonomic related; (2) slips, trips, and falls; and (3) all other categories combined. The number of records auto-coded in this study surpasses other similar studies. What took the revised computer program less than 3 hours to finish would have taken 4.5 years to manually code at an average manual coding rate of 2.2 claims per minute.
With this success, researchers were able to create another major causation-specific U.S. occupational injury surveillance system. Previously, there were only a few such systems, including the Bureau of Labor Statistics (BLS) Survey of Occupational Injuries and Illnesses (SOII) and the Safety and Health Assessment and Research for Prevention Program of the Washington State Department of Labor and Industries (W-L&I). Having another source of surveillance data for Ohio is a valuable resource which allows researchers to analyze data from multiple sources to find common patterns of risk among specific industries.
The results are already being used to prioritize prevention and research efforts by industry using ergonomic or slips, trips and falls intervention strategies. The research prioritized 267 industry groups by cause of injury for both lost-time claims and total claims. Additionally, using these data, NIOSH has prioritized NIOSH-funded research to a greater degree of precision, which can maximize impact. The data were also recently visualized in a dashboard that was published online to improve access and encourage further exploration. Additional data through 2015 will be added next month.
The workers' compensation system provides medical treatment for workplace injuries or illnesses and compensates injured workers for a portion of their lost wages. The data collected through this system can also provide valuable information on how to prevent the injury from occurring in the first place by identifying the cause. The use of auto-coding to explore these and other databases makes them infinitely more valuable as an occupational injury and illness surveillance tool. Other state bureaus or insurers may be able to use similar methods. If you are interested in working with NIOSH please contact the NIOSH Center for Workers' Compensation Studies at cwcs@cdc.gov. The center is constantly improving auto-coding capabilities and actively working with partners towards auto-coding external cause into more detailed categories.
Alysha R. Meyers, PhD, CPE, is an epidemiologist in the NIOSH Division of Surveillance, Hazard Evaluations, and Field Studies
Posted on

by
---
Page last reviewed:
August 22, 2019
Page last updated:
August 22, 2019