National Engineers Week
Posted on

by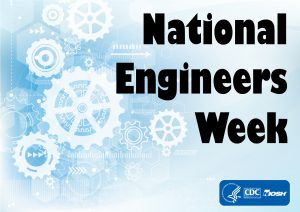 This week is National Engineers Week which is dedicated to ensuring a diverse and well-educated future engineering workforce by increasing understanding of and interest in engineering and technology careers. The National Institute for Occupational Safety and Health (NIOSH) employs over 200 engineers and engineering technicians who identify, evaluate, develop, and implement engineering control technology to prevent occupational disease and injury. NIOSH engineers cover various disciplines including: biomedical, civil, chemical, computer, electrical, environmental, industrial, mechanical, mining, and safety engineering. Engineers are an important part of public health efforts. Many of the solutions developed by NIOSH engineers are adopted by industry, saving the lives and improving the health of American workers. This blog features a sample of NIOSH products and research created by our engineers to improve workplace safety and health.
The NIOSH Engineering Controls Core and Specialty Program seeks to protect workers through engineering interventions that can be used to eliminate or more safely work around hazards. Engineering controls reduce the burden of occupational injury and illness for workers in every sector of the economy. Engineering controls protect workers by removing or reducing physical, chemical, and biological hazards or by isolating the worker from the hazard. Well-designed engineering controls can be highly effective in protecting workers. Examples of recent engineering controls developed, recommended or evaluated by NIOSH include:
Engineering solutions go beyond engineering exposure controls. Examples of other NIOSH engineering successes follow.
Boom Lift Hazard Recognition Simulator
Aerial lifts are powered and mobile platforms that are used for elevating workers to various heights, which expose workers to fall hazards. Training is necessary for anyone using aerial work platforms and equipment. To create awareness about common workplace hazards when using aerial lifts, NIOSH engineers developed the Aerial Lift Hazard Recognition Simulator. The Simulator, available at no cost, provides a realistic workplace with multiple, dangerous hazard types that users must navigate. Experienced aerial lift operators can refresh their knowledge, and new operators can familiarize themselves with hazards they may encounter on the job. Using the Simulator is not a substitute for required training to operate an aerial lift, but it is a great training tool where workers can learn from their mistakes in a safe environment.
Ambulance Safety
Ambulance crashes are a major safety concern for Emergency Medical Services (EMS) workers and their patients. NIOSH engineers and the Department of Homeland Security's Science and Technology Directorate partnered with other federal agencies and the ambulance manufacturing industry to conduct front, side, and rear ambulance crash tests to reduce and eliminate crash-related injuries and deaths to EMS workers in the patient compartment. These dynamic crash tests contributed to the development of 10 new crash test methods published by the Society of Automotive Engineers (SAE). You can learn more about these test methods and the many changes impacting ambulance design, testing, and manufacture in this video series.
Continuous Personal Dust Monitor (CPDM)
Until recently, underground coal miners and mine operators had little way of knowing—in real time—if miners were being exposed to hazardous levels of respirable coal dust during their shifts. NIOSH engineers collaborated with an instrument manufacturer, government partners, labor representatives, and coal industry leaders to develop the continuous personal dust monitor (CPDM), a technology that offers miners, safety personnel, and operators real-time exposure information to help protect miners' health. Throughout their shifts, miners can read the digital screen on the CPDM to see their dust exposure levels for the previous 30 minutes, as well as their cumulative shift-long average. Workers and management can use this information to adjust dust controls or determine corrective actions—such as improved ventilation or repositioning miners to locations with less dust. The data recorded by the CPDM can also be uploaded to the Mine Safety and Health Administration sample collection database for determining compliance with allowable respirable dust limits.
Reducing Vibration
Bus drivers are vulnerable to health risks as their job requires long hours sitting while absorbing vehicle vibrations from roads and highways that are transferred through the floor of the vehicle or seat into the driver's legs and spine. NIOSH engineers set out to determine the contribution of bus type on whole body vibration.  Two different buses, a high-floor bus mainly used for longer commuter routes and a low-floor bus were driven to examine performance differences.  Both buses were driven on a standardized route which included four road types to represent typical terrain for bus drivers. Engineers analyzed floor vibration and whole body vibration exposure by road type. In both buses, whole body vibration exposure was greatest on roads with speed bumps and lowest on smooth freeway. The high-floor bus had less whole body vibration exposure on freeways and city streets but greater whole body vibration exposure on roads with speed bumps. The brand new air-suspension seat installed on each bus only reduced 10% of the floor vibration in both buses. Engineers recommend assigning buses to the appropriate routes. On routes that contain speed bumps operate a low-floor bus.  Either bus would be appropriate on freeways and city streets.
Fishing Safety: E-Stop for Capstan Winches
NIOSH researchers and engineers worked with salmon purse seine fishermen (who use large capstan winches to haul their nets back onboard) on the design and testing of an emergency stop (e-stop) switch that stops the capstan deck winch if someone becomes entangled. The e-stop system allows the winch to be stopped by a worker, even if the worker is caught in the winch. The system was successfully tested on vessels during the 2005-2007 fishing seasons and is now commercially available as a retrofit-kit from Kolstrand Marine. For more details refer to the article "Reducing Commercial Fishing Deck Hazards with Engineering Solutions for Winch Design." In 2018, NIOSH released a Fishing Safety Success Story video highlighting the use of an E-Stop to prevent a winch entanglement injury onboard a salmon fishing vessel in Alaska. The video includes interviews with the vessel owner and skipper and highlights the role the E-Stop played in preventing an injury to his crewmember. Click here for more examples of engineering successes in the fishing industry.
Respirator Approval
Engineers are integral to the NIOSH program to test and approve respiratory protective equipment. The lives of workers in many industries such as healthcare, agriculture, mining, and emergency response depend on the reliable performance of their respirators. NIOSH engineers design and conduct tests on commercially available respirators to assure they meet minimum criteria of design suitability, quality assurance, and laboratory performance to earn their NIOSH approval certificate. Read more on a related blog.
Controlling Silica during Hydraulic Fracturing
During hydraulic fracturing, more than a million pounds of sand may be delivered, handled and pumped deep underground to retrieve oil and gas. Dust from this "frac sand" contains large amounts of respirable crystalline silica (RCS). With the help of industry partners, NIOSH engineers developed and evaluated an engineering control for "frac sand" dust released from thief hatches on sand moving equipment. This control, called the NIOSH mini-baghouse retrofit assembly (NMBRA) is an inexpensive, portable system with no moving parts, which can be installed on a sand mover in the field. The NMBRA has shown excellent efficiency in filtering RCS from the air, and is ready for field testing. 
There's an App for That
Our engineers have designed and created apps as a way to translate their research into user friendly tools that can reach wide audiences. See the examples below.
Recognizing that set-up angle is a significant risk factor for falls, NIOSH engineers designed the Ladder Safety app. The app has an angle of inclination indicator which uses visual and audible signals making it easier for workers and other users to set an extension ladder at the proper angle of 75.5 degrees. The app can help workers prevent falls and is also a tool for employers who want to ensure a safe workplace. The app is available through the NIOSH website, the Apple App-store, and Android Apps on Google Play.
Realizing that most sound level meter apps on the market are oriented at the casual user and lack the accuracy and functionality necessary to conduct occupational noise measurements, NIOSH engineers collaborated with an app developer, EA LAB, to create an iOS based sound level meter app that measures and characterizes occupational noise exposure similar to professional instruments. The NIOSH Sound Level Meter (NIOSH SLM) app for iOS devices is available on iTunes freely to the occupational safety and health community as well as the general public.
NIOSH engineers developed the NIOSH Lifting Equation Calculator app (NLE Calc) to promote better musculoskeletal health. Workers, employers, and occupational health professionals can easily download NLE Calc from Apple iTunes or Google Play, type the indicated measurements into the equation, and use the results to help identify ergonomic solutions for reducing the physical stresses associated with manual lifting.
NIOSH engineers developed ErgoMine as an ergonomics audit tool designed specifically for mining. ErgoMine provides recommendations when there is an opportunity for ergonomics improvement.  ErgoMine 1.0 is a mobile application for the Android platform and can be downloaded at Google Play.
We love to hear about engineering successes to solve occupational safety and health problems. Please share yours in the comment section below.
Jaclyn Krah Cichowicz, MA, is a Health Communications Specialist in the NIOSH National Personal Protective Technology Laboratory.
Elizabeth Dalsey, MA, is a Health Communication Specialist in the Western States Division.
Frank Hearl, PE, is a chemical engineer and the NIOSH Chief of Staff.
Carin L. Kosmoski, PhD, is the Lead Health Communication Specialist for the NIOSH Mining Program.
Trudi McCleery, MPH, is a Health Communications Specialist in the NIOSH Division of Applied Research and Technology, Engineering and Physical Hazards Branch.
Katie Shahan, JD, is the NIOSH Social Media Manager and a Health Communication Specialist in the NIOSH Office of the Director.
Theodore D. Teske, MA, is a Health Communication Specialist in the NIOSH Western States Division.
Julie Tisdale-Pardi, MA, is the NIOSH Science Blog Coordinator.
Sydney Webb, PhD, is a Health Communications Specialist in the NIOSH Division of Safety Research
Posted on

by
---
Page last reviewed:
February 7, 2020
Page last updated:
February 7, 2020