Good Clean Fun: Cleaning Considerations for Elastomeric Respirators
Posted on

by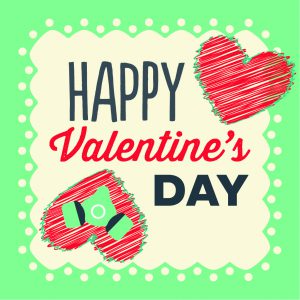 Valentine's Day is a day for all of us to reflect on love and relationships. With so much romance in the air, we began to think about what makes for a lasting relationship? How can we all achieve our own happily ever after? Being the relationship experts that we are here at NIOSH, we have some tips for your love life. When it comes to a long-lasting relationship, it is important to encourage the best out of each other. Successful partnership are ones in which you can confidently rely on your partner. This requires dedication when things get messy. This requires an understanding of what your partner needs. This requires keeping it clean.
We're talking about personal protection equipment (PPE), of course. (Did you expect otherwise from us?) Specifically, this Valentine's Day is dedicated to expressing our love for elastomeric respirators, and we encourage all who utilize this type of respiratory protective device to do the same.
In order to maintain the expected level of protection, up to date cleaning procedures are an essential part of elastomeric respirator use for protection against infectious contamination, chemicals, or dust and debris. The cleanliness of this device can greatly affect the user's health. If an elastomeric respirator is not properly cleaned and decontaminated, the user is at risk of harmful exposures, lung disease, and infections. 1
How dirty is too dirty?
After each use, an elastomeric respirator should be cleaned and decontaminated in accordance with the manufacturer's instructions. An elastomeric respirator can act as a fomite, an object likely to carry and transfer hazardous substances 2-3. This is why you will want to clean and decontaminate your elastomeric respirator as often as possible, as it will lower the likelihood of your respirator transferring hazardous substances. However, it is important to note that while elastomeric facepieces can be cleaned and decontaminated, some other types of respirators, like N95 filtering facepiece respirators (FFRs), cannot. Always check your respirator's manufacturer's guidance before cleaning and decontaminating your respirator.
Cleaning up your act
According to the Occupational Safety and Health Administration (OSHA), an employer must provide procedures for cleaning and decontaminating respirators. In the absence of manufacturer or employer recommendations, the procedures recommended by OSHA (in 29 CFR 1910.134) should be utilized.
The manufacturer's guidance for cleaning and decontaminating a respirator is included with the packaging of all NIOSH-approved respirators and should always be followed. If you do not have access to that copy, check the manufacturer's website. If still not accessible, general cleaning and decontamination guidance is provided by OSHA.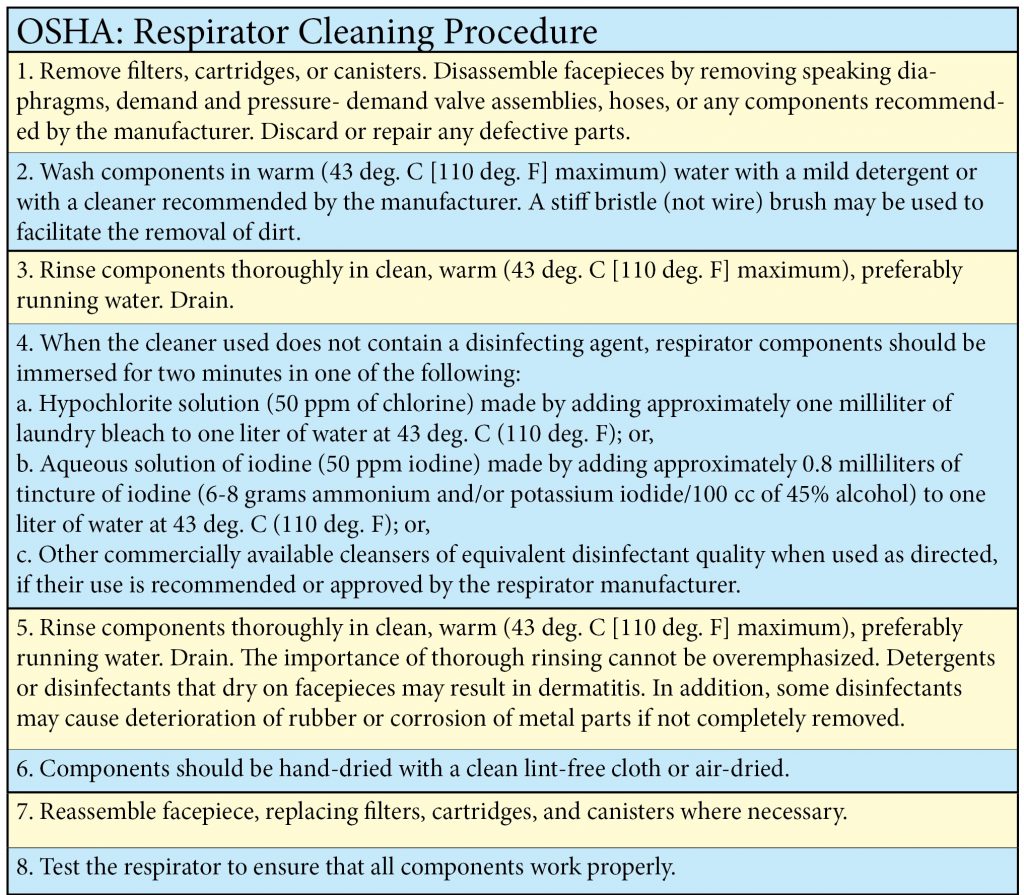 Be sure to note that filters, canisters and cartridges cannot be cleaned. Thus, the first step of the cleaning procedure is to remove all of these pieces before cleaning the facepiece.
Performing these steps after each use of the elastomeric respirator and between device users will ensure a higher performance of the device and a higher quality of user protection.
Cleanly ever after
Following these instructions or the manufacturer instructions that meet or exceed these recommendations will ensure a happy, healthy, and long-lasting relationship between user and device.
Happy elastomeric respirator, happy worker, right? Or, did that saying have something to do with wives? Regardless, having a clean and disinfected elastomeric respirator will make for a great Valentine's Day because when wearing an elastomeric respirator, you want to be sure that love is the only thing in the air you breathe.
Rachel Wilson, MA, is a Health Communications Intern in the NIOSH Personal Protective Technology Laboratory
Jaclyn Krah Cichowicz, MA, is a Health Communications Specialist in the NIOSH National Personal Protective Technology Laboratory.
Megan Casey, RN, BSN, MPH, is a Nurse Epidemiologist in the NIOSH National Personal Protective Technology Laboratory.
References
1) OSHA. Maintenance & Care of Respirators. Washington, DC: U.S. Department of Labor, Occupational Safety and Health Administration, https://www.osha.gov/video/respiratory_protection/maintenance_transcript.html
2) Casanova L, Alfano-Sobsey E, RutalaWA,Weber DJ, SobseyM. Virus transfer from personal protective equipment to healthcare employees' skin and clothing. Emerg Infect Dis 2008;14:1291-3.
3) Heimbuch BK, Wallace WH, Balzli CL, Laning ML, Harnish DA, Wander JD. Bioaerosol exposure to personnel in a clinical environment absent patients. J Occup Environ Hyg 2016;13:D11-5.
4) OSHA. Appendix B-2 In: OSHA Technical Manual. Appendix B-2. https://www.osha.gov/laws-regs/regulations/standardnumber/1910/1910.134AppB2
Posted on

by
---
Page last reviewed:
February 14, 2019
Page last updated:
February 14, 2019