Promoting Worker Well-Being through Maternal and Child Health: Breastfeeding Accommodations in the Workplace
Posted on

by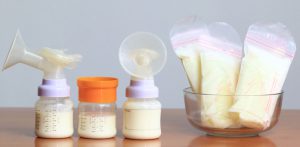 As one of the fastest-growing segments of the U.S. labor force, the contributions of working mothers are vital to a strong economy. Yet working mothers can also struggle to balance their career and work demands with reproductive plans and caregiving. As a holistic approach to worker well-being, Total Worker Health® encourages policies and practices that simultaneously protect workers while also improving their health and well-being—such as providing the work-related support to sustain an employee's decision to breastfeed.
Breastfeeding has many health benefits for both moms and babies. For mothers, breastfeeding reduces their risk of ovarian cancer, breast cancer, type 2 diabetes, and cardiovascular disease.1 For babies, the American Association of Pediatrics recommends that all babies be exclusively breastfed for the first six months, and that breastfeeding continue after other foods are introduced for at least the first year.2 This can help prevent infections in babies (like respiratory infections, diarrhea, and ear infections), and can even improve a baby's survival.
In 2011, the U.S. Surgeon General issued a call to action to support breastfeeding that included four recommendations for employers, one of which is to establish and maintain comprehensive, high-quality lactation support programs for their employees.3 Breastfeeding at work can be hard for mothers. Employers are typically required by federal law to provide: 1) unpaid break time for pumping for one year after the child's birth, and 2) a place, other than a bathroom, for a mother to pump that is shielded from view and protected from intrusion.4,5 Some states provide additional workplace protections for breastfeeding.6 However, in a recent survey, only 40% of mothers reported having access to both break time and a private space to pump.7 There is also a lot of variation in how employers meet these legal requirements. News and social media report that some moms are dismayed to find that a locked janitorial closet could be the designated pumping location, or that they must follow a cumbersome process to request their unpaid break.8-10 Among women who work full-time, only 10% of those who started breastfeeding their babies will still be breastfeeding six months later.11 The expectation that it will be difficult to pump at work can prevent moms from trying to breastfeed at all, especially if they have very short maternity leave—and in the U.S., nearly a third of working moms return to work in less than a week after childbirth.12
Breastfeeding duration is dramatically increased when employers support the choice to do so. Comprehensive corporate lactation programs have reported that 75% or more of participating moms achieve 6 months or more of breastfeeding.13 Corporate lactation programs aren't just for female employees: these programs make resources available to the partners of male employees such as access to lactation consultants and hospital-grade breast pumps, and can help male employees learn how to support their partner's decision to breastfeed. Partner support plays an important role in promoting breastfeeding,14,15 and fathers benefit from having healthier babies too.16
Providing comprehensive lactation programs may benefit employers in the following ways:
Reducing absenteeism: Absences to care for sick children decrease with breastfeeding: at one large employer, one-day absences to care for sick children occurred more than twice as often for mothers of formula feeding infants than for mothers of breastfed infants.17
Improving productivity: Since breastfeeding reduces infections in children, parents of breastfed infants might be less likely to be up in the night taking care of a sick child, or be worried about a sick child at home, so they might be more productive at work.
Improving employee satisfaction: The Los Angeles Department of Water and Power found that after implementing a lactation support program open to all employees and their partners, 83% of employees felt more positively about the company.16 This was true of both male and female employees (80% of staff were male).
Improving employee retention: Several companies with lactation programs found that it greatly increased retention rates compared to the national average19-; this translates into a substantial cost-savings by reducing recruitment, hiring, and training costs. In a 2007 survey of 44 companies rated highly by working mothers, 98% of the companies believe these programs are important or very important to their workforce, and 59% noted greater retention following childbirth due to corporate lactation programs.18
Improving employee recruitment and public relations: Many companies with strong lactation programs receive public recognition and media attention, which can boost recruitment efforts and general goodwill in the community.
Lower medical insurance claims: Health care costs are lower for breastfed infants due to fewer doctor visits, hospitalizations, and prescriptions. Reducing medical costs reduces insurance rates, which helps the company bottom line when employers subsidize health insurance. A study by Mutual of Omaha found that health costs were three times lower for newborns whose mothers participated in the company's maternity and lactation program, saving thousands of dollars in healthcare costs for each employee participating in the program.19
So what makes a successful corporate lactation program?
Perform a risk assessment for breastfeeding workers: Are there exposures in the workplace that could affect a lactating worker and her child, and if so, are there ways to better control these hazards?
Management support: There are policies in place to support new moms, training for managers on lactation policy, and support for breastfeeding at all levels of management.19,20 Managers recognize that the accommodations needed for nursing employees are minor, temporary, and infrequent, but the accommodations offer lasting benefits for everyone involved.
Time and space for pumping: New moms will need to take a few short breaks and have access to a convenient, clean, and private space where they can pump.20 Some corporate lactation programs also provide access to hospital-grade breast pumps for employees to use.
Education and social support: Breastfeeding can be difficult, and figuring out the logistics of pumping at work can be challenging. Social support systems encourage new parents and help solve problems. Support can take the form of in-person or online access to a lactation consultant, virtual or in-person support groups, or even a one-on-one support system between new and experienced parents in the workplace.20
For companies that want to start a corporate lactation program, or improve the program they already have, there are many resources to help:
The Total Worker Health® approach is a comprehensive approach to worker well-being that recognizes that the safety and health of our current and future workers is imperative to sustain our economy and way of life. This approach supports new research that improves the design of work, management practices, and the physical and psychosocial work environment to support the health of working parents. Healthy and family-supportive work environments can reduce pressures for working parents and their families, and relate positively to job satisfaction, commitment, and intentions to stay with an organization. The Total Worker Health approach also aims to inspire innovative surveillance and research linking working conditions to population health outcomes. For companies that want to implement a Total Worker Health approach in their workplace, there are many NIOSH resources to help:
Carissa M Rocheleau, PhD, is a reproductive occupational epidemiologist in the Division of Surveillance, Hazard Evaluation, and Field Studies.
Albeliz Santiago-Colon, PhD, is an ORISE fellow in reproductive epidemiology in the Division of Surveillance, Hazard Evaluation, and Field Studies.
CDR Heidi Hudson, MPH, is a team leader and health scientist in the Office for Total Worker Health.
This blog is also available in Spanish.
Total Worker Health®  is a registered trademark of the U.S. Department of Health and Human Services.
References
Ip S, Chung M, Raman G, et. al. Breastfeeding and maternal and infant health outcomes in developed countries. Evid Rep Technol Assess (Full Rep.). 2007 (153): 1-186.
World Health Organization (WHO). Breastfeeding. http://www.who.int/maternal_child_adolescent/topics/newborn/nutrition/breastfeeding/en/
Office of the Surgeon General; Centers for Disease Control and Prevention; Office on Women's Health. The Surgeon General's Call to Action to Support Breastfeeding. Rockville, MD: Office of the Surgeon General (US); 2011. https://www.ncbi.nlm.nih.gov/books/NBK52691/
Legal Information Institute. 29 U.S. Code 2017(r) – Reasonable Break Time for Nursing Mothers. https://www.law.cornell.edu/uscode/text/29/207
U.S. Department of Labor, Wage and Hour Division. Fact Sheet #73: Break Time for Nursing Mothers under the FLSA. https://www.dol.gov/whd/regs/compliance/whdfs73.htm
U.S. Department of Labor. Employment protections for workers who are pregnant or nursing. https://www.dol.gov/wb/map/
Kozhimannil KB, Jou J, Gjerdingen DK, and McGovern PM. Access to workplace accommodations to support breastfeeding after passage of the Affordable Care Act. Womens Heath Issues. 2016; 26(1):6-13.
Goodman, M. Nursing moms: when employers make it hard to pump, ABC News May 10, 2011 http://abcnews.go.com/Business/nursing-moms-employer-makes-hard-pump-job/story?id=13547943
Goldwert, L. The horrors of pumping breast milk at work (and why employers should care). Fast Company January 26, 2015 https://www.fastcompany.com/3041277/the-horrors-of-pumping-breast-milk-at-work-and-why-employers-should-care
Wittmeyer, M. Pumped up: breastfeeding mothers fight for rights at work. U.S. News January 10, 2014 https://usnews.newsvine.com/_news/2014/01/10/22257760-pumped-up-breastfeeding-mothers-fight-for-rights-at-work?lite.
Johnston ML and Esposito N. Barriers and facilitators for breastfeeding among working women in the United States. J Obstet Gynecol Neonatal Nurs. 2007; 36(1):9-20.
Bakera M and Milligan K. Maternal employment, breastfeeding, and health: evidence from maternity leave mandates. Journal of Health Economics. 2008; 27(4): 871–887.
Cohen R and Mrtek M. The impact of two corporate lactation programs on the incidence and duration of breast-feeding by employed mothers. American Journal of Health Promotion. 1994; 8(6):436-441.
Mitchell-Box KM and Braun KL. Impact of male-partner-focused interventions on breastfeeding initiation, exclusivity, and continuation. Journal of Human Lactation. 2013; 29(4):473-9.
Maycock B, Binns CW, Dhaliwal S, Tohota J, Hauck Y, Burns S, and Howat P. Education and support for fathers improves breastfeeding rates: a randomizes controlled trial. Journal of Human Lactation. 2013; 29(4):484-90.
Cohen R, Lange L, and Slusser W. A description of a male-focused breastfeeding promotion corporate lactation program. Journal of Human Lactation. 2002; 18(1): 61-65.
Cohen R, Mrtek MB, Mrtek RG. Comparison of maternal absenteeism and infant illness rates among breast-feeding and formula-feeding women in two corporations. American Journal of Health Promotion. 1995; 10(2):148-53.
Medela and the National Women's Health Resource Center (NWHRC). 2007. Working Mother 100 Best Survey. http://www.medelabreastfeedingus.com/media-center/17/survey-corporate-lactation-programs-increase-retention
As reported in: U.S. Department of Health and Human Services, Health Resources and Services Administration (HRSA), Maternal and Child Health Bureau. 2008. The Business Case for Breastfeeding: Steps for Creating a Breastfeeding Friendly Worksite. https://www.womenshealth.gov/breastfeeding/breastfeeding-home-work-and-public/breastfeeding-and-going-back-work/business-case 
Rollins, N.C., et al., Why invest, and what it will take to improve breastfeeding practices? The Lancet. 387(10017): p. 491-504. http://thelancet.com/pdfs/journals/lancet/PIIS0140-6736(15)01044-2.pdf
Posted on

by
---
Page last reviewed:
June 28, 2023
Page last updated:
June 28, 2023