NIOSH and USDA Partner to Protect Workers after Hurricane Florence
Posted on

by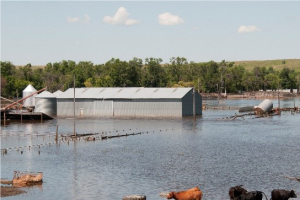 Responders face many challenges and hazards when responding to disasters. The National Institute for Occupational Safety and Health (NIOSH) maintains an emergency preparedness and response resources page to help workers stay protected during response and recovery activities. In some cases unique hazards are identified during a response and NIOSH works to develop communication materials to ensure the health and safety of responders. NIOSH has learned from responders that the challenges faced can be compounded when there are multiple (and sometimes conflicting) messages from various government organizations. To address this and minimize the potential for confusing or conflicting messages, NIOSH has collaborated with other government agencies to create joint documents to help responders. For example, during the Deepwater Horizon response, NIOSH released guidance with the Occupational Safety and Health Administration (OSHA) for cleanup workers. During the Ebola response, NIOSH together with the Environmental Protection Agency and OSHA produced a fact sheet for safe handling, treatment, transport, and disposal of Ebola-contaminated waste.
The latest example of two government entities joining forces for a shared goal is a joint guidance document from NIOSH and the United States Department of Agriculture (USDA), Interim Guidance for Protecting Workers from Livestock and Poultry Wastewater and Sludge During and After Floods. NIOSH already had a variety of materials to protect workers during flood cleanup, but the vast amount of water produced by Hurricane Florence created the need for new materials to address the unique situations related to livestock and poultry wastewater and sludge located in the animal production and processing facilities in the path of the hurricane and subsequent flooding. This was an area where USDA could lend its expertise. As the aftermath of Hurricane Michael brings flooding to the Carolinas, this guidance is once again relevant.
Farms, animal production sites, and animal processing plants contain animal waste. Waste or manure can be located in places such as animal housing, open lots, pastures, manure treated fields, sediment basins, above ground storage structures, underground storage tanks, lagoons, storage ponds, and manure drying or composting sites. When animal production and processing facilities are flooded and animals and their waste are not otherwise contained, workers may be at risk of exposure to animal diseases that can be passed from animals to humans through contact with workers' broken skin or mucous membranes (eyes, nose, and mouth). Diseases may spread from contact with animals' infected body fluids or tissues and from contaminated water or materials. Manure and wastewater may also contain additional hazardous compounds such as chemicals, hormones, antibiotics, metals, and allergens. During post-flood cleanup, workers may also encounter musculoskeletal hazards (e.g., lifting heavy animals and objects), physical hazards (e.g., unsafe buildings and structures, sharp objects, heat, noise), chemical hazards (e.g., fuels, fertilizers, pesticides, cleaning agents, hydrogen sulfide), and allergens (e.g., latex and animal saliva, skin, urine).
This document contains:
information on infections spread by swine and poultry,
guidance for working in flooded areas,
recommendations for personal protective equipment,
information on the safe handling and disposal of livestock and poultry carcasses after flooding, and
guidance for working in confined spaces.
Working together, NIOSH and the USDA were able to provide key information to keep workers safe as they dealt with the devastation of Hurricane Florence.
If there are other areas where joint guidance would be helpful, please suggest topics in the comment section below.
CAPT Lisa Delaney, MS, CIH, is the NIOSH Associate Director for Emergency Preparedness and Response.
Posted on

by
---
Page last reviewed:
May 17, 2022
Page last updated:
May 17, 2022