N95 Day 2018: Getting Down to the Particulars about Filter Class
Posted on

by
Calling all N95 filter facepiece respirator users, program managers, educators, manufacturers, and general enthusiasts of respiratory protection. Today is N95 Day and we are psyched! We've planned this N95 Day party to be particularly packed with information pertaining to particles. (Say THAT five times fast.)
We admit it; we are pretty geeky when it comes to protection against particles. But after almost 100 years of research and discovery, there's a lot of information on the subject. You read that right – March 2019 marks 100 years of respiratory protection under Schedule 13 (which is an obsolete way of classifying respirators that was used by the former US Bureau of Mines, before NIOSH created Part 84 in the Code of Federal Regulations). That's pretty huge and NIOSH plans on celebrating this milestone with proper fanfare. How appropriate that N95 Day should kick off the 100 years of respiratory protection celebration!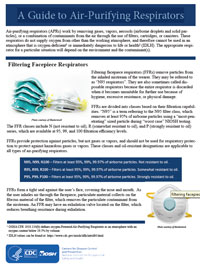 While the upcoming 100 Years of Respiratory Protection Celebration will include all the different types of respiratory protection, we have typically stuck with air-purifying respirators during the N95 Day event, particularly those filtering facepiece respirators with an N95 filter class, as these are the most commonly used type of respirator and span across many industries. In this vein, we hope you will check out our new Guide to Air-Purifying Respirators fact sheet.

"Filter class" is one of those phrases that is thrown around with the assumption that everyone knows what that means. As we prepare to widen our educational scope during the 100 Years of Respiratory Protection Celebration, let's use this year's N95 Day to ensure that we first understand the different classifications of air-purifying respirators, in particular filtering facepiece respirators, as they are categorized by filter class. Let's get down to the particulars.
Filtering facepiece respirators are divided into filter classes based on their filtration capabilities. For example, an "N95 FFR" is the class of respirators that use N95 filters to remove particles from the airstream of the user. The number 95 refers to a filter class that removes at least 95% of airborne particles during testing that simulates a worse-case scenario using a "most-penetrating" sized particle. (More about worst-case testing in this NIOSH video, A Particle is a Particle.) N95 FFRs are not resistant to oil. The FFR classes include N (not resistant to oil), R (somewhat resistant to oil), and P (strongly resistant to oil, or oil proof) series, which can be available at 95, 99, and 100 efficiency levels. Access the filter classes infographic (below), as well as other N95 Day infographics, here.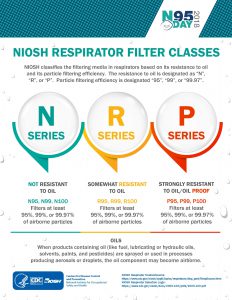 When it comes to FFRs, the facepiece itself, is the filter. That filter can be classified as removing at least 95%, 99%, 99.97% (labeled as 100) of the particles floating within the breathing airstream of the user.
Those numbers are pretty straight-forward. But there is more to that chart than just the protection efficiency. Note that in each of the letter categories, N, R, P the difference lies in their protection against oil-based particles (e.g., lubricants, cutting fluids, glycerine, etc.)
When fuel oil, lubricating oil, hydraulic oil, and other oil-based products, like some solvents, paints, or pesticides, are sprayed, the oil particles become airborne. For example, many metalworking processes generate oil mist, like milling, turning, sanding, grinding, and drilling. In these cases mineral oil-based metalworking fluids are used to cool and/or lubricate metal work pieces. In such cases, R or P series filters should be used.
An elastomeric respirator equipped with a filter is an alternative to the (typically) single-use FFRs. Elastomeric respirators with filter cartridges are reusable and categorized into the same classifications. There are many factors that determine the type of respirator that the respiratory protection program manager should select. To help, NIOSH developed a series of questions called the NIOSH Respirator Selection Logic Sequence that will help the appropriate decision-maker in your workplace to determine the appropriate class of respirator to use.
In the meantime, the best way to stay protected is to stay educated. Learn more about important filtering facepiece respirator considerations by perusing through N95 Day information. Here are some highlights, but click on over the N95 Day webpage for much more.
Further Reading
Filtering out Confusion: Frequently Asked Questions about Respiratory Protection, Respirator Reuse and Extended Use(https://www.cdc.gov/niosh/docs/2018-128/)
Filtering out Confusion: Frequently Asked Questions about Respiratory Protection, Fit Testing(https://www.cdc.gov/niosh/docs/2018-129/)
Filtering out Confusion: Frequently Asked Questions about Respiratory Protection, User Seal Check(https://www.cdc.gov/niosh/docs/2018-130/)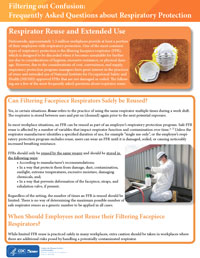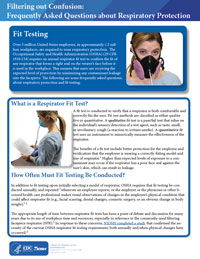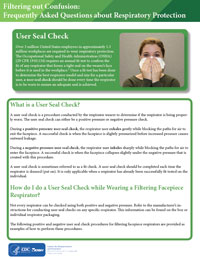 Can't get enough N95 Day? Check out these blogs from previous years, packed with information and more resources:
2012: Happy N95 Day! (aka, What is N95 Day?)
2013: A Guide to N95 Resources
2014: Respirator Preparedness – Where Technology Meets Good Practices
2015: The tools to build a culture of proper respiratory protection practices
2016: N95 Day 2016: Proper Use, Filtration, and Fit – The Three-Legged Stool of Respiratory Protection
2017: When to think Beyond the N95 FFR
Jaclyn Krah Cichowicz, MA, is a Health Communications Specialist in the NIOSH National Personal Protective Technology Laboratory.
Bingbing Wu, PhD, is a Research Fellow in the NIOSH National Personal Protective Technology Laboratory.
Reference
NIOSH Guide to the Selection and Use of Particulate Respirators. DHHS (NIOSH) Publication Number 96-101. https://www.cdc.gov/niosh/docs/96-101/
Posted on

by
---
Page last reviewed:
September 5, 2018
Page last updated:
September 5, 2018