Workplace Medical Mystery Solved: What is causing a recycling worker's respiratory distress?
Posted on

by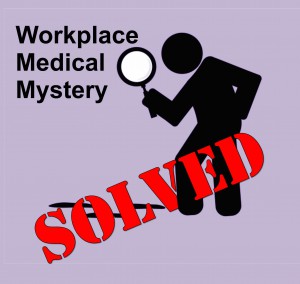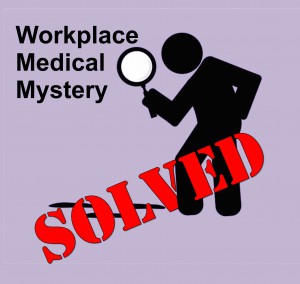 While working at a metal recycling facility, Joe was suddenly overcome with shortness of breath, coughing, chest pressure, and eye irritation. After transport to a local hospital, Joe was diagnosed with acute respiratory distress syndrome or ARDS. Read more about his case here.  What was the cause of his illness?
The plume of smoke Joe ran through was a thick yellow gas. Testing revealed it was chlorine gas accidently released from an intact, closed-valved cylinder being processed for scrap metal.
Occupational exposure to high concentrations of chlorine gas is rare, and most commonly due to workplace unintentional events or human error. In 2005, 72 persons were hospitalized and 9 died after a train transporting 60 tons of chlorine gas derailed in South Carolina. Additionally, emergency personnel responding to such incidents may be exposed to the hazards without sufficient respiratory protection. Industries such as pulp and paper mills that use chlorine gas as part of production processes typically educate employees on chlorine safety and install chlorine detectors for added protection. Although chlorine gas exposure is not expected in the metal recycling industry, there have been three separate incidents in the last 8 years resulting in at least 32 workers hospitalized and one death.
During previous chlorine gas releases, workers attempting to escape chlorine plumes may have inadvertently increased their exposure by moving through the plume rather than staying upwind up the plume. Developing evacuation plans and training employees to stay upwind if at all possible when evacuating from a chemical release could also decrease injury and death. Additionally, metal recycling facilities could consider strategically placed escape gas masks in the case of unintentional chemical gas releases.
While there are no widely accepted medical treatment guidelines for acute chlorine exposure, mostly due to the rare nature of the occurrence, some studies suggest that inhaled bicarbonate and glucocorticoids, including systemic corticosteroids and inhaled agents such as budesonide, may be beneficial, but these findings are largely anecdotal.
A number of health outcomes can occur for workers who survive the acute effects of chlorine gas. Reactive airway dysfunction syndrome (RADS) has been documented previously following exposure to chlorine gas. RADS typically includes persistent asthma-like respiratory symptoms, particularly cough, shortness of breath, or wheeze, and evidence of airflow limitation on spirometry, or bronchial hyperresponsiveness on non-specific bronchoprovocation challenge testing. Most patients with RADS improve over time, although many remain symptomatic for years. Post-traumatic stress disorder (PTSD) symptoms are also possible following exposure to chlorine gas. Twenty two percent of employees reported symptoms consistent with PTSD following an unintentional chlorine gas release at a poultry processing plant in 2011, and nearly half of respondents reported PTSD symptoms following a train derailment and chlorine gas exposure in South Carolina in 2005. PTSD symptoms have the potential to last many years, with approximately one-third of individuals diagnosed with PTSD displaying symptoms for up to 6 years in one study.
Prevention
Steel is the most recycled material worldwide. Ferrous metal recycling activities contributed more than 150, 000 jobs, more than $8 billion in wages, and nearly $2 billion in tax revenue in 2016. As the metal recycling industry continues to grow, employers and workers need to be aware of the risk of processing intact, closed-valved containers that are unlabeled. Metal recycling facilities should not accept containers for processing unless they are open without a valve.
Chlorine and other noxious chemical gas releases from intact, closed-valved containers at metal recycling facilities are preventable. Such containers should be treated as potential hazardous materials, with the appropriate authorities notified before processing. The threat of radioactive materials is controlled during the process of metal recycling as radioactive detectors monitor incoming scrap metal. Similar administrative controls to identify intact, closed-valved containers brought to metal recycling facilities before processing begins may further protect employees.
In response to two chlorine gas releases at metal recycling facilities in California that occurred in 2010, the California Department of Public Health distributed a Chemical Release Alert to raise industry awareness of this potential occupational hazard. The Chemical Release Alert likely increased industry awareness in California, as no chlorine gas releases involving injuries at metal recycling facilities have been reported since 2010.
The metal recycling industry should take steps to increase awareness of the potential risks of processing materials that may contain hazardous substances, and provide regular training to employees on health and safety protocols, and emergency plans. Additionally, public health practitioners and clinicians should be aware that metal recycling workers are at risk for chlorine gas exposure.
R. Reid Harvey, DVM, MPH, is an Epidemiologist in the NIOSH Respiratory Health Division.
Michelle R. Martin, MS, is a Health Communications Specialist in the NIOSH Respiratory Health Division.
Julie Tisdale-Pardi, MA, is the Coordinator of the NIOSH Science Blog.
This is an installment in the NIOSH Workplace Medical Mystery Series. This is a fictional "mystery" but is based on the real hazards of chlorine exposure at metal recycling facilities.
For More Information
Fatal chlorine gas exposure at a metal recycling facility: Case Report, American Journal of Industrial Medicine  
NIOSH [2017]. Health hazard evaluation report: evaluation of a chlorine gas release at a metal recycling facility. By Harvey RR, Boylstein RJ. Morgantown, WV: U.S. Department of Health and Human Services, Centers for Disease Control and Prevention, National Institute for Occupational Safety and Health, NIOSH HHE Report No. 2015-0151-3281.
California Department of Public Health Chemical Release Alert
Occupational Exposures at Electronic Scrap Recycling Facilities
NIOSH Solid Waste Industry Topic Page
NIOSH. Health hazard evaluation report: evaluation of health effects of a chlorine gas release in a poultry processing plant—Arkansas. By Meza F, Mueller C, King B. Cincinnati, OH: U.S. Department of Health and Human Services, Centers for Disease Control and Prevention, National Institute for Occupational Safety and Health, 2013 NIOSH HETA No. 20110128-316
Posted on

by
---
Page last reviewed:
June 29, 2020
Page last updated:
June 29, 2020