NIOSH in Alaska: Improving Worker Safety
Posted on

by
This blog is pulled from a story originally posted in the CDC's "Inside Story: Public Health in Action" on 2/8/18
Before he became an epidemiologist, Devin Lucas grew up in a fishing family. His grandfather moved to Anchorage in 1953 and purchased a commercial fishing vessel. Then his dad grew up in the business. So did Lucas and all his siblings. He fished for salmon off the Kenai Peninsula from the outlet of the Kenai River to the Cook Inlet of the Pacific Ocean. Eight of the ten largest king salmons caught in the world have come from the same river. It's a big business… and a dangerous one.
Commercial fishing is one of the most hazardous occupations in the United States with a fatality rate 29 times higher than the national average. Since 1991, the NIOSH Western States Division (WSD) office in Alaska has conducted studies of fishing safety to reduce the incidence of injuries and fatalities among the nation's fishermen. "Our studies show that the greatest dangers to fishermen are vessel disasters, falls overboard, and machinery on deck," says Lucas. WSD continues to identify high-risk fisheries nationwide, make recommendations, and create targeted interventions to reduce risks.
Lucas, who worked on a salmon seiner out of Homer to help pay for college, is now manager of the NIOSH Anchorage Office and Alaska Worker Safety Program, WSD. Prior to that he managed the Commercial Fishing Safety Research and Design Program. He has been with NIOSH since 2006. He has a keen interest in improving safety for all workers, including fishermen, and he understands the risks they face. "Fishing fleets around the country have different hazards. Shrimp fishermen in the Gulf of Mexico face especially high risks from winch entanglements and falling overboard. Dungeness crab fishermen on the West Coast face risks from sudden capsizing and injuries from handling crab pots on deck. In Alaska salmon set net fishing is a big concern."
Vessel disasters (such as sinkings or capsizings) are the leading cause of fatalities among commercial fishermen accounting for 50 percent of fatalities nationwide during 2000-2014. However, NIOSH has conducted research into the prevention of vessel disasters through fisheries management policies and engineering interventions.
Falling overboard is the second leading cause of death among commercial fishermen nationwide. Of the 210 fishermen who died from falls overboard between 2000 and 2014 NONE of them were wearing a personal flotation device (PFD) when they drowned. Many of these fatalities would have been prevented if the fisherman had been able to float.
"Our research shows," says Lucas "that the greatest danger of going into the water without a flotation device is drowning before people can get to you."
There is no regulation requiring fishermen to wear a PFD while working.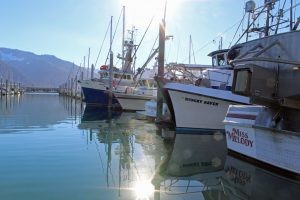 Starting in October 2008, researchers from WSD-Alaska began visiting fishing ports around Alaska to conduct a two-part research program to reduce falls overboard fatalities in commercial fishing. The first part of the study was a questionnaire designed to measure fishermen's perceptions of risk related to falls overboard. The second part of the project was an evaluation study of six modern PFDs designed to be worn by fishermen while working. 400 fishermen in 4 different fishing vessel gear types were randomly assigned a PFD to wear for 30 days on deck with an identical evaluation form filled out after the first day and the last day. The results were published in two peer-reviewed scientific journals and as a series of fact sheets designed to help fishermen find a comfortable PFD to work in on deck. (Learn more about NIOSH's PFD work on the PFD Safety Page).
"The most important step a fisherman can take to survive a fall overboard is to wear a PFD," says Lucas. "The ability to float provides a person in the water with more time to be rescued, even in cold water."
He says NIOSH has been able to measure improvements in PFD use since the project started. "It's a tough industry to inspire changes in safety, it's not always been part of the culture." But fishermen respect Lucas, who was one of them. Getting out into the field and talking to fishermen directly was one of his favorite parts of his former job. "I enjoyed visiting fishing ports and talking with fishermen about safety challenges and solutions."
Lucas continues, "I enjoy working on projects that are meaningful and have clear benefits. I'm committed to putting our research into practice. I focus on doing the epidemiology to identify problems, working with partners to come up with solutions, and then rolling them out and evaluating them. It has been really exciting to expand our research from Alaska to the whole country, to use our surveillance system to identify high risk fleets around the US and to identify hazards. We work with the Coast Guard and academic partners to collaborate. We also provide data and consultation. We help others researchers to do work in the area."
His role continues to evolve in his new job, where he leads a group of scientists in WSD and manages the Alaska Worker Safety Program. "NIOSH has supported a research program on Alaska worker safety and health since 1991. The program focused for many years on workplace fatalities in high risk industries like commercial fishing, logging, and aviation. Excellent progress has been made in reducing occupational fatalities in Alaska, with a 70 percent decline in the fatality rate over the last 25 years. We still have research projects to address fatalities, but we have also redirected some of our research efforts to focus on the problem of non-fatal injuries. Non-fatal injuries can be serious and have life-long repercussions including disability, loss of work opportunities, and lower quality of life. With the help of our partners at the State of Alaska and within industry, we are using new data sources and methods for studying non-fatal injuries and potential interventions."
Lucas is excited to note that "We recently received access to Alaska Workers' Compensation Claims data, and we are using the data to study non-fatal work-related injuries in Alaska. This is an exciting new opportunity to expand our research on occupational safety in Alaska to better understand hazards and test injury prevention interventions."
Being stationed in Anchorage is ideal for the outdoor loving Lucas and his family. He and his wife have twins (a boy and girl) aged 9 and a 5 year-old daughter. They have a remote cabin and enjoy spending time together there. He also likes to camp, fish, ski and snow mobile.
Above all, Lucas is passionate to help improve safety across the country but also in his home state. "Occupational safety has improved here but it is still three times more deadly to work in Alaska then the rest of the US. We have some dangerous industries here: fishing, aviation, construction, transportation. There's still work to do but we've come a long way. It can be challenging to work here."
Despite the additional lifestyle challenges—5 hours of daylight in winter, having to carry bear spray on hikes—Lucas is committed. "Alaska is my home and a great place to live and work."
And learn more about the work being done to improve commercial fishing safety.
For more information on NIOSH fishing safety research projects click visit the website.
Posted on

by
---
Page last reviewed:
July 18, 2018
Page last updated:
July 18, 2018