Celebrating National Farm Safety and Health Week: Farm Safety: A Legacy to Be Proud Of
Posted on

by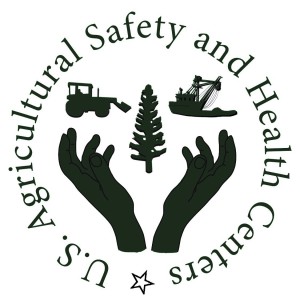 September 18-24, 2016, is National Farm Safety and Health Week (NFSHW). This annual event, begun by the National Safety Council in 1944, promotes safe and healthy practices on farms and ranches around the U.S. Agriculture is among our most hazardous industries, with a work-related fatal injury rate of 25.6 deaths per 100,000 workers annually, according to the most recent numbers from the U.S. Bureau of Labor Statistics (U.S. BLS, 2016). This rate is more than 7.5 times the rate for all industries and far exceeds other industries considered hazardous, such as transportation (14.1/100,000) and mining (14.2/100,000).
The ten U.S. Agricultural Centers funded by the National Institute for Occupational Safety and Health (NIOSH) are marking this year's theme, Farm Safety: A Legacy to Be Proud Of, across social media platforms, especially through their YouTube channel.  The U.S. Ag Centers' YouTube channel hosts more than 90 videos on a variety of topics related to agriculture, forestry, and fishing. We welcome NIOSH's partnership in recognizing National Farm Safety and Health Week as an opportunity to emphasize the importance of working together with the farming community to prevent injuries and illnesses to agriculture workers.
There are videos relevant to four of the daily themes for NFSHW:
(The fifth theme of the week is Underground Utilities: Call 811 before you dig!)
The YouTube videos are useful training and education tools for Agricultural Extension agents, agricultural science teachers, producers, first responders, families and others interested in agricultural safety best-practices. They range in technical level from beginner to specialized. There are even some videos for kids! Promoting the videos through this national event helps us reach the people who can use them and make sure that everyone has the knowledge they need to stay safe in farming, fishing, and forestry.
Help us celebrate National Farm Safety and Health Week – watch and share the Ag Center videos and spread the word about safety and health on farms, in forests, and on fishing vessels. Use the Ag Centers' social media toolkit to promote the videos and other safety resources according to the daily themes. Some ideas for how to participate in this campaign:
Update your website and Facebook cover photos with the National Farm Safety and Health Week logo
Post Twitter and Facebook messages from the social media toolkit or create your own posts using the hashtag #FSHW16 and #USAgCenters.
Participate in the two-hour AgChat on Twitter, Tuesday, September 20, from 7-9pm CST.
Get involved in the conversation. Follow, Retweet, and Share on Twitter and Facebook.
More information and resources for the week are available through http://www.necasag.org/.
Tell us below: How are you celebrating National Farm Safety and Health Week? What resources you have found to be helpful in your efforts to improve safety and health in agriculture?
Scott Heiberger is a Communications Specialist for the National Farm Medicine Center, National Children's Center for Rural and Agricultural Health and Safety
Posted on

by
---
Page last reviewed:
September 16, 2016
Page last updated:
September 16, 2016