Research Day 2016 Brings Together Students, Alumni, and Professionals
Posted on

by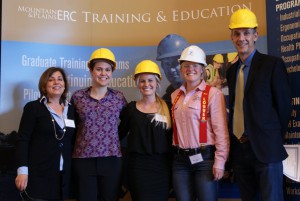 The 8th Annual Occupational and Environmental Health Research Day took place on March 3rd with a record number of almost 200 attendees.  Research Day is a yearly tradition, showcasing innovative graduate student research in occupational and environmental health and safety, as well as highlighting alumni experiences and connecting community members working in health and safety to students and other professionals at the event, resulting in great networking and shared experiences. The event, sponsored by the Mountain & Plains Education and Research Center (MAP ERC) and the Environmental and Occupational Health Department at the Colorado School of Public Health, was also co-hosted this year by the Rocky Mountain Academy of Occupational and Environmental Medicine (RMAOEM) for a dual occupational health and safety event. The MAP ERC is one of the 18 NIOSH-funded, university-based institutions in the U.S. that provide interdisciplinary graduate training for occupational safety and health professionals.
The event included graduate student presentations on their research in occupational and environmental health and safety fields, as well as poster sessions with students' research in occupational ergonomics, health physics, industrial hygiene, occupational medicine, and occupational health psychology.  MAP ERC trainees study at Colorado State University in Fort Collins, Colorado, and the University of Colorado Anschutz Medical Campus in Aurora, Colorado. The MAP ERC student posters competed for the best in each of their fields, while platform presentations were in competition for a single award for the best presentation of the day.
Research Day 2016 Winners:
Outstanding Platform Presentation Winner:
Dr. Silpa Krefft – Utility of Lung Clearance Index as a Noninvasive Marker of Deployment Lung Disease
Outstanding Poster Presentation Winners:
Occupational Health Psychology: Rebecca Brossoit – Work/Non-Work and Sleep Outcomes for Shift Workers
Occupational Ergonomics: Rebecca Foos – Time Motion Evaluation of Repeated Lumbosacral Flexion in Dairy Workers
Industrial Hygiene: Karin Adams – Effects of Helmet Visor Length on Simulated Hockey Officials' Exposure to Whistle Noise
Health Physics: Jadtrl Heard – Electron Spin Resonance of Plutonium and Cesium in Mammalian Wildlife near Fukushima Daiichi Nuclear Power Plant
Occupational and Environmental Medicine: Brenden Matus – What's the Big Deal About Opiates? A Review of Opiate Prescribing Guidelines and an Investigation into Opiate Practices at a Metropolitan Occupational Medicine Clinic
The event also featured an alumni panel of MAP ERC graduates who talked about their experiences in the field and shared advice with current students, while a Community Panel highlighted leaders in their fields from organizations such as Ball Aerospace, Denver International Airport, Pinnacol Assurance, and OSHA.  The event was a collaborative success, with a great mix of community and industry experience along with student research.
Look for Research Day 2017, coming next March! In the meantime, please comment and let us know if would like to see any of these presentations described at greater length in future science blogs.  Visit our Facebook Page for more photos from the event!
Jana Gurkin is the Outreach and Communications Director at the Mountain & Plains ERC, Center for Health, Work & Environment at the Colorado School of Public Health
Posted on

by
---
Page last reviewed:
August 17, 2022
Page last updated:
August 17, 2022