Palm Tree Worker Suffocated by Palm Fronds – Another Death in California
Posted on

by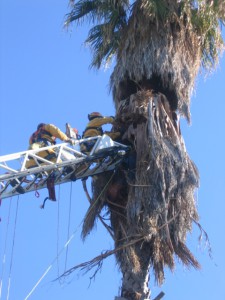 On August 13, 2015, another worker was suffocated by palm fronds in California (see news report). This is at least the fourth similar fatality since the California Fatality Assessment and Control Evaluation (FACE) program (CA/FACE) program issued a report and video on this hazard in February 2014. The drought in the Western U.S. may have intensified the problem as lack of water has led to palm trees heavy with fronds, creating the potential to crush workers who are trimming the trees from underneath the palm fronds.
When a tree trimmer cuts or pulls on dead fronds, adjacent fronds or an entire ring of fronds may collapse and encase the worker. The weight of the fronds causes pressure on the worker's chest and can lead to suffocation. In the cases identified through CA/FACE, the workers climbed up the tree and trimmed the fronds from the bottom up, placing themselves directly beneath the fronds. Neither the workers nor the supervisors were certified tree workers. They did not follow proper safety procedures or use the correct equipment. The workers were pinned by thick layers of dead fronds and suffocated to death.
To prevent additional deaths:
Only workers certified by organizations such as the Tree Care Industry Association (TCIA) or the International Society of Arboriculture (ISA) should perform or supervise palm tree trimming.
Proper work procedures and correct equipment should be used. Fronds should be removed by workers using an aerial device and wearing fall protection. Alternatively, workers should use climbing procedures that place them above the fronds.
Homeowners should hire tree trimming companies that have a current tree service contractor's license (California State Contractors Licensing Board D49). Under certain circumstances, homeowners may be liable for worker injuries or deaths that occur on their property if they hire unlicensed tree trimmers.
More information including a video in English and Spanish can be found at California FACE Program Action Page – Preventing Palm Tree Trimmer Fatalities.
We would appreciate your help in getting the word out about this hazard to those working in landscaping or tree-trimming businesses.
Robert Harrison, MD
Dr. Harrison is a Professor of Medicine at UC San Francisco and Chief of the Occupational Health Surveillance and Evaluation Program at the California Department of Public Health.
The California FACE program is funded by the National Institute for Occupational Safety and Health (NIOSH) and is one of nine funded FACE states. Investigations conducted through the FACE program allow the identification of factors that contribute to these fatal injuries. This information is used to develop comprehensive recommendations for preventing similar deaths. For more information see the NIOSH website.
Posted on

by
---
Page last reviewed:
March 13, 2019
Page last updated:
March 13, 2019