The NIOSH eDoc: New way to get NIOSH information on the Move
Posted on

by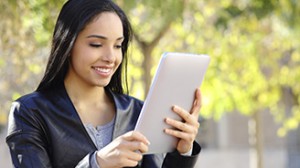 The new NIOSH eDoc provides a mobile-friendly format for short NIOSH publications. This new publication product presents workplace safety and health information in a way that is accessible and easy to use on any mobile device, desktop, or laptop computer. NIOSH eDocs are created using Responsive Web Design which enables web content to automatically format for best viewing on different-sized mobile device screens. By minimizing the need for resizing, panning, and scrolling, responsive design allows easy reading and movement through a document.
How eDocs can Help You
The NIOSH eDoc format is used only for NIOSH numbered publications that have already been approved for publication. The eDoc is not intended to replace PDFs, but rather to offer more options for viewing and using NIOSH documents. eDocs are web-based products that currently can only be viewed online; they cannot be downloaded. At present, the product offers another level of access to select NIOSH fact sheets, brochures, and booklets for users of mobile devices.
The first document to be available in the new NIOSH eDoc format is Ergonomic Solutions for Retailers: Prevention of Material Handling Injuries in the Grocery Sector.  This booklet for retailers and safety experts illustrates the use of mechanical assist devices for safer materials handling in grocery work. See related blog Thanksgiving Ergonomics: Reducing material handling injuries with engineering controls. The eDoc was developed in response to stakeholders who expressed a need to access this information on mobile devices.
Check out the new eDoc and give us your feedback. Do you use NIOSH publications on the go? Let us know if there are other NIOSH publications that you would like to see in an eDoc format.
Deborah Hornback, MS, and Christopher Storms
Ms. Hornback is a Communication Specialist in the NIOSH Education and Information Division. 
Mr. Storms is a Health Communication Specialist in the NIOSH Education and Information Division.
Posted on

by
---
Page last reviewed:
August 25, 2017
Page last updated:
August 25, 2017