Workplace Medical Mystery: Unknown Exposure Leaves Child with High Blood Lead Levels
Posted on

by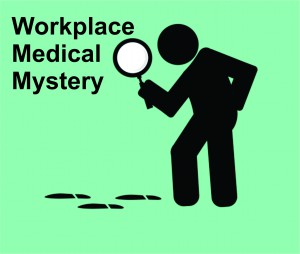 It was just a routine well child exam.
A simple blood test showed 13 micrograms per deciliter (µg/dL) of lead in two-year-old Sarah's blood; 8 µg/dL more than the 5 µg/dL the U.S. Centers for Disease Control and Prevention (CDC)recommends as a reference level for determining if a child's blood lead level is much higher than most children's levels. This serves as a warning that the child may be exposed to lead at home or in the environment, and may require case management. It also allows parents, doctors, public health officials, and communities to take action earlier to reduce the child's future exposure to lead.
Sarah's mom, Michelle, was in shock. "How could this be happening?" she thought to herself. Michelle had heard of kids being exposed to lead through crumbling paint in old houses, but their home was built in 1975 and was in good condition. The couple had even just finished a do-it-yourself renovation project, transforming the dated '70's kitchen into something a little more modern.
Michelle and her husband Ted bought their house three years ago when Michelle found out she was pregnant. They had been living in a tiny one bedroom apartment and had scraped together enough money from their jobs for a down payment on a house—Michelle worked as an art teacher at a neighborhood charter school and recently started teaching an evening community education course on the art of stained glass. Ted worked at a nearby e-scrap recycling facility crushing cathode ray tubes from discarded TVs and computer monitors.
The family's house was located in a part of the city that had been redeveloped a few decades earlier. Older dilapidated homes from the turn of the century were torn down to make way for a handful of new homes as the neighborhood underwent revitalization. The only aspect of the house Michelle didn't like was its location on the last block before the interstate highway. The constant hum from the thousands of cars that passed by each day could be unnerving at times, especially when she was outside playing in the yard with Sarah.
Sarah's pediatrician referred the family to the local health department's childhood lead poisoning prevention program. A certified risk assessor conducted a lead risk assessment of their home to determine the presence, type, severity, and location of lead hazards that might be in the paint, dust, and soil.
What do you think might be the source of Sarah's elevated blood lead level? Tell us what you think in the comments and stay tuned for the next installment on Friday.
Stephanie Stevens, MA, is a Health Communication Specialist in the Office of the Director of the National Institute for Occupational Safety and Health (NIOSH).
This blog is part of the NIOSH Workplace Medical Mystery Series. The names and certain personal details of the characters are fictitious and do not represent an actual person or persons.
Posted on

by
---
Page last reviewed:
February 13, 2018
Page last updated:
February 13, 2018