Thank You Truck Drivers!
Posted on

by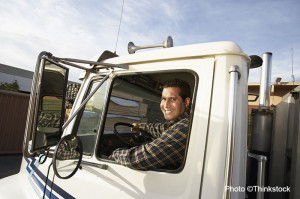 When you eat lettuce from California or purchase a new couch, consider how these goods got to your local grocery store or home. Nearly 2 million heavy or tractor-trailer truck drivers cross the nation every year to bring us the goods we are used to finding on our store shelves or to deliver our online purchases [BLS 2012]. In honor of Truck Driver Appreciation Week (September 14-20), we want to thank all truck drivers for their hard work and dedication.
Truck drivers are essential to the United States. It is important that safety and health professionals and truck drivers and their employers work together to keep truck drivers safe and well. A recent NIOSH survey found that when compared to the U.S. adult working population, more long-haul truck drivers (heavy and tractor-trailer truck drivers whose freight delivery routes require them to sleep away from home) were obese, cigarette smokers, and diabetic. For example, obesity and current smoking were twice as prevalent.
These results suggest that the job itself, which can include long hours sitting, stress factors like traffic and demanding schedules, and limited access to healthy foods, may contribute to a higher chance for health problems. This gives our partners and us an opportunity to use the work setting to identify and stimulate changes that can lead to better health. To do so, it is essential that we communicate effectively with truckers and trucking companies.
NIOSH is exploring different ways to share health information with the trucking industry. We are seeking your input to help us determine:
What is the best way to get our information out to long-haul truck drivers?
Who would long-haul truck drivers listen to?
What health and safety topics are important to long-haul truck drivers?
We value your input and urge you to assist us by submitting any comments you might have to this blog article. In the months to come, we will post current research from our long-haul truck driver research study.
Thank you for your assistance,
W. Karl Sieber, Ph.D.
Karl Sieber is a NIOSH Research Health Scientist with the Surveillance Branch of the Division of Surveillance, Hazard Evaluations, and Field Studies. He is the Project Officer for the National Survey of U.S. Long-Haul Truck Driver Health and Injury. The survey was supported by NIOSH with partial funding from the Federal Motor Carrier Safety Administration, U.S. Department of Transportation.
Posted on

by
---
Page last reviewed:
December 7, 2016
Page last updated:
December 7, 2016