Ladder Safety: There's an App for That
Posted on

by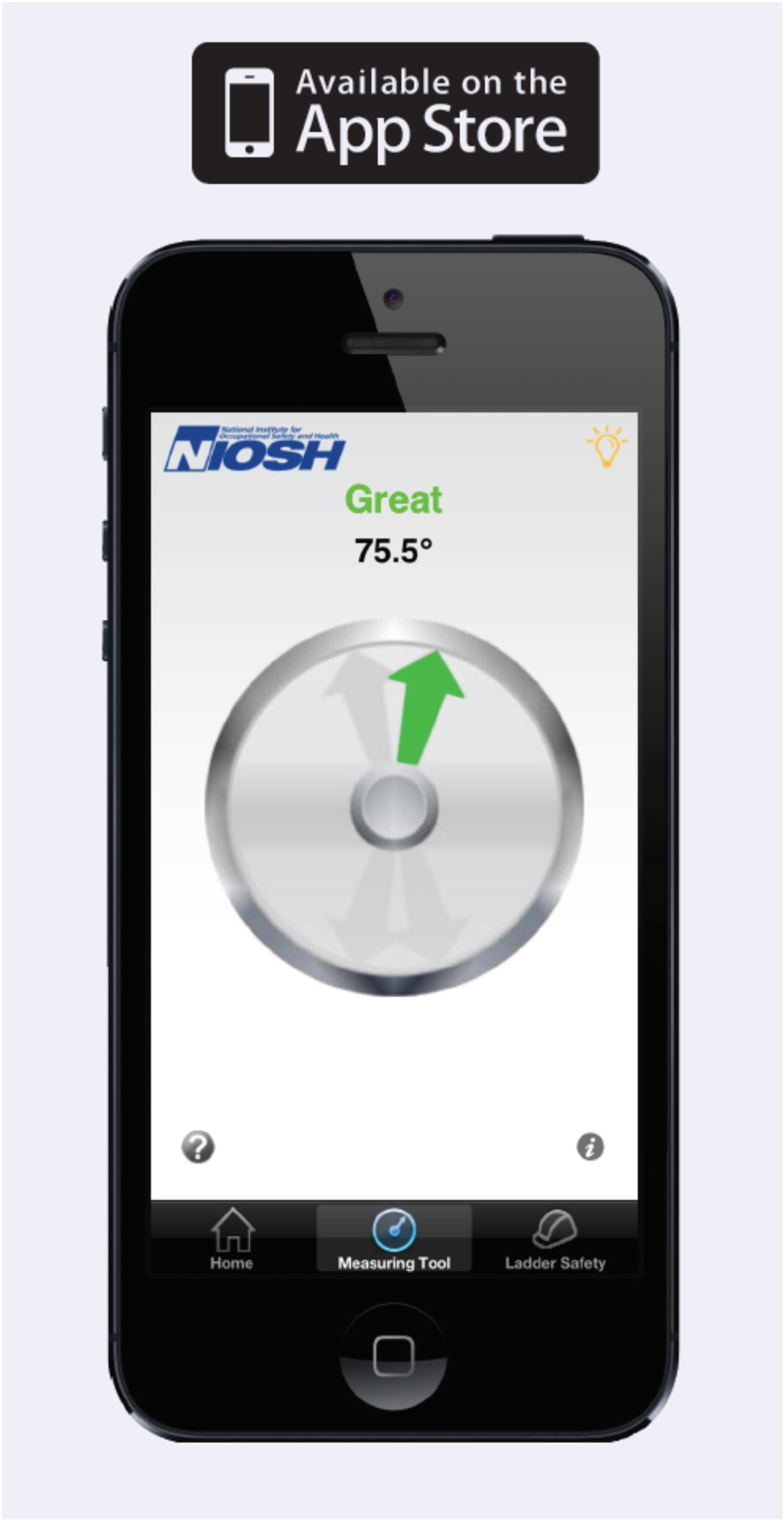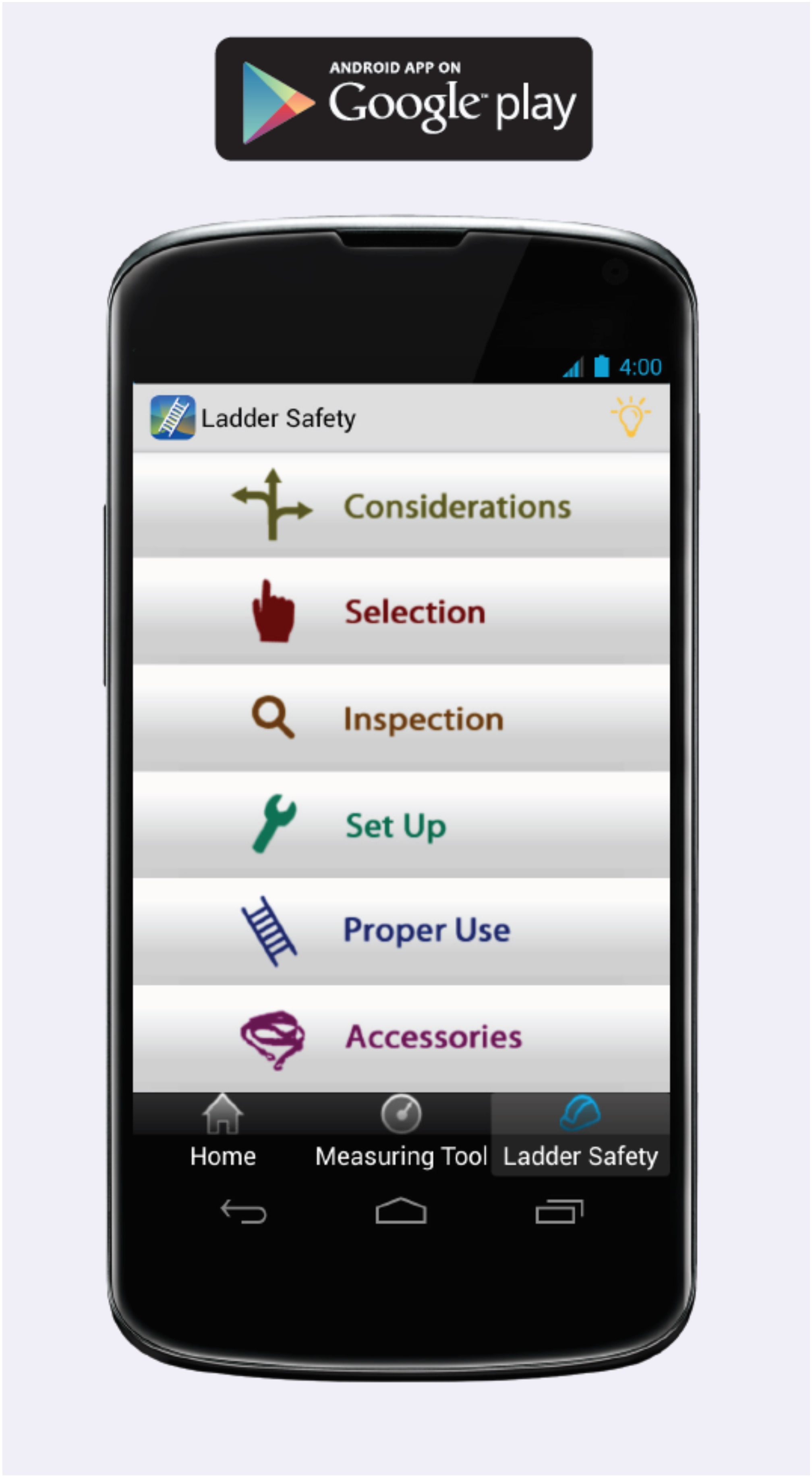 NIOSH recently released its first smart phone application (app) for mobile devices. This free app is aimed at improving extension ladder safety by providing real-time safety information delivered via the latest technology. Falls are a persistent source of injury in many occupations and in home use. Falls are the number one cause of construction-worker fatalities with falls from ladders a common yet preventable construction injury. Health services and the wholesale and retail industries experience the largest number of non-fatal fall-related injuries. Ladders are also used in home maintenance and repair and to access higher places at home.
Misjudging the ladder angle is a significant risk factor for a fall. If the ladder is set too steeply, it is more likely to fall back or slide away during use, and if it is set too shallow then the bottom can slide out. The NIOSH Ladder Safety phone app has an angle of inclination indicator which uses visual and audible signals making it easier for workers and other users to set an extension ladder at the proper angle of 75.5 degrees. The app can help workers prevent falls and is also a tool for employers who want to ensure a safe workplace. The app is available through the NIOSH website, the Apple App-store, and Android Apps on Google Play.
The NIOSH Division of Safety Research tested and patented the concept of the app's inclination indicator. They compared existing ladder positioning methods and found that the indicator improved both the accuracy and efficiency for ladder positioning. The Ladder Safety app also includes other information about ladder safety including ladder selection, inspection, accessorizing, and use. While it may seem obvious, we have to say it: for your safety, use the app to set the proper ladder angle before climbing the ladder.
NIOSH and its partners are currently engaged in a national campaign to prevent falls in construction. For more information visit the NIOSH website and the Center for Construction, Research and Training's website. This new tool can help efforts to reduce construction falls as well as ladder falls in other industries and at home. The science and research behind the development of the ladder safety app are described in the recently published research paper and technical patent.
Help us inform ladder users about this new tool. Please try it out and share this information with your colleagues, partners, and members. We are currently working on a Spanish version. We would welcome suggestions for enhancing the usefulness of the app in future updates.
Peter Simeonov, Ph.D., Hongwei Hsiao, Ph.D, and John Powers
Dr. Simeonov is a Research Safety Engineer in the Protective Technology Branch in the NIOSH Division of Safety Research.
Dr. Hsiao is Chief of the Protective Technology Branch in the NIOSH Division of Safety Research. 
Mr. Powers is Chief of the Technology Development Team in the Protective Technology Branch in the NIOSH Division of Safety Research.
See related blogs
NIOSH Ladder Safety App Evolves with User Feedback
It's National Ladder Safety Month
Ladder Safety in the Wholesale and Retail Trade Sector: Take the Right Steps towards Safety
Posted on

by
---
Page last reviewed:
June 28, 2021
Page last updated:
June 28, 2021