Hair, Formaldehyde, and Industrial Hygiene
Posted on

by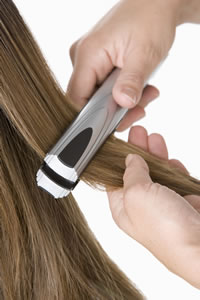 Even if you're not particularly fashion conscious, it's been pretty hard to miss hearing about the Brazilian Blowout smoothing solution over the past year. Imagining a 10% solution of methylene glycol/formaldehyde being applied, dried, and flat-ironed on hair in a salon is enough to make most industrial hygienists cringe. Until recently, comments about the same product from a fashion-conscious, non-industrial hygienist might have been, "I love the product," or, "It really tames unmanageable hair."
On January 30, 2012, the California Attorney General announced a settlement with the manufacturer of Brazilian Blowout products that requires the company to warn consumers and hair stylists that two of their most popular hair-smoothing products emit formaldehyde gas. The terms of the settlement require accurate disclosure in material safety data sheets and labels, distribution of precautionary use measures, and cessation of false advertising. Penalties of $600,000 were also imposed on the manufacturer.
Oregon was the first state to address this issue through an award-winning communication campaign. From the very start of this collective response within Oregon in August of 2010 between a salon, the Center for Research on Occupational and Environmental Toxicology (now the Oregon Institute of Occupational Health Sciences) at Oregon Health and Science University (OHSU), and Oregon OSHA, the common goal was to ensure that stylists working with Brazilian Blowout and similar hair products were informed about the risks of formaldehyde exposure and the need for proper protection. In the early months of our work, CROET learned that many stylists and salons chose Brazilian Blowout solution because it was advertised and labeled as "formaldehyde free" and "containing no harsh chemicals." The material safety data sheet listed no hazardous ingredients. Many stylists suffered classic formaldehyde exposure symptoms such as burning eyes, nose and throat, and breathing difficulty, which for some seriously disrupted their ability to continue working in salons where the product was being used. With this California settlement, perhaps now all salons and stylists using this product will more seriously consider the consequences of formaldehyde exposure.
Yes, we can create safe working conditions when working around formaldehyde. The "Hierarchy of Controls," however, reminds us to first consider removing or substituting hazardous exposures. We know that when we reduce the use of toxic materials in the workplace our costs, represented by what we pay for training, air monitoring, elaborate ventilation systems, personal protective equipment, and ultimately potential health impact, decreases.  This has encouraged a move toward the development of safer products in all industries. In September of 2011, the Cosmetic Ingredient Review (CIR) Board determined, based on review of toxicological data, that hair-smoothing products should not contain methylene glycol/formaldehyde because of the increased exposure potential caused by the heat used during the smoothing process. Even with the recent California settlement, those working on campaigns for safer products in cosmetics question why formaldehyde-containing hair smoothers continue to be allowed in the United States, given the CIR determination.
What have we learned during our formaldehyde campaign?
Certainly, we have been reminded of the importance of our almost 30-year-old Hazard Communication Standard. When toxic ingredients are not disclosed, we cannot be protective employers or informed consumers.
We were also made painfully aware that occupational guidelines and standards are very confusing to the public. It is difficult to articulate, for example, that while OSHA fines may not be levied for exposures just below the Permissible Exposure Limits, such concentrations aren't necessarily "safe." As health and safety professionals, researchers, and regulators, we need to learn to share messages that are as clear and simple as possible, using our partnerships to help us deliver a consistent message.
And finally, our encounters with social media on this issue reminded us about its power in delivering messages, and the challenges for followers to determine accuracy and truth online. We learned how important it is to connect with key messengers within our stakeholder communities, as we share our message that stylists, like all other employees in all other workplaces, are equally deserving of a healthy and safe workplace.
—Dede Montgomery, MS, CIH
Ms. Montgomery is an Occupational Health and Safety Specialist at the Center for Research on Occupational and Environmental Toxicology (CROET) at Oregon Health and Science University.  CROET houses the Oregon Healthy Workforce Center, a NIOSH Center of Excellence for a Healthier Workforce.
Resources
Oregon OSHA and CROET at OHSU (2010). "Keratin-Based" Smoothing Products and the Presence of Formaldehyde."
Emerging Issues and Alerts: Salon Hair Products
OSHA Hazard Alert – Hair Smoothing Products That Could Release Formaldehyde.
NIOSH Health Hazard Evaluation, HETA_11-0014_Interim_Letter (2011).
Cosmetic Ingredient Review, Final Ingredient Review, Formaldehyde; Cosmetic Ingredients Found Safe, with qualification.
Oregon OSHA and CROET Win Spotlight Award – Oregon and the Workplace Blog
Follow CROET on Twitter.
Posted on

by
---
Page last reviewed:
January 16, 2018
Page last updated:
January 16, 2018