Workplace Hearing Loss
Posted on

by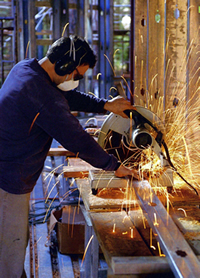 Work-related hearing loss continues to be a critical workplace safety and health issue. It is estimated that over 22 million workers are exposed to hazardous noise on the job and an additional nine million are at risk for hearing loss from other agents such as solvents and metals. The National Institute for Occupational Safety and Health (NIOSH) has a long history of working to prevent workplace hearing loss. While noise-induced hearing loss is 100 percent preventable, once acquired, hearing loss is permanent and irreversible.
Surveillance
Surveillance of occupational hearing loss and noise exposure is vital to prevention. It can identify the most problematic industries, occupations, and work activities, and can be used to evaluate the effectiveness of intervention activities. The National Academies Institute of Medicine evaluated the NIOSH Hearing Loss Research Program in 2005. While the program received high marks, the National Academies concluded that it was difficult for NIOSH to establish and prioritize research goals due to the lack of surveillance data on occupational hearing loss and noise exposure for U.S. workers. Currently the U.S. does not have a national surveillance or injury reporting system for hearing loss. The Bureau of Labor Statistics annually reports recorded hearing loss* on OSHA Form 300. However, BLS data are not representative of the true magnitude of occupational hearing loss due to several barriers to the reporting system. The Michigan Sensor program is one possible model for collecting reliable and representative data on hearing loss, but funding is lacking. As such, comprehensive data on the prevalence and economic impact of hearing loss are not available. To address this issue, NIOSH published two articles to estimate the national burden of hearing difficulty among workers in the U.S.: "Exposure to Hazardous Workplace Noise and Use of Hearing Protection Devices Among U.S. Workers—NHANES, 1999–2004"1 and "Hearing Difficulty Attributable to Employment by Industry and Occupation: An Analysis of the National Health Interview Survey—United States, 1997 to 2003."2 The articles extrapolate data from the National Health and Nutrition Examination Survey (NHANES) of 9,275 employed workers to the entire working population. The analysis revealed:
More than 22 million U.S. workers were exposed to hazardous workplace noise.
Workers in the mining industry had the highest prevalence of workplace noise exposure with almost 3 out of 4 mining industry workers exposed. The mining industry has the second highest prevalence of hearing difficulty among all industrial sectors.
Over one third of all manufacturing workers (5.7 million workers total) reported exposure to loud noise.
One in four manufacturing workers exposed to loud noise reported non-use of hearing protection devices.
To get a better picture of the full extent of workplace hearing loss, NIOSH has developed an ongoing surveillance program of occupational hearing loss in collaboration with audiometric services providers. NIOSH will develop a database and protocols to manage and analyze individual level audiometric data. Data from this surveillance effort will be used in several important ways. It will help to identify emerging hearing loss problems, including those associated with new industries, new technologies, or new pieces of equipment. The analysis of the data will also produce national reference statistics for the incidence (or prevalence) rate of occupational hearing loss across industry and occupations. By 2012, a total of 15 providers will be recruited to participate in this surveillance program. For more information about this surveillance program or if you are interested in participating in the surveillance program, send an e-mail to dvo9@cdc.gov.
Prevention
Better surveillance can help NIOSH and others provide better prevention programs. As mentioned earlier, noise-induced hearing loss is entirely preventable but once acquired, hearing loss is permanent and irreversible. Therefore, prevention measures must be taken by employers and workers to ensure the protection of workers' hearing. There are many solutions for eliminating noise in the workplace. Engineering noise control is the best approach to eliminate the problem. If that is not possible, administrative control of exposure and hearing protection are essential elements of a hearing conservation program. The NIOSH Noise and Hearing Loss Prevention Topic Page contains a Hearing Conservation Program Evaluation Checklist, a Hearing Conservation Toolbox, and a Compendium of Hearing Protection Devices, among other useful tools.
In 2006 NIOSH partnered with the National Hearing Conservation Association (NHCA) to create the Safe-in-Sound Award—an award for excellence in hearing loss prevention. The objectives of this award are to recognize organizations that document measurable achievements in hearing loss prevention programs, obtain information on their real-world successes, and widely disseminate information on how others can use these successful strategies.
Input
NIOSH is interested in strengthening its efforts to prevent hearing loss in the workplace. Through this blog, NIOSH would like to learn more about:
Practices that have proven useful to promote the use of noise control in the workplace
Government policies that can be improved to promote effective hearing conservation practices
Tools that have been effective in promoting the use of hearing protection with workers
Successes in integrating hearing protectors into hearing conservation programs
Mechanisms that have been effective in training and engaging workers' participation in the hearing conservation program
Economic benefits from quieting the environment (noise control) over using hearing protection. For example, has the elimination of the hearing conservation program due to the control of noise in the workplace led to a reduction in accidents, increased cost savings from not having to buy hearing protection and scheduling annual audiograms, or increased worker morale?
Please provide your input in the comment section below. Thank you.
Dr. Murphy is the co-leader of the Hearing Loss Prevention Team in the NIOSH Division of Applied Research and Technology and is a Captain in the Commissioned Corps of the U.S. Public Health Service.
Dr. Tak is an epidemiologist in the NIOSH Division of Surveillance, Hazard Evaluations, and Field Studies.
*Original sentence edited to improve accuracy
References
Tak S, Davis R, Calvert G. Exposure to Hazardous Workplace Noise and Use of Hearing Protection Devices among US Workers — NHANES, 19992004. American Journal of Industrial Medicine, 2009, Vol 52, No 5, pp 358-371.
Posted on

by
---
Page last reviewed:
November 25, 2016
Page last updated:
November 25, 2016