The Business Case for Safety and Health
Posted on

by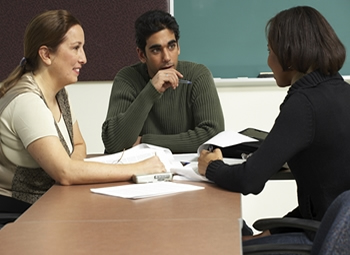 Those working in the occupational and environmental health and safety (OEHS) field understand the basic importance and value of their efforts for workers, employers, and overall society. Many partners of the National Institute for Occupational Safety and Health (NIOSH) cite real-world examples of cost savings and business advantages realized by companies with strong OEHS programs. How then do we get the rest of the business community to better appreciate the return on investment in OEHS? One way NIOSH is attempting to make the business case for OEHS is through a new course developed with the National Safety Council (NSC) and the Williams College of Business at Xavier University in Cincinnati, Ohio, for MBA students entitled "Business Value of Safety and Health."
The course aims to teach the next generation of executives that workers are a critical asset for a company in today's competitive marketplace and, therefore, investing in their safety and health is more than the right thing to do, it is also the smart thing to do. The course addresses how companies can evaluate OEHS interventions and programs in order to choose and implement the most cost-effective ones that will both improve occupational safety and health for workers and support the business objectives of the company. This type of approach can guide decision making and point to appropriate actions such as initiatives for long-term planning and operations management, among others.
The first course was held this past spring (January to May, 2009) as a business administration elective in the MBA program at Xavier. The course was well received by the students, who noted the value of such an applied and holistic approach to managing a company:
Of all of the (MBA) courses taken at Xavier, this course offered me the most benefit. It took components of many of the courses I took—from HR courses, to finance courses, to statistic courses, etc., and applied many elements of these courses in a practical, real environment. This hands-on applicability was very beneficial to me.
—K.B., XU MBA Graduate
The course includes real-world cases from multiple industries that have capitalized on the incorporation of OEHS into their respective business models with outstanding results. Many of the cases come from the National Safety Council's Robert W. Campbell Award for Safety/Health and Environment Business Case Studies. For example:
DynMcDermott is a private New Orleans-based firm that manages the U.S. Strategic Petroleum Reserve. According to DynMcDermott, top performance and returns were achieved "because of, not in spite of, our focus on the worker, the public and the environment." Through its focus on OEHS, the company experienced an 88% reduction in recordable injuries/illnesses from 34 in 1994 to 4 in 2005. Since 2000, OEHS performance has met or exceeded 100% of the performance targets enabling the company to receive 100% of the OEHS performance award fee set by the government. Reductions in waste generation and spill incidents have accounted for $3,878,000 in cost avoidances and savings since 2000, when the ISO 14001 Environmental Management System and EPA Performance Track programs were put in place. Similar cost avoidances have been experienced from the reduction in recordable injuries/illnesses.
Long term aims for the NIOSH, NSC, and Xavier partnership include:
Encourage the development of sound, effective, and collaborative research by safety and health professionals, businesses, and economic scholars to:

assess the magnitude of the burden imposed on industries, sectors, and national productivity by occupational injury and illness, and
investigate the relationship between effective programs to promote workplace safety and health and the associated costs and benefits to society at large, to employers, and to workers.

Promote the transfer and workplace implementation of research findings on effective occupational injury and illness prevention strategies and technologies.
As part of this vision, and based on the success of the first course on the business value of safety and health, Xavier recently created a new Center for Excellence in the Business of Health and Safety within an existing Center for Entrepreneurship and Innovation and has named Professor Ginny Frings as coordinator. Xavier is now planning to expand the focus on the business value of OEHS into a concentration of MBA classes that will align with core business concepts of risk management, operations, finance, economics, marketing, and communication. As part of this process, Xavier and NIOSH will be co-sponsoring a conference entitled "Economics of Sustainability – Health, Safety, and the Environment Conference: October 27–29, 2010." A call for papers will be released shortly.
NIOSH hopes to partner with additional colleges and universities to teach these important concepts to the next generation of business leaders. NIOSH is also hoping to partner with institutions that train others who affect the holistic approach to safety and health, such as engineers, architects, environmental scientists, as well as safety and health professionals.
NIOSH is always seeking additional case studies that exemplify the value of investing in occupational safety and health. Any input to share or improve the class would be appreciated such as suggestions for topics to be covered in current or future classes.
This project is just one example of NIOSH work in the area of economics. More information can be found on the NIOSH Economics Program Portfolio page that is currently being updated.
Dr. Wurzelbacher is a Research Industrial Hygienist in the NIOSH Division of Surveillance, Hazard Evaluations, and Field Studies.
Dr. Frings is the Coordinator of the Center for Entrepreneurship and Innovation at Xavier University.
Dr. Lin is the Director of the Robert W. Campbell Award and Senior Director of the National Safety Council Research & Statistical Services and Editor of the Journal of Safety Research.
Posted on

by
---
Page last reviewed:
November 25, 2016
Page last updated:
November 25, 2016