H1N1: Protecting Healthcare Workers
Posted on

by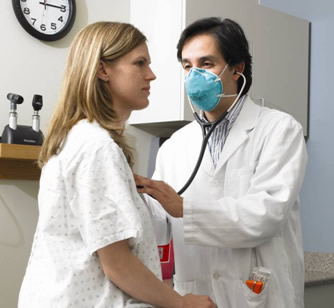 As we brace for the flu season, concerns are rising about the full impact of Novel H1N1 Influenza Virus (H1N1) also known as "Swine Flu." As of July 31, 2009, there were 162,380 documented cases of human infection with H1N1 throughout the world, including the United States. As of August 6, 2009, there were 6,506 hospitalized cases and 436 deaths in the U.S. From the time of its emergence earlier this year, H1N1 has prompted a concerted response from health agencies here and abroad for the following reasons:
It is a never-before seen combination of human, swine, and avian influenza viruses.
It is being spread from human to human.
The age group most affected is healthy, young adults (unlike seasonal flu).
Like other influenza viruses, it continues to evolve.
Healthcare workers and emergency responders will face increased risk of exposure to H1N1 given their role in caring for sick patients. It is estimated that at lest 50% of ill people will seek medical care, and the number of hospitalizations and deaths will depend on the virulence of the pandemic virus. The National Institute for Occupational Safety and Health (NIOSH) is working to protect healthcare workers from exposure to H1N1 in the workplace. Examples of NIOSH initiatives related to H1N1 include communications strategies to emphasize the hierarchy of controls to reduce the risk of workers becoming ill, respirator research and enhanced respirator certification, laboratory and field research on the transmission of influenza, and plans for field evaluations and surveillance of healthcare worker and other populations.
This week, NIOSH researchers will participate in a workshop convened by an ad hoc committee of the Institute of Medicine. IOM describes the scope and purpose of the workshop in this way:
In response to a request from the Centers for Disease Control and Prevention and the Occupational Safety & Health Administration, an ad hoc committee of the Institute of Medicine (IOM) will conduct a study and issue a letter report to the CDC director and Assistant Secretary for Occupational Safety and Health by September 1, 2009. The committee will provide recommendations regarding the necessary personal protective equipment (PPE) for healthcare workers in their workplace against the novel influenza A (nH1N1) virus. Issues to be addressed to the extent feasible given available evidence and within the timeline for this letter report include: the potential for exposure to the nH1N1 virus among healthcare workers, which groups of workers are at risk, which patient care activities pose a risk of exposure and what degree of risk, and what is known and what is unknown about transmissibility, severity and virulence of the current virus and how transmissibility might change. The committee will base its recommendations on the available current state of scientific and empirical evidence about nH1N1 virus, as well its expert judgment. Economic and logistical considerations regarding PPE equipment will not be addressed in this letter report. In determining the appropriate PPE for the U.S. healthcare workforce, attention will be given to the current PPE guidance documents offered by the CDC and by the World Health Organization for novel H1N1 influenza and for seasonal influenza.
The IOM Workshop on Personal Protective Equipment for Healthcare Workers in the Workplace against Novel H1N1 Influenza A will be available via live audio webcast from 8 am to 5 pm on Wednesday, August 12th, and from 8 am to noon on Thursday, August 13th. The webcast can be accessed through the National Academies homepage. The full workshop agenda is available on the study's website.
NIOSH experts will participate in the panel discussion on what is known about the effectiveness of respirators and surgical masks with regard to influenza virus or particles of a similar size to provide worker protection. NIOSH also will provide an update on research related to cough dispersion and exposure measures of influenza transmission, with an emphasis on a recent urgent care air sampling study. NIOSH also conducted an emergency room air sampling study last year.
The overall workshop goals include:
Examine the emerging science and clinical experience base associated with H1N1
Discuss criteria used to delineate infection control guidelines
Discuss criteria used to assess risk to the healthcare workforce
Examine what's known about the effectiveness of medical masks, respirators, gowns, gloves, and eye protection in preventing H1N1 and seasonal influenza transmission
NIOSH would appreciate comments related to the workshop goals including peer-reviewed and published work on the topics mentioned above. We will forward comments received on this blog during the first week to the IOM to help inform their process. This is the first in a series of science blogs focusing on NIOSH initiatives related to H1N1. We welcome suggestions for future blogs on this topic.
Dr. D'Alessandro is the NIOSH PPT Program Coordinator and Associate Director for Science in the NIOSH National Personal Protective Technology Laboratory.
Mr. Fries serves as the Assistant Coordinator for the NIOSH PPT Program in the NIOSH National Personal Protective Technology Laboratory.
Posted on

by
---
Page last reviewed:
November 30, 2021
Page last updated:
November 30, 2021