Nail Salon Table Evaluation
Posted on

by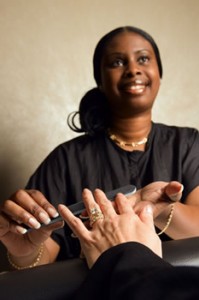 Approximately 365,000 people are employed in nail salons and other personal care services in the United States. The workforce is largely female (75%) with the industry employing a large number of minority workers (46%) specifically Asian immigrants (38%). These workers generally perform manicures over a workstation—or "nail table"—with the client's hands resting on the table as they work. The nail table is, therefore, directly below the nail technicians' breathing zone. Downdraft vented nail tables (VNTs) are modified to vent potential dust or chemical exposures away from the breathing zone before they cross it, thus theoretically reducing potential exposures.
The National Institute for Occupational Safety and Health (NIOSH) is undertaking a unique research project to examine the effectiveness of different VNTs in removing potential exposures from the work area. NIOSH is requesting that developers, manufacturers, and vendors of VNTs submit new, unused, downdraft VNTs for a free evaluation. The NIOSH research will include an evaluation of VNT airflow and capture characteristics, noise level, ergonomic features, and filter life. Results of the research and recommendations from NIOSH will be communicated back to the submitter with the hope of providing valuable information for maximizing the efficiency of VNTs. NIOSH may also use the information gained through this research to develop educational materials for nail technicians and other publications.
More information on submitting a VNT can be found in the Federal Register Notice. The deadline for receipt of VNTs is June 30, 2009. Given the financial constraints of this project, submitters are responsible for shipping the VNTs to NIOSH for review and for the return shipment. At this time, NIOSH is not accepting VNTs from salons or individuals.
Please forward this post to those who may be interested in this free evaluation of their VNTs. As we begin this research we would also be interested in learning about users' experiences with VNTs.
—Susan Reutman, Ph.D.
Dr. Reutman is an Epidemiologist, Senior Service Fellow in the NIOSH Division of Applied Research and Technology (DART)
Posted on

by
---
Page last reviewed:
November 25, 2016
Page last updated:
November 25, 2016