1-BP: A Potential Occupational Hazard
Posted on

by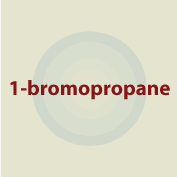 In recent years we have seen an increase in the use of the solvent 1-bromopropane (1-BP) as a substitute for ozone-depleting chlorofluorocarbons and other regulated compounds. 1-BP is used in multiple manufacturing processes, including vapor and immersion degreasing operations to clean electronics and metal and as a solvent vehicle in industries using aerosol applied adhesives such as foam cushion manufacturing. In some states, 1-BP is now being used as an alternative solvent within the dry cleaning industry in response to the restricted use of perchloroethylene, which is considered "probably carcinogenic to humans" by the International Agency for Research on Cancer (IARC).
The toxic nature of 1-BP is not fully understood. Case reports demonstrating neurotoxic, reproductive, development and other health effects in workers who use or make 1-BP indicate that the brominated solvent may represent an unrecognized occupational health risk. In this week's issue of the Centers for Disease Control and Prevention's Morbidity and Mortality Weekly Report, the National Institute for Occupational Safety and Health (NIOSH) presents two independent cases of 1-BP exposed workers diagnosed with the clinical manifestations of neurotoxicity. These cases from the electronics and dry cleaning industries, when coupled with previously reported studies of workers exposed to 1-BP in the foam cushion manufacturing industry, illustrate the potential health risk of 1-BP exposures.
Limited exposure and human health effect data are currently available concerning 1-BP, but the National Toxicology Program (NTP) has concluded that there is sufficient evidence of developmental and reproductive toxicity among animals exposed to 1-BP. NIOSH is in the process of evaluating exposures and potential health effects among workers potentially exposed to 1-BP. Additionally, NIOSH is working with a major manufacturer of 1-BP products to better understand their extent of use, proper methods for handling the material, and practices that will minimize worker exposure.
Currently, NIOSH does not have a Recommended Exposure Limit (REL), nor does the Occupational Safety and Health Administration (OSHA) have a Permissible Exposure Limit (PEL) for 1-BP. The American Conference of Governmental Industrial Hygienists (ACGIH) recommends an 8-hour time weighted average (TLV) of 10 parts per million (ppm) to provide protection against the potential for neurotoxicity, hepatotoxicity, and reproductive and developmental toxicity in 1-BP exposed workers. Other professional organizations and manufacturers have recommended exposure limits ranging from 20 to 100 ppm. The U.S. Environmental Protection Agency stated in May 2007 that exposures within or below the range of 17 to 30 ppm are anticipated to be protective against reproductive effects in men and women.
As we work to better understand the possible risks associated with workplace exposure to 1-BP, NIOSH recommends engineering controls and work practices to limit workers exposures within facilities where 1-BP is manufactured, used, handled, or stored. Substitution, engineering controls, administrative controls, and lastly, personal protective equipment can help reduce or eliminate exposure.
Through this blog and the MMWR article we hope to alert employers, clinicians, and public health professionals to potential health effects among workers exposed to 1-BP, particularly in workplaces where 1-BP use may be increasing (such as in drycleaning and solvent cleaning) and to emphasize the need for effective control methods to limit worker exposure to 1-BP.
—G. Scott Dotson, Ph.D., and Charles L. Geraci, Ph.D., CIH
Dr. Dotson is an Industrial Hygienist in the NIOSH Education and Information Division. Dr. Geraci is a Supervisory Physical Scientist and Chief of the Document Development Branch in the NIOSH Education and Information Division.
Posted 12/8/08 at 3:30 pm
Posted on

by
---
Page last reviewed:
November 23, 2016
Page last updated:
November 23, 2016