NORA Symposium 2008
Posted on

by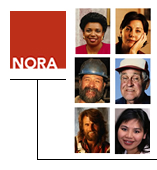 The National Occupational Research Agenda (NORA) is a collaborative effort by NIOSH and many diverse partners to stimulate innovative research and improved workplace practices. NORA aims to raise awareness of priority needs for research in occupational safety and health, stimulate discussions on meeting those needs, and leverage resources of like-minded organizations to conduct targeted research and put the results into practice. Since its creation in 1996, we have strived through NORA partnerships to leverage limited occupational safety and health resources with the goal of improving the chances that every worker will return home at the end of the day and retire at the end of her/his career in good health.
NORA Symposia have been held every 2 to 3 years since 1999. They celebrate the recent accomplishments of those involved in NORA and invite others to join in effective partnerships. This year's Symposium, "Public Market for Ideas and Partnerships," is in Denver on July 29, 2008. The NORA Symposium showcases recent successes associated with NORA partnerships including examples of r2p—research to practice—in which NORA has been instrumental for moving innovative research products into actual workplace use. The successes also include examples of ongoing research that address the increasingly complex challenges of our field in the 21st century. This research is the incubator for the next generation of r2p products.
The 2008 NORA Symposium will also offer opportunities for expanding today's collaborations. If you have wondered how you might contribute to and benefit from occupational safety and health research, you are certain to find answers and inspiration under NORA. Examples of the innovative research stimulated under NORA can be found in the online Virtual Symposium from July 30 through August 12. This will be a rare chance to learn about the range of current NORA programs and projects, to network with NIOSH colleagues and partner organizations by posting comments and engaging in dialogue on-line, to learn more about today's emerging challenges in safety and health, and to hear from practitioners about the effective, practical workplace interventions that have grown from NORA.
Take note of these features of NORA Symposium 2008:
The NORA Innovative Research Award and the NORA Partnering Award. This year's winners include stellar achievements in research on the supervisor's role in reducing musculoskeletal injuries, teaching safe patient handling in schools of nursing, and developing and implementing a Beryllium Worker Protection Model. Descriptions of the 2006 awards are also available. The NORA Symposium provides a forum for saluting the scientific ingenuity and dedicated teamwork that underpin NORA.
All 45 posters submitted for the Symposium are available online on the Virtual Symposium. Interact with the poster authors from July 30 until August 12 through a blog-type forum. Each author is seeking feedback on your interest in their work and many are seeking collaborations to improve the research product and partnerships to have the results put into workplace practice.
The key to NORA's success is its successful partnerships. We invite you to get involved.
We value your input and would like to hear about your experience with NORA. Has it changed your workplace? Influenced your field? Provided opportunities for research? How would you like to see NORA changed? What research would you like to see conducted?
Thank you in advance for your comments.
—Sidney C. Soderholm, PhD
Dr. Soderholm is the NORA Coordinator and works in the Office of the NIOSH Director in Washington, DC.
Posted on

by
Page last reviewed:
April 15, 2021
Page last updated:
April 15, 2021