Ergonomics for Construction Workers
Posted on

by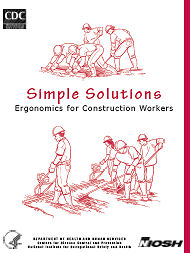 Construction is one of the most hazardous industries in the United States. Some of the most common construction injuries are the result of job demands that push the human body beyond its natural limits. Workers who must often lift, stoop, kneel, twist, grip, stretch, reach overhead, or work in other awkward positions to do a job are at risk of developing a work-related musculoskeletal disorder (WMSD) such as back problems, carpal tunnel syndrome, and tendonitis to name a few. The number of back injuries in U.S. construction was 50% higher than the average for all other U.S. industries in 1999 (CPWR, 2002). In 2005, construction employers reported 35,900 work-related musculoskeletal disorders that resulted in one or more days away from work for injured employees.
Armed with these and other data, we at NIOSH set out to develop simple and inexpensive solutions to make construction tasks easier, more comfortable, and better suited to the needs of the human body. The result: Simple Solutions: Ergonomics for Construction Workers, a new NIOSH publication consisting of "tip sheets" illustrating how different tools or equipment may reduce the risk of injury. The tip sheet format is designed to make it easy for employers and workers to use the guide on site and fit the interventions to everyday work activities. Each tip sheet describes a problem, one possible solution, the benefits to the worker and employer, and the cost of implementing the solution. Information on locating the tools included in the tip sheets can be found on the CPWR – The Center for Construction Research and Training website (External link: http://www.cpwr.com/simple.html).
An important goal of this document was to provide practical, cost-effective solutions. All of the interventions described in the booklet are readily available and have been used on working construction sites. Given the nature of construction, some solutions may not be appropriate for all worksites. Conversely, solutions discovered for one trade sometimes can be modified for other trades. While some solutions may need the involvement of the building owner or general contractor, there are many ideas that individual workers and supervisors can adopt.
One example involves rebar-tying tools. Ironworkers tie rebar by hand with pliers and tie wire. The work requires repeated, fast hand and arm movements while applying a lot of force. If tying at ground level, workers must work in a stooped position, with the body bent deeply forward. These tasks increase a worker's chances of developing hand-wrist disorders and low-back injury. One solution, evaluated by NIOSH at the request of a construction concrete reinforcement contractor, is to use a rebar-tying tool. This tool decreases a worker's risk of hand and wrist injury by eliminating the frequent and rapid hand motions required when using pliers. Some rebar tiers allow you to work standing up, so there is less strain on the low back due to stooping and bending. Both workers and management expressed confidence that the interventions increased workers' productivity while reducing their risk of musculoskeletal injuries.
We at NIOSH would like to thank CPWR and other collaborators who helped develop many of the tip sheets used in this publication. We hope you find them useful and welcome your comments about these and other ergonomic interventions in the construction industry.
James T. Albers, M.S., CIH, and Cheryl F. Estill, M.S., P.E.
James T. Albers is an industrial hygienist with the NIOSH Division of Applied Research and Technology. His research interests are construction and ergonomics.
Cheryl F. Estill is an engineer and industrial hygienist for the NIOSH Division of Surveillance, Hazard Evaluation, and Field Studies. She has written similar applied research documents for agriculture, nail salons, and the appliance industry.
Posted on

by
---
Page last reviewed:
July 5, 2019
Page last updated:
July 5, 2019