Preventing Fire Fighter Fatalities from Cardiovascular Events
Posted on

by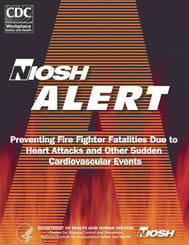 Welcome to the first post of the NIOSH Science Blog. We are pleased to inaugurate this new avenue of communication by highlighting a recent NIOSH publication that recommends strategic interventions to prevent deaths from heart attacks and other cardiovascular events among firefighters.
Some 1.1 million firefighters selflessly risk their own safety and health for our safety and the safety of our communities. Last month we saw this heroism first hand as over 7,000 firefighters battled the dangerous wildfires in Southern California. Fortunately, no fire fighters lost their lives but 130 suffered injuries as of November 2, according to media reports. It is an inherently dangerous job, but injuries, illnesses, and deaths should not be viewed or accepted as inevitable occurrences. NIOSH and other safety and fire service agencies work to protect fire fighters and prevent the estimated 100 fire fighter fatalities that occur each year. Through its Fire Fighter Fatality Investigation and Prevention Program, NIOSH investigates the deaths of fire fighters in the line of duty to formulate science-based recommendations for preventing future deaths and injuries.
In June 2007, NIOSH issued an Alert on the most common cause of fire fighter fatalities—sudden cardiac death. The Alert, Preventing Fire Fighter Fatalities Due to Heart Attacks and Other Sudden Cardiovascular Events, incorporates findings from 131 NIOSH investigations, examines the circumstances of these cardiac events, reviews the current fire service standards, provides case reports, and makes recommendations for preventing injury and death to fire fighters from preventable cardiovascular conditions. Thomas Hales, Scott Jackson, and Tommy Baldwin of NIOSH were the principle contributors to the Alert. The document also reflected the assistance of twelve outside reviewers from fire-service, occupational health, and medical organizations and agencies.
Coronary artery disease in fire fighters is due to a combination of personal and workplace factors. The personal factors are well known: age, gender, family history, diabetes mellitus, hypertension, smoking, high blood cholesterol, obesity, and lack of exercise. Not as widely known, however, is that fire fighters have exposures to workplace factors that are associated with adverse cardiovascular outcomes such as exposure to fire smoke (notably carbon monoxide, hydrogen cyanide, and particulates), heat stress, noise, and shift work.
The Alert contains several recommendations for dealing with both the workplace factors and the personal factors in the work setting. Among other steps, these include recommendations for action by fire departments to provide appropriate post-offer, pre-placement medical evaluations for candidates, to develop and encourage participation in comprehensive wellness/fitness programs, to ensure the existence of a smoking cessation program, to reduce exposure to fire smoke, and to ensure that fire stations are non-smoking facilities.
In fire fighting and in regard to work in general, it is important to link worker health and safety protection with work-based health promotion. We call this worklife (see NIOSH WorkLife Initiative). In the past, a concern with focusing on personal health at work was that too much emphasis might be placed on the worker's individual behavior at the expense of dealing with known workplace hazards. Today's reality is that we cannot consider each type of risk in a vacuum. As illustrated in the Alert, a firefighter's compromised physical fitness combined with work-related exposures and physical demands known to trigger sudden cardiac events can have deadly outcomes.
Just as NIOSH recommends that fire departments implement effective prevention programs to address the risk factors for cardiovascular disease, we would like to see every workplace preventing work-related illness, injury, and disability and promoting healthy living and lifestyles to reduce and prevent chronic disease. This is truly a win-win scenario resulting in the optimized health of the U.S. workforce.
If you have examples of successful programs that address both work-related and personal health issues, please post them on the blog. Your experiences can help inform the NIOSH WorkLife initiative.
In good health,
John Howard, MD
Director, National Institute for Occupational Safety and Health
Posted on

by
---
Page last reviewed:
January 25, 2023
Page last updated:
January 25, 2023