Calling on All of Us Public Health Scientists
Posted on

by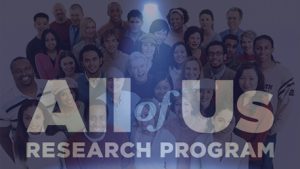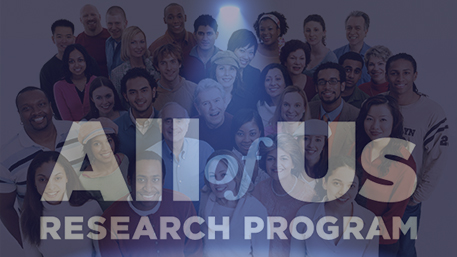 The All of Us Research Program data provide a unique platform for public health scientists interested in using large-scale data to improve population health.
Scientists at the Centers for Disease Control and Prevention and elsewhere can now access and analyze data from the National Institutes of Health's All of Us Research Program. In this post, we briefly explore three attributes of All of Us data that make them uniquely beneficial for public health scientists and other researchers interested in population health.
We invite all CDC and other public health scientists to attend our All of Us webinar on September 29.
For additional information on products and publications resulting from All of Us, please search our new online knowledge base.
Find more information about the All of Us Researcher Workbench and register to become a researcher with All of Us by visiting ResearchAllofUs.org.
To accelerate biomedical research and drive discoveries that improve health of individuals and populations, All of Us already has more than 500,000 participants consented and has developed new approaches to generate, access, and make data broadly available to researchers. The program ultimately aims to enroll one million or more participants.
All of Us opened enrollment nationwide in May 2018 and currently enrolls participants 18 years of age or older from >340 sites and online. The protocol includes health questionnaires, electronic health records (EHRs), physical measurements, digital health technology, and biospecimens for various laboratory studies, including genetic analysis. Genetic data are currently available on more than 100,000 participants, including 165,000 with array data, and 98,000 with whole genome sequencing data.
Beyond Genomics and Precision Medicine
The All of Us Research Program resulted directly from the Precision Medicine Initiative. Many scientists may assume that the sole purpose of this initiative is to accelerate genomic discoveries leading to precision medicine therapies. While precision medicine is a foundation of the program, the longitudinal and multilevel data collected on a large and diverse population of participants will allow for more in-depth exploration of prevalence, risk factors, and health outcomes for various diseases of public health importance. In fact, as of July 19, 2022, of the 81 All of Us publications included in Pubmed, 68—the vast majority of papers—are not about genomics. Examples of All of Us papers include the epidemiology of atrial fibrillation, hypertension, obesity, and COVID-19 related research.
Of course, genomic data will be increasingly used in this dataset and can provide valuable information not only on the role of genetic factors in health and disease, but also on the importance of environmental factors, using mendelian randomization and gene-environment interaction studies. The addition of environmental factors into the All of Us data collection is a high priority for the program, as reflected in the July 2022 workshop on priorities for including climate and environmental data into All of Us-based studies.
Diversity, Equity and Inclusion
Lack of diversity among research participants is a well-documented and ongoing challenge in clinical and population studies. For example, <3% of the participants in genome-wide association studies to date are racial or ethnic minorities. Eighty-six percent of participants in clinical trials are white. The lack of diversity in research studies can exacerbate health disparities and weakens scientific discoveries and applications for all populations.
All of Us addressed the need for more diversity early in the planning process. To better understand which groups are historically represented or underrepresented in biomedical research, the program assessed demographic characteristics of participants in other U.S. research cohorts. The program has emphasized enrollment of racial and ethnic minorities. In addition, the program formally designated several other groups as historically underrepresented: "individuals-with inadequate access to medical care; under the age of 18 or over 65; with an annual household income at or below 200% of the federal poverty level; who have a cognitive or physical disability; have less than a high school education or equivalent; are intersex; identify as a sexual or gender minority; or live in rural or non-metropolitan areas." As a result, All of Us' efforts have netted considerable benefits in the successful recruitment of underrepresented groups. To date, about 80% of program participants who have completed initial steps of the protocol identify with groups that have been historically underrepresented in biomedical research.
Implementation Science and Health Outcomes
In addition, because of longitudinal linkages with EHR data, All of Us provides a unique platform for understanding multilevel factors that can enhance or impede the implementation of evidence-based guidelines in various populations. In a previous blog, we viewed the intersection of implementation science with All of Us data as a unique opportunity for improving healthcare utilization and health outcomes for various diseases in diverse populations. Descriptive and intervention studies using established frameworks for implementation science can leverage the program's data to help improve population health. Recent examples of All of Us publications highlight health care utilization among cancer survivors, and an association between opioid use and increased risk of retinal vein occlusion.
Going Forward
All of Us Research Program data will provide public health scientists with rich and multilevel longitudinal data to mine for insights into health and disease in diverse populations, especially those historically left out in biomedical studies. The longitudinal data and linkages with EHRs will allow queries into many topics beyond genomics and precision medicine.
We recognize that unlike national surveys, such as the National Health and Nutrition Examination Survey (NHANES), and the National Health Interview Survey (NHIS), All of Us data are not representative of the U.S. population. Nevertheless, we believe that the data can be analyzed using methods and strategies that ensure both internal and external validity of results.
We welcome input and feedback from our readers on high-priority topics for using All of Us data to improve population health.
Posted on

by
---
Page last reviewed:
July 27, 2022
Page last updated:
July 27, 2022