Host Genomics and COVID-19: One Year Later
Posted on

by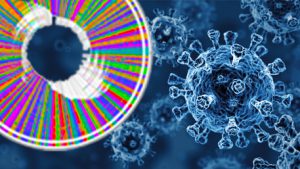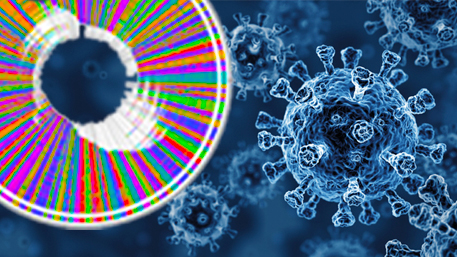 Unprecedented global research collaborations in human genomics provide a model for research in response to a pandemic.  
Early in the COVID-19 pandemic, we discussed the role of research on human genetics in the investigation of SARS-CoV-2 infection and outcomes. We now know more about the wide variation in host response, from asymptomatic infection to severe disease and even death. The health effects of COVID-19 span multiple organ systems including lung, kidney, heart, and brain. Rare but serious outcomes have been described, including the multisystem inflammatory syndrome in children. Some patients who seemingly recover from mild infections experience a variety of long-term health problems (long-haulers).
Many factors have been associated with the variability in COVID-19 infection and outcomes. Age, certain underlying medical conditions, and other risk factors increase the likelihood of severe outcomes. In addition, social determinants of health are also important factors in increased risk of COVID-19 infection and adverse outcomes. Nevertheless, known environmental, demographic, and medical factors do not explain all individual variability in COVID-19 outcomes.
Scientific Approaches to the Study of Host Genomics in COVID-19
One year into the pandemic, the search for host genetic factors in COVID-19 susceptibility and outcomes has taken various approaches For example, family-based and population-based analyses of "extreme phenotypes"—such as death or severe disease in young people with no underlying medical conditions—can uncover rare genetic variants with large effects. Genome-wide association studies (GWAS) and multi-omic approaches (e.g., gene expression and proteomics) can uncover common variants and networks underlying host response. Many scientific publications on the role of host genomics in COVID-19 have appeared in peer reviewed journals or as preprints, as displayed in our continuously updated COVID-19 portal on genomics and precision health.
The annual meeting of the American College of Medical Genetics and Genomics will highlight two global collaborations now studying host genetic factors in COVID-19, one focused on common genetic variation and the other on rare variants.
Genome-Wide Association
The COVID-19 Host Genetics Initiative provides an environment for sharing resources and organizing collaborative analyses of common genetic variants for association with COVID-19 outcomes. The effort has already contributed several important findings, including the association of a 3p21.31 gene cluster and the ABO locus with respiratory failure and genetic associations with COVID-19 requiring intensive care unit admission. A recent publication described three GWAS meta-analyses comprising 49,562 COVID-19 patients from 46 studies across19 countries worldwide. The results included 15 genome-wide significant loci associated with SARS-CoV-2 infection or severe illness, several in genes previously associated with autoimmune and inflammatory diseases. The implications of these findings for treatment or prevention will require further evaluation.
Inborn Errors of Immunity
Another global collaboration, the COVID Human Genetic Effort, is focusing in part on the role of single-gene, inborn errors of immunity in severe COVID-19. Studies by this group have found that altered activity of the type 1 interferon system—due either to variants of component genes or antibodies to their products—is involved in perhaps 10% of severe COVID-19 pneumonia. By uncovering underlying causal mechanisms, such studies may suggest directions for drug development.
Host Genomics and COVID-19: Work in Progress
Although research on host genomics in COVID-19 remains a work in progress, these collaborative efforts illustrate how quickly the human genetics scientific community has come together from around the world to address the pandemic. The identification of new host genetic factors associated with COVID-19 is propelled by collaborative platforms, data sharing, joint analyses, and publications of findings. Such collaborations provide an example for team science in addressing future pandemics of human disease.
Posted on

by
---
Page last reviewed:
May 18, 2021
Page last updated:
May 18, 2021