Consumer Genetic Testing Is Booming: But What are the Benefits and Harms to Individuals and Populations?
Posted on

by
Initially a Niche Market for Very Few with Small Population Impact
The first genetic tests directly available to consumers for health were offered in 1996. The concept, then, was both audacious and bold: the idea that individuals could explore their own human genome without the aid of a health care provider to order the test or interpret the results. Some consumer
The world has changed. In the last two years, personal genomics usage has exploded…
advocates praised the development as empowering, while many medical and public health experts advised caution, given the lack of evidence that results were clinically useful and that the risk for potential harms was unknown. Meanwhile, the direct-to-consumer (DTC) genetic health test industry grew relatively slowly during the first two decades of its existence. During that time, personal genomics for any purpose was often perceived as a mere curiosity purchased by only a few wealthy individuals.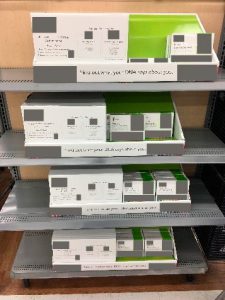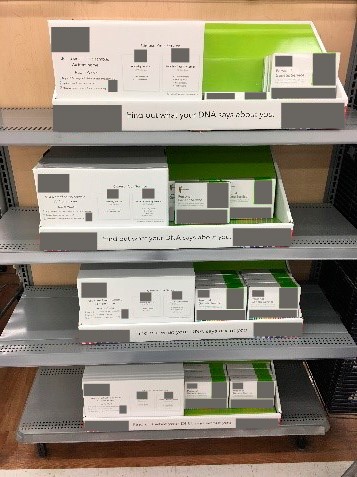 Recent Explosion in DTC Genetic Test Sales
The world has changed. As reported in the May 22, 2018 Science News special report, personal genomics usage has exploded from what might have once been considered an unlikely source: mushrooming consumer interest in genealogy. Genealogy has grown dramatically to become the second most popular hobby in the United States and the second-most popular internet surfing topic. In recent years, costs for genetic ancestry tests have dropped dramatically and demand has responded in kind. Generally, the tests focus on identifying genetic variants important to one's cultural and geographic heritage and are not thought to involve health issues – though it is conceivable they could raise important questions. For example, if one discovered previously unknown Ashkenazi Jewish ancestry, additional risk for certain genetic conditions might be discussed with one's physician.
With Bundling, DTC Tests for Genealogy Are Now an Important Driver for DTC Health Tests

Recent sales for DTC genetic health tests increased dramatically when several DTC test providers began bundling their popular DNA genealogy package with their health package. We find DTC tests for health concerning—conducted as they often are without the involvement of a healthcare provider and without an understanding of clinical validity and utility—as we have detailed in our blogs: Think Before You Spit, Think (Again) Before You Spit, and Think After You Spit. Despite these valid concerns, bundled ancestry and health packages have been selling "like hotcakes." While specific sales data for health related DTC tests are not publicly available, we can easily guess their significance. In late 2017, a bundled genealogy and health DNA test was one of Amazon's top five Black Friday sellers. Meanwhile, overall, genetic tests for ancestry have continued to skyrocket. The total number of people who have taken direct to consumer genealogy tests was reported to have increased two fold in 2017 with the total number of people who have participated at greater than 12 million and rising.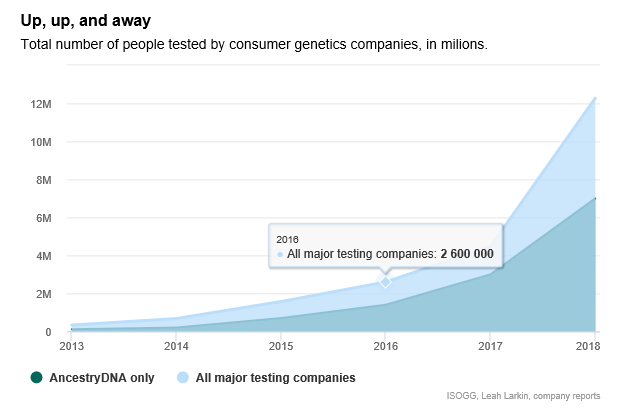 Critical Questions and the Need to Understand the (Now) Potentially Substantial Public Health Impact
Many questions come to mind that require better population level data to answer.
How many people who participate in DTC DNA tests are motivated by health related concerns and purposes?
What do people do with that information?
How many believe the tests results are valuable or helpful?
Do they eventually talk to and share their DTC test results with their doctor? If so do health care providers find that the results are helpful in any way?
Do people change any of their health behaviors as a result?
Do they worry more and suffer from anxiety about their health and future?
Do people have unnecessary and potentially harmful medical procedures which may be inappropriate for their situation as a direct result of concerns from DTC test results, including laboratory tests and medical and surgical interventions?
As the number of people who have participated in DTC genetic tests rises into the millions, these questions are becoming increasingly important to answer as a public health priority. What data we do have about consumer knowledge on genetic tests provides further reason for concern. A recent study based on an online survey of 1,001 adults representative of the population, found that public awareness of genomics and personalized medicine was not increasing in line with advancements in the industry. Seventy-three percent of the survey respondents had not heard of genetic counseling – which is conducted by certified health professionals to advise consumers/patients on how to interpret genetic test results.
Potential Next Steps for Public Health Efforts in Assessment and Education
We need to know a lot more. We could better understand these issues by including questions about DTC genetic test awareness, usage, and impact in population-based surveys—an approach used successfully in the past. (Examples include those reported by Jacobellis in 2004, Goddard in 2009, Kolor in 2012, and Agurs-Collins in 2015.)
With current and expanded data on use and impact of DTC genetic health tests, we can take steps to empower consumers to make more informed choices about their health behaviors and health resource expenditures. These measures could include providing:
Education focused on gaps in public genetic literacy and knowledge; and
Easily accessed, specific information about what we know and don't know about specific DTC test results.
One thing has become clear: DTC genetic tests, including those for health purposes, are now mainstream. Both before and after deciding to purchase, it is essential that the general public understands the potential harms and benefits of applications marketed or interpreted for health relevance. An important role for public health is to provide unbiased evidenced-based information. The CDC Office of Public Health Genomics will continue to provide regularly updated and searchable data on DTC tests in our Public Health Genomics Knowledge Base (PHGKB). Additional information on this topic can be found on our website and our Genomics and Health Weekly Update. In future blog posts, we will further explore the implications of consumer genetic testing on the health of individuals and populations.
As always, we welcome your comments and questions.
Posted on

by
---
Page last reviewed:
May 3, 2021
Page last updated:
May 3, 2021