Direct-to-Consumer Genetic Testing and Public Health Education
Posted on

by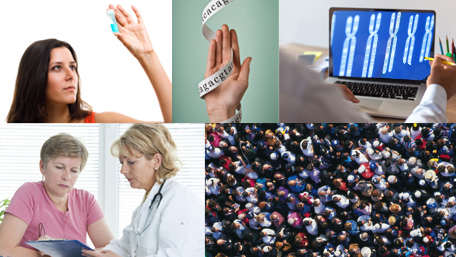 We have previously blogged about the value (or lack thereof) of direct-to-consumer (DTC) genetic tests in improving health. In a 2011 blog entitled "think before you spit" we cautioned that there was very little evidence that the use of such tests improves health and prevents disease for healthy people in the population. The blog was followed by a number of comments from our readers that questioned some of our statements, leading us to write another piece entitled: "think (again) before you spit". In 2012, with new data showing increasing awareness and use of DTC genetic tests, we published another blog entitled: "think after you spit" in which we postulated based on recent surveys of DTC genetic testing the possibility of a "teachable moment for consumers and health care providers to engage in a dialogue on improving health and preventing disease using these tests as a starting point for discussion."
Fast forward to 2016. Many things have changed in the past 4 years. Genomic technology has improved, genetic tests have proliferated, and more consumers have undergone DTC genetic tests. How did the idea of a "teachable moment" work out in the real world? In a recent study of more than a thousand consumers who have undergone DTC genetic testing, a third of participants believed that their results could be used to improve their health. In addition, 27% of participants reported sharing their results with their healthcare providers within 6 months. Of these, only 35% were very satisfied with the encounter with their providers, and 18% were not at all satisfied. Frequent themes in describing encounters with providers included actionability of the results for use in care and lack of provider engagement or interest.
These findings suggest that DTC genetic tests may create expectations that are unlikely to be met by  health care providers, especially with busy clinicians trying to make the most of a less than a 15-minute clinical encounter. In an accompanying editorial, Burke and Brown discussed the "deceptive appeal" of DTC genetic tests as they compare such tests to other "screening" tests such as prostate-specific antigen screening or whole-body scans in healthy people. DTC genetic tests "deliver uncertain information and create patient expectations that may align poorly with evidence; clinical priorities; or, in some cases, the patient's best interests."
In an age of easily accessible and sometimes confusing health information on the Internet, consumers are fascinated with genomics and its possibilities for improving health. As we are bombarded by news of the latest scientific discoveries of "the gene for disease X," it may be tempting to think that genomic information is always useful and does not cause harm, even when there is no available scientific evidence. As we look to consider genetic testing as a way to improve health, we need all the credible help we can get.
Genetic information is complex and its interpretation is probabilistic, depending on many factors such as health status, family health history, ethnic background, lifestyle and environmental factors. For decades, the field of genetic counseling has sought to develop scientifically valid processes of "helping people understand and adapt to the medical, psychological and familial implications of genetic contributions to disease." In the genomics era, the role of genetic counseling may yet undergo major changes as counseling for genetic diseases merges with health education and communication.
Burke and Brown end their editorial by wondering who should take on public educational challenges in genomics. They state: "Arguably, professional societies should not need to take on this educational task, and physicians should not spend valuable time in the clinical encounter deflating a misguided marketing message… The health system may be the best source of authoritative advice to counter the deceptive appeal of genetic risk prediction. Crafting the message will not be easy, but we believe that this challenge should not be neglected."
Public health has a long history of taking on many challenges in educating the public and delivering communication messages to improve health and prevent disease. Genomics is the latest in hot scientific topics in health communication. For example, in the past two years, public health has begun to craft public educational and empowerment messages in genomics around hereditary breast and ovarian cancer, and the role of genetics in breast cancer in young women (e.g., #KnowBRCA and #bringyourbrave). It may be high time to scale up public health educational approaches from a few genes related to cancer, to a genome-wide approach to health education. A public health approach will look for many teachable moments, not only in the clinical encounters but in homes, schools and communities. One prominent example in the past decade has been the Surgeon General's Family History initiative that has encouraged the public to collect family health history information, especially around holidays (such as Thanksgiving Day).
Public health and health care should join forces to empower the general public with credible health information about genomics. Using the expertise of many specialties such as health educators, genetic counselors and others, this effort should assess what and how to communicate about genetic testing, and ultimately empower all of us to make well-informed personal decisions about the use of DTC genetic tests in improving health and preventing disease.
Posted on

by
---
Page last reviewed:
April 27, 2021
Page last updated:
April 27, 2021