Cancer Precision Medicine: More Population Sciences Ahead!
Posted on

by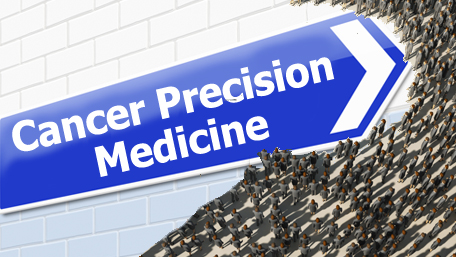 We explore briefly the expanding role of population sciences in the implementation of the NIH Precision Medicine Initiative (PMI). The initiative includes a major component on cancer precision treatment, and a large scale cohort study program to generate knowledge applicable to all areas of health and disease, including cancer risk factors and outcomes. Genomics is a key component of this initiative, especially for cancer where both germline genetic predisposition and cancer genome characteristics, along with numerous environmental determinants, play a role in cancer occurrence and outcomes. New information generated from the PMI will contribute to the cancer control continuum including etiology, early detection and screening, response to treatment, recurrence, and survivorship.
Cancer precision medicine has been defined by NCI Acting Director Dr. Douglas R. Lowry as "interventions to diagnose, prevent, or treat a disease (e.g., cancer), based on a molecular and/or mechanistic understanding of the causes, pathogenesis, and/or pathology of the disease. Where the individual characteristics of the patient are sufficiently distinct, interventions can be concentrated in those who will benefit, sparing expense and side effects for those who will not." Precision medicine has both individual and population specific implications as we extend the concept of individual characteristics to specific characteristics of subgroups within populations.
Both clinical trials and population sciences are important in the design and implementation of PMI. In the past 2 years, the NCI has launched a series of precision medicine treatment trials, with an early focus on lung cancer (e.g., Lung-MAP and ALCHEMIST), and an expansion of the NCI-MATCH trial which is enrolling patients 18 years of age or older with many cancer types, including rare cancers. A pediatric version of MATCH will launch this year.
In terms of population sciences, since 1997, the NCI's Division of Cancer Control and Population Sciences (DCCPS) has funded basic and applied research in the behavioral, social, and population sciences to create, enhance and evaluate interventions that reduce cancer risk, incidence, morbidity and mortality, and improve quality of life. Cancer control research outputs act through clinical and public health programs to reduce the cancer burden, with a strong commitment to implementation science and collaborations. The accompanying Table shows the major population sciences areas in cancer control and how they can play a role in genomics and precision medicine.
Even before the launch of the PMI, the investment in population sciences in cancer genomics and precision medicine was significant. A preliminary analysis using selected key words* of DCCPS grants funded between 2004 and 2014 shows 853 funded population science grants in genomics and precision medicine, accounting for 30% of DCCPS grants. Eighty-two percent of these grants were epidemiology research, 8.5% in behavioral research, 5.9% in surveillance research, and only 1.1% in healthcare delivery research. The heavy emphasis on epidemiologic research in genomics in the past decade reflects the status of the scientific knowledge in cancer precision medicine. The NCI has funded a large number of epidemiology observational cohorts and a cohort consortium. As of 2015, the NCI Cohort Consortium included more than 50 cohort studies funded by NCI and many agencies within and outside the United States, and involving more than 7 million people. The cohorts are international in scope and cover diverse populations. Extensive risk factor data are available, including genetic, environmental and behavioral factors in the occurrence and outcomes of a wide variety of cancers. The cohorts also include germline DNA collected at baseline, are available on approximately 2 million individuals. For the purposes of PMI, the cohort consortium data can be extensively utilized to study the role of inherited genetic variants that increase the risk of cancer and have been used to find genomic and environmental risk factors that more precisely identify subgroups at greater risk of cancer or long term health outcomes after a cancer diagnosis.
As we move forward, the success of cancer precision medicine requires the contribution of all population sciences, beyond epidemiology. In the next decade, as new discoveries based on genomics make their way from the bench to the bedside, population sciences will have an increasingly more prominent role in evaluation, implementation, and outcomes of new discoveries across the cancer control continuum. Development of a multidisciplinary research agenda will complement clinical trials to inform how cancer precision medicine will be delivered and evaluated to reduce the burden of cancer in the United States and around the world.
Population Science Research Programs at the National Cancer Institute and their Relevance to Cancer Genomics and Precision Medicine
| Population Science Program Area | Goal/Description | Relevance to Genomics/ Precision Medicine |
| --- | --- | --- |
| Epidemiology & Genomics Research | Supports research in populations to understand determinants of cancer occurrence and outcomes | Understanding role of genomic, and other personal factors in cancer occurrence, prognosis, response to treatment, and outcomes |
| Behavioral Research | Supports a range of research from basic bio-behavioral research to developing, testing, and dissemination of cancer control interventions | Understanding role of genomic and other personal factors in cancer behavior and developing targeted interventions |
| Healthcare Delivery Research | Supports research that improves the delivery of cancer-related care | Understanding utilization and impact of genomic/precision tests; developing targeted interventions on cancer outcomes in populations |
| Surveillance Research | Measuring cancer incidence, morbidity, survival, and mortality; developing methods and analytical tools for analyzing population-based cancer statistics | Integrating genomic and precision markers in surveillance; modeling role of targeted interventions on cancer burden; developing quantitative and statistical methods in cancer genomics and precision medicine |
See NCI's Division of Cancer Control and Population Sciences website for additional information.
Posted on

by
---
Page last reviewed:
April 27, 2021
Page last updated:
April 27, 2021