Recommendations and Reality: What Personal Stories of Hereditary Cancer Can Tell Us
Posted on

by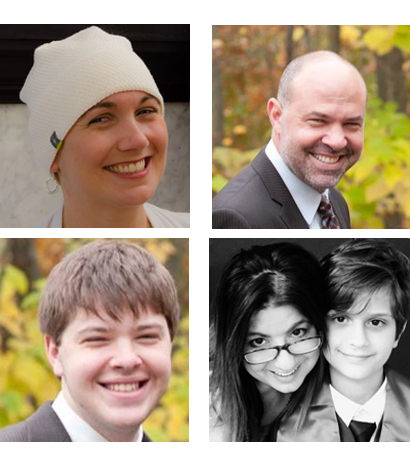 In public health and clinical medicine, recommendations for interventions are generally based on the evidence supporting improved health outcomes. Studies that inform these recommendations often focus on the evidence for benefits, especially when those benefits include lives saved. The harms that affect quality of life are more challenging to quantify and sometimes go unmeasured. Recommendations for Hereditary Breast and Ovarian Cancer syndrome (HBOC) and for Lynch syndrome include genetic counseling and testing for relatives of individuals with a known genetic mutation to identify additional family members at risk who could benefit from evidence-based interventions such as intensive screening or surgery. Genetic testing offers the chance to identify these relatives prior to any signs or symptoms of cancer, so that they have the option to take measures to prevent cancer before it ever occurs or to find it early if it develops. In many cases, these relatives have witnessed firsthand the harms of the cancer that runs in their family. While some relatives are relieved to receive a negative test result, meaning that they did not inherit the genetic mutation that runs in their family, others face a positive test result, meaning that they did inherit the mutation and thus have HBOC or Lynch syndrome. It is important to note that a diagnosis of HBOC or Lynch syndrome means that an individual has a genetic mutation that increases his or her risk of certain cancers, not that he or she has or will definitely get cancer. Many diagnosed with HBOC or Lynch syndrome accept the harms of invasive interventions in order to avoid the potentially much greater harms of developing and dying from cancer. Recognizing these individuals' experiences of the benefits and harms is important, especially because not everyone with HBOC or Lynch syndrome will develop cancer. This means some people may learn they have HBOC or Lynch syndrome and choose to undergo aggressive interventions, yet they would never have developed cancer anyway.
We can better understand the reality of these benefits and harms for individuals and families living with HBOC or Lynch syndrome by listening to their stories. Knowing about the potential harms of interventions can help individuals better prepare for them and make informed choices about their options. And seeing the impact of the benefits on individuals and families can be a strong motivator to move forward with an intervention. The effect of Angelina Jolie Pitt's New York Times Op-Eds detailing her experience having first her breasts removed and later her ovaries removed after finding out she had a BRCA1 mutation shows the impact that personal stories can have. Ms. Jolie Pitt made her decision to be tested for BRCA mutations based on her strong family health history of breast and ovarian cancer. Following the publication of her first Op-Ed, increases were seen in the number of women seeking genetic counseling for a family health history of breast and ovarian cancer, demand for BRCA genetic testing, and inquiries about risk reducing mastectomy.
For both Lynch syndrome and BRCA-associated HBOC, recommendations for interventions include earlier, more frequent, and enhanced screenings. For some women with HBOC, chemoprevention (use of medications to prevent breast and ovarian cancer) may also be an option. However, for HBOC, the most effective risk-reducing interventions for many women involve surgery: removing both breasts to reduce the risk of breast cancer and removing both the ovaries and fallopian tubes to decrease the risk of ovarian cancer.
The amount of evidence on benefits and harms for each of these approaches varies. The evidence supporting screening as an approach differs by site, with some screenings, such as colonoscopies for colorectal cancer among Lynch syndrome patients, being strongly supported, while others, such as those for ovarian cancer among Lynch syndrome patients, showing no clear evidence to support screening. Harms found in studies include unnecessary procedures and surgeries. For HBOC, evidence supports use of medications, but only for preventing certain types of breast cancer. Studies on these medications indicate a slight increase in risk for blood clots, and, with the medication tamoxifen, a slightly higher risk for endometrial cancer and cataracts. While the common side effects listed for these medications might seem minor to some people in comparison with cancer, side effects such as leg cramps, weight gain, and loss of bladder control can be very real problems for women who are living with them. For HBOC, evidence on the effectiveness of surgeries to prevent breast and ovarian cancer is clear. In contrast, studies looking at short term harms are limited, focusing mostly on surgical complications, and those considering long term harms are almost nonexistent.
Having Lynch syndrome increases a woman's risk for endometrial (uterine) and ovarian cancer. In fact, for some Lynch syndrome mutations, the risk for endometrial cancer is just as high, if not higher, than the risk for colorectal cancer. This makes the current lack of evidence on the best approaches for addressing this increased risk particularly frustrating and leaves women to deal with difficult choices in the face of incomplete guidance. Unlike for colorectal cancer, current recommendations indicate that there is no clear evidence to support screening for endometrial or ovarian cancer for women with Lynch syndrome. Recommendations include surgery to remove the uterus, ovaries, and fallopian tubes as an option for women with Lynch syndrome but some do not recommend it.
For some women, preventive surgeries bring them peace of mind and allow them to get on with their lives, with side effects that are manageable. For others, including Sarah, their risk is not discovered until they already have cancer, and surgeries are for treatment, rather than prevention. For other women, like Georgia, preventing cancer comes at a high cost. Georgia shares her story, hoping that by knowing more about the psychological and other risks of removing ovaries beforehand, other women might be better prepared for them, rather than trying to manage clinical depression while in the midst of it, as was Georgia's experience. A recent study shows that Georgia is not alone in her struggle, which is also shared by some women with HBOC who have undergone preventive surgery to remove their ovaries.
The risk for colorectal and other cancers associated with Lynch syndrome also affects men, as does the risk for prostate, pancreatic, and male breast cancer associated with HBOC. Some with Lynch syndrome survive multiple bouts with cancer and become advocates for screening, such as Dave. Syndromes like HBOC and Lynch syndrome that cause adult-onset cancers bring with them the question of testing children of those identified with these syndromes. While genetic testing for these syndromes is not recommended for individuals under age 18, families and older children are aware of the heritability of these syndromes and the possible risk to children whose parents or other close relatives have the syndrome. Dave's son Zach talks candidly about his decision to get genetic testing for Lynch syndrome as a young adult.
These detailed personal accounts demonstrate the importance of designing studies that fully address potential benefits and harms of interventions to prevent hereditary cancers, so that individuals can make informed decisions and be prepared for the potential consequences of their decisions. They also have tremendous value in humanizing the experience of hereditary cancer syndromes.
Posted on

by
---
Page last reviewed:
April 27, 2021
Page last updated:
April 27, 2021