From Guthrie to Genomes: Expanding Bioinformatic Capabilities in Newborn Screening Programs
Posted on

by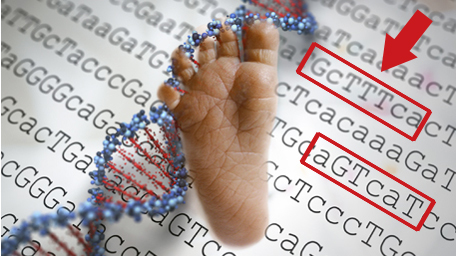 Through a funding opportunity from CDC's Office of Genomics and Precision Public Health in collaboration with the Office of Advanced Molecular Detection, CDC's Newborn Screening and Molecular Biology Branch will conduct a two-year project to develop a streamlined national newborn screening (NBS) bioinformatics pipeline to help in expanding the use and utility of gene and genomic sequencing in NBS programs.
The project team will work to link together two existing genetic interpretation platforms to produce a solution that will make it easier for NBS programs to add sequencing within their public health laboratories. The first platform called Enhancing Data-driven Disease Detection in Newborns (ED3N), is a national data sharing solution for NBS programs that will improve rare disease detection by securely combining de-identified NBS data from across the country. Together, with another platform known as LIMS Lite, the ED3N platform will be built out to provide an end-to-end, standardized nationwide process for data transfer, high-throughput workflow integration, genomic reference alignment, variant identification, and collaborative variant interpretation among newborn screening programs.
Newborn Screening: One of the Greatest Public Health Achievements
Newborn screening is a public health program that helps identify newborns with congenital, rare diseases at birth before symptoms start. This early identification leads to faster diagnosis and treatment and greatly improves the health outcomes of these children. These life and health-saving efforts improve the lives of over 13,000 diagnosed babies each year, and as a result, CDC named NBS as one of the Ten Greatest Public Health Achievements in the United States.
It has been over 50 years since Dr. Robert Guthrie developed the first test that led to population-based newborn screening in the United States. Since that time, testing has become more complex and dozens of diseases have been added to newborn screening panels across the country. In addition, new treatments such as gene-targeted therapies for many rare diseases are expanding the need for newborn screening so that affected babies can have access to these important new treatments as soon as possible.
Historically, NBS programs relied exclusively on the use of biochemical markers to detect newborns who had a higher risk for disease. But today, programs are starting to use more and more molecular testing and now perform single gene sequencing, employ multi-gene panels, and are beginning to explore the utility of whole exome and genome sequencing.
But ensuring sequencing and variant interpretation is done correctly and accurately is vitally important so that newborns, families, and clinicians are given the best available information to direct diagnosis and treatments.
Standardizing Molecular-based Newborn Screening Will Improve Our Understanding of the Genetics of Newborn Screening Diseases
Currently, NBS programs have no formal platforms for sharing molecular data, variant interpretations and the collective wisdom gained. A lack of standardization amongst newborn screening programs in variant annotation, curation, and interpretation not only limits the potential of this work to contribute to broader public health and clinical knowledge, but it also perpetuates inequities in applications and utility of these technologies nationwide.
ED3N will expand CDC's capacity and support of public health human genomics applications for the newborn screening community. Because state programs screen nearly all babies born in the United States each year, this project's coordinated efforts in expansion and use of sequencing technology and bioinformatics capabilities will have far-reaching implications for equitable delivery of genetics-related information to those at risk across the nation.
Posted on

by
---
Page last reviewed:
March 21, 2022
Page last updated:
March 21, 2022