Toward Achieving Health Equity for People with Genetic Disorders
Posted on

by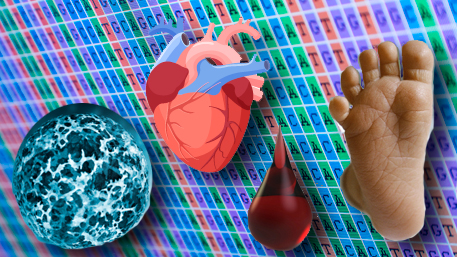 If health equity is about making sure that everyone has the opportunity to be as healthy as possible, public health efforts to achieve health equity must include people with genetic disorders. Some might consider having a genetic disorder a health inequity itself—one present from birth and over which affected individuals have limited control. Thousands of inherited genetic disorders affect millions of people in the United States and lead to increased risks for many health conditions across the lifespan, including birth defects, developmental disabilities, and common chronic diseases, such as heart disease and cancer. From a health equity perspective, genetic disorders result in an increased burden of morbidity and mortality, hospitalizations, and costs associated with health expenditures and reduced economic productivity. Genetic disorders have a high risk of recurrence within families, and while the ability to use family history and genetic testing to identify those at risk—often before disease onset—offers unique opportunities for prevention, many persons with genetic disorders remain undiagnosed and untreated.
We recently embarked on a planning effort to identify public health actions in genomics and precision medicine aimed at improving population health in the next decade. We have adopted a health equity lens to these planning efforts. People with inherited genetic disorders face unique health equity challenges due to their disorder, requiring public health action that involve providing access to medical diagnosis and interventions. Added to this, many face additional burdens due to social determinants of health.
Access to health services and specialty care, including genetic services, is important for diagnosis and management of genetic disorders and is lower among some racial and ethnic minority groups, rural communities, and people with lower incomes. For example, genetic testing for hereditary breast and ovarian cancer and Lynch syndrome is lower for people in some racial and ethnic minority groups compared with non-Hispanic White persons. Even among those who are diagnosed, disparities remain for access to treatments. People with familial hypercholesterolemia who have lower incomes are less likely to start treatment with PCSK9 inhibitors and more likely to have insurance coverage for PCSK9 inhibitors denied. Disparities in diagnosis and treatment of genetic disorders influence health outcomes, which can impact broader health disparities. For example, while hereditary cancers cannot entirely account for the higher mortality of Black persons from breast and colorectal cancers, disparities in diagnosis and treatment of hereditary breast and ovarian cancer and Lynch syndrome must be addressed before full health equity can be achieved.
For many genetic disorders, evidence-based guidelines are available that can reduce morbidity and mortality and improve health outcomes. Yet, many people with genetic disorders are still not diagnosed and treated. As we move forward with identifying public health actions in genomics in the next decade, we need to address health inequities among millions of people with genetic disorders by improving overall implementation of genomic medicine and focusing on communities that are impacted the most. As we outline in our recent post, public health approaches can include data-driven policies and programs as well as workforce development, community engagement and public education to help close the health equity gap for people with genetic disorders.
The promise of genomics and precision medicine for all cannot be fulfilled if we focus our attention solely on new scientific discoveries in genomics and precision medicine, but neglect optimal implementation of interventions that can save lives and reduce health inequities in all communities.
We welcome suggestions from our readers about the most important actions public health programs can take to close the health equity divide for people with genetic disorders in the United States. Please share your thoughts in the comments box below.
Posted on

by
---
Page last reviewed:
September 7, 2021
Page last updated:
September 7, 2021