From Precision Medicine to Precision Public Health: Beyond the Pandemic
Posted on

by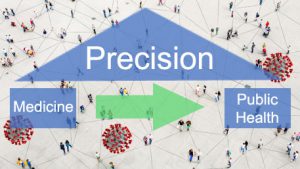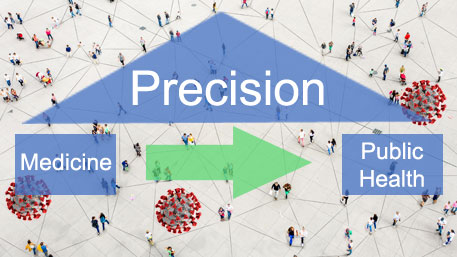 Precision medicine and precision public health are emerging fields that use genomics and other big data technologies to provide more targeted interventions at the individual and population levels. Precision medicine can be thought of as delivering the right intervention to the right individual at the right time, while precision public health can be simply viewed as delivering the right intervention to the right population at the right time. Precision public health is deeply rooted in addressing health disparities and is "about using the best available data to target more effectively and efficiently interventions of all kinds to those most in need." (Horton, 2018).
In response to the COVID-19 pandemic, precision health technologies — such as genomics and other high-throughput biomarkers, mobile geographic information systems, and Internet-based technologies — continue to be deployed quickly to
Aid surveillance and investigation.
Study risks for transmission, severity, and complications.
Help develop therapeutics and vaccines.
The Coronavirus Disease Portal within the CDC's Genomics and Precision Health Knowledge Base collects and displays the most recent information about the use of these novel tools and technologies. As the portal shows, an emerging display of scientific productivity is shifting the narrative from precision medicine to precision public health in response to the pandemic.
Two recent commentaries reflect this shift. The first, a blog by Eric Parens in Scientific American, discusses the "inflated promise of genomic medicine" in the wake of COVID-19. The blog reviews the disproportionate impact of the virus on some groups, including racial and ethnic minorities and those that are disadvantaged.
Even though it is likely that some people are genetically susceptible to infection "no geneticist is suggesting that genetic differences are an important part of the explanation for why the virus impacts different social groups differently." Parens goes on to acknowledge the complexity of human genetics vis-à-vis environmental and social determinants of health and explains why genetics alone cannot deliver a future of precision medicine based on individualized disease prevention and treatments based on people's genetic susceptibilities.
Another blog, by Meredith Matone, lays out the importance of public health surveillance in developing targeted intervention strategies based on contact tracing to control the resurgence of COVID-19. While general public health measures such as social distancing are effective in mitigating the impact of COVID-19, precision targeted public health approaches for prioritizing efforts could benefit from 1) enhanced surveillance featuring syndromic methods, 2) prioritized testing for high-risk populations, and 3) and targeted entry into community-level mitigation.
Beyond the pandemic, the tools of "precision" in medicine and public health involve an integrated approach to use all available data on individuals and populations. The use of electronic health records will be increasingly important to this approach. The recent evolution of genomic medicine to precision medicine and public health includes all kinds of data to measure determinants of health and impact of interventions.
More precision in public health is needed. This will require better use of information technology and data science to improve public health surveillance and response, while addressing privacy and confidentiality concerns. The richness of emerging data by place, person, and time could accelerate early disease detection, leading to prompt preventive action. The pandemic provides both a challenge and an opportunity for further evolution of precision public health, as new tools and technologies will begin to complement traditional medical and public health approaches to prevention and control.
Posted on

by
---
Page last reviewed:
May 11, 2021
Page last updated:
May 11, 2021