Reducing the Global Public Health Burden of Familial Hypercholesterolemia: More Work Ahead
Posted on

by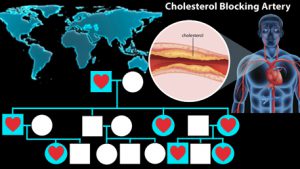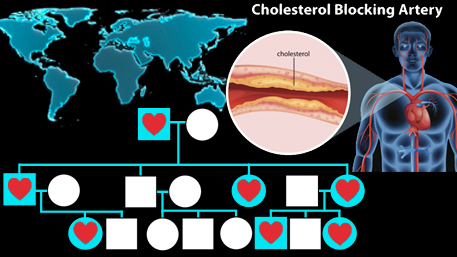 In our previous blog, we discussed familial hypercholesterolemia as a prototype for "precision public health" and how the combination of public health and genetic approaches can contribute to raising awareness, diagnosis, and treatment of more than 1 million individuals in the United States with this relatively common genetic condition.
Familial hypercholesterolemia (FH) is an underdiagnosed and undertreated genetic disorder that leads to premature morbidity and mortality due to heart disease. Carriers of a gene variant in any of the FH-related genes have a considerably greater risk of cardiovascular disease because of lifelong exposure to elevated cholesterol levels. If untreated, FH is the most common life-threatening genetic condition and is found around the world in all races and ethnic groups, with a prevalence of about 1:200-250 and even higher in some groups.
During the past 20 years, many countries have made important progress in the diagnosis, management, and tracking of millions of patients with FH. Yet, important gaps remain. Beyond underdiagnosis, barriers to FH care exist. The cost of care, lack of knowledge about FH and its risks among clinicians and patients, discrepancies in clinical guidelines, competing health issues and financial priorities, perceptions regarding personal control over health outcomes, and family influence all affect decision-making for this condition.
In a recent issue of JAMA Cardiology, a global call to action on FH was issued by numerous individuals representing the patient community, advocacy leaders, scientific experts, public health programs and policy makers. An international coalition of 40 countries and various organizations offered perspectives on FH from low-, middle-, and high-income regions.
Below is a brief summary of the group's recommendations for global action, which fall in several areas:
1-Global Awareness
Awareness should be enhanced regarding the importance of FH as a global public health issue. Without general awareness of the need for detection and treatment beginning early in life, risk of heart disease will remain elevated for the estimated 34 million individuals affected worldwide.
2-Advocacy
Establishment of country- or region-specific advocacy organizations is important. Organizations should be a partnership of patients, patient advocates, researchers, healthcare providers, public health programs, and policy makers. A country- or region-specific toolkit should be developed to understand determinants of health care policy, the health technology assessment process, communication and information dissemination
3-Screening, Testing, and Diagnosis
Screening for FH should be performed according to country-specific guidelines. Screening may be based on cholesterol levels or positive genetic tests for an LDL receptor function defect. A combination of universal child-parent screening and cascade testing of first- and second-degree relatives of index cases may be useful. Because many individuals with FH meet phenotypic criteria (e.g. skin or eye lesions), these criteria could be used as a first step for wide screening programs and to identify those who may benefit the most from undergoing genetic testing where resources are limited.
4-Treatment
Treatment for FH to prevent premature heart disease should be patient-centric, available, and affordable. Ideally, treatment should begin in childhood and continue throughout life.
5-Severe and Homozygous FH
Separate guidelines should be created for severe and homozygous FH, defined as either the presence of LDL cholesterol levels 400 mg/dL or greater or a pathogenic gene variant in any of the FH-related genes on two different alleles. Specialized centers for diagnosis and management are required for optimal care of those with severe FH.
6-Family-based Care
A family-based care plan should be developed with opportunities for patient involvement and shared decision-making. The model of care is best served via integration of primary and specialty care, screening of family members, genetic counseling and social support
7- Registries
FH registries can allow researchers and public health professionals to quantify current practices, identify gaps between guidelines and health care delivery, publish outcome metrics, identify areas for future resource deployment, disseminate and define best practices, and facilitate FH awareness and screening.
8-Research
Additional research is crucial to understand the genetic and environmental factors in inherited lipid disorders, the natural history of such disorders, the development of atherosclerosis, interventions to halt disease progression and the safety and efficacy of new and existing lipid-lowering drugs. Implementation science can help identify contextual factors and design successful implementation strategies within local and regional health care delivery systems.
9-Cost and Value
Understanding the cost and value of FH care is crucial both for the family and society. Metrics including   increased life expectancy, gained years of life without disability, and lost productivity are necessary.
Going Forward
Historically, FH has served as a paradigm for the role of cholesterol in heart disease. Given the recent technological advances in genomics and data science, FH may also serve as a paradigm for bringing together the strengths of both public health and precision medicine approaches to health care and disease prevention. The recommendations of this international group highlight the importance of integrating FH care in health systems with a lifelong approach to care and for the partnerships among patient organizations, health care providers, researchers, policy makers, and public health programs to reduce the global burden of FH.
Posted on

by
---
Page last reviewed:
May 11, 2021
Page last updated:
May 11, 2021