The Road Less Traveled: Genomic Epidemiology Capacity in State Public Health Programs
Posted on

by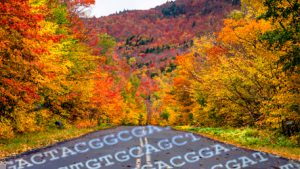 In 2017, the Council of State and Territorial Epidemiologists (CSTE) published its latest Epidemiology Capacity Assessment of state health departments' workforce size and resources. The assessment inquired about the number of current and optimal epidemiologist positions; sources of epidemiology activity and funding; and states' self-perceived capacity to lead epidemiology activities, provide expertise, and manage resources for the four Essential Public Health Services most closely associated with the field of epidemiology.
According to the assessment, state health departments employed 3369 epidemiologists. Infectious diseases accounted for a majority (55%) of the epidemiology positions, followed by maternal and child health (10%) and chronic diseases (9%). Genomics accounted for only 4.4 full time employee (FTE) positions currently filled or 0.1% of the total number of FTEs. Overall, state epidemiologists assessed their state epidemiology capacity in genomics as none to minimal (figure).
It is time for public health to begin strategic discussions on how to enhance genomics in state epidemiology programs
In 1998, CDC sponsored a CSTE state assessment that focused on human genomics and disease prevention. The study found that ongoing state public health genetic activities fall under the assurance function (82%), followed by assessment (17%), and policy development (2%), highlighting the need for enhanced epidemiology capacity in genomics. In 2001, our office at CDC defined and mapped public health activities in human genomics in relation to the ten essential public health services. We also defined and published a set of genomic competencies for the state public health workforce, including public health epidemiologists.
With rapid progress in genomics and precision medicine, public health capacity in genomic epidemiology is likely to be increasingly important in several areas.
First, pathogen genomics is the most fully realized application of genomics in public health practice. Since 2014, CDC's Advanced Molecular Detection Program has promoted the integration of pathogen genetic sequencing and bioinformatics with traditional epidemiology in infectious disease control. Pathogen genomics helps public health programs recognize and stop outbreaks earlier, preventing illness and saving lives.
Second, the field of cancer genomics is yielding an increasing number of evidence-based applications for prevention and treatment. Epidemiology has a key role in assessing utilization, outcomes and disparities in cancer genetic tests and services. Several state public health departments have begun monitoring the population burden of hereditary cancers and improving and evaluating access to care and services. State-based cancer registries will soon be able to supplement information on tumor anatomic site and stage at diagnosis with molecular classification based on clinical tumor genome sequencing and expression profiles (e.g. gene expression profiling in breast cancer).
In addition, genomics is becoming increasingly relevant to many areas of maternal and child health—including enhanced newborn screening, as well as diagnosis of rare diseases, treatment of acutely ill newborns and infants, prenatal testing, and management of birth defects and developmental disabilities. Epidemiologic capacity will be increasingly needed to apply genomic information into surveillance and assessment of clinical and social services for these conditions.
Since 2014, CDC has begun to enhance state laboratory training in pathogen genomics, including both basic and advanced training for public health microbiologists. In addition, CDC conducted a one-day training for state epidemiologists at the 2016 CSTE conference on the use whole genome sequencing to help solve foodborne and zoonotic disease outbreaks. In addition, there are other specific training efforts embedded in specific infectious disease programs (e.g. tuberculosis, viral hepatitis, HIV).
In summary, genomics is now much closer to clinical and public health applications, highlighting the need to enhance preparedness and capacity in this emerging area. As the science continues to mature, it is time for public health to begin strategic discussions on how to enhance genomics in state epidemiology programs, including competencies, training, resources, and tools. The 10 essential public health services framework provides a blueprint for the integration of genomics throughout public health research, policy and practice.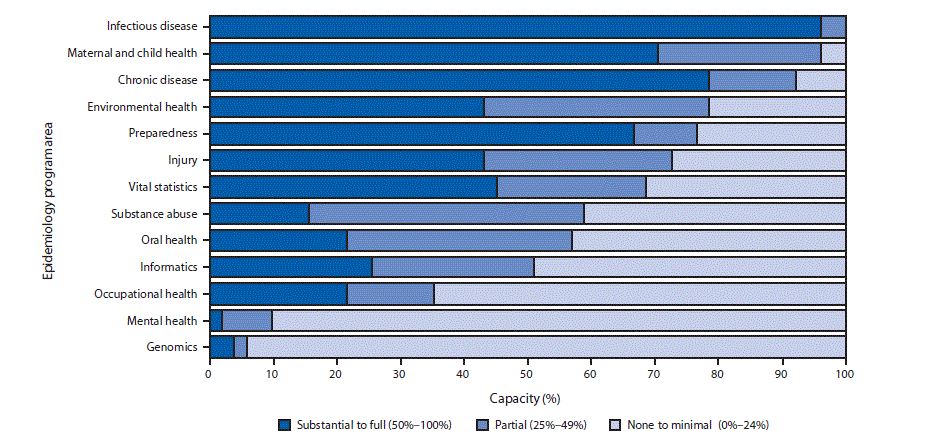 Posted on

by
---
Page last reviewed:
May 6, 2021
Page last updated:
May 6, 2021