Universal Screening for Lynch Syndrome: Can Tumor Sequencing Have a Larger Public Health Impact on Treatment and Prevention of Colorectal Cancer?
Posted on

by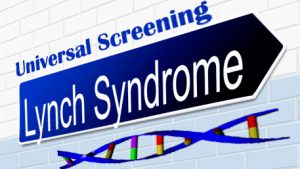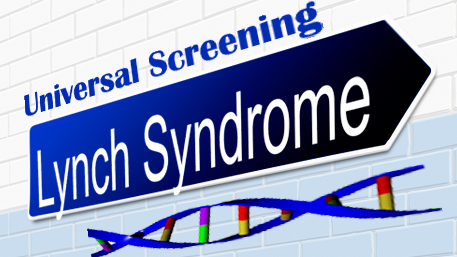 Lynch syndrome (LS) is the most common hereditary syndrome associated with increased risk of colorectal cancer (CRC), accounting for about 3% of CRC patients. LS is a dominantly inherited condition with mutations in several mismatch repair (MMR) genes. Persons with LS are also at increased risk for endometrial and other cancers. Lynch syndrome affects 1 out of every 280 people, and most people with LS are unaware of their increased cancer risk until diagnosed with colorectal or other cancers. Many of those diagnoses occur before age 50 years, the recommended age for colorectal cancer screening in the United States.
In 2009, the independent Evaluation of Genomic Applications in Practice and Prevention (EGAPP) working group recommended identifying LS in all newly diagnosed CRC patients, with cascade testing to their at-risk first-degree relatives. Diagnosed individuals with LS can benefit from enhanced cancer surveillance, chemoprevention and risk reducing surgery. The EGAPP recommendation came a few years before other professional organizations and evidence groups made similar recommendations. Universal screening for Lynch syndrome is a CDC Tier 1 genomic application and has the potential to identify thousands of new Lynch syndrome cases every year.
New genomic research could be changing clinical and public health approaches to reducing the burden of colorectal cancer
Transforming EGAPP recommendations into reality has been slow. Universal screening for Lynch syndrome has not been fully realized. Part of the challenge resides in the complex sequential testing protocol involving up to six steps of combined biochemical and genetic markers. These are complex and confusing to patients and clinicians and occur over a prolonged period, incurring risk for loss to follow up. The EGAPP working group did not have sufficient data to recommend a specific test.
In the past few years, multiple health care and public health efforts and collaborations have increased uptake of universal screening for LS among newly diagnosed CRC patients. These include, among others, the Lynch Syndrome Screening Network, statewide screening initiative in Ohio, CDC state cooperative agreements in cancer genetics, the Genomics and Population Health Action Collaborative, and more recently the Cancer Moonshot initiative.
In the meantime, new genomic research could be changing clinical and public health approaches to reducing the burden of colorectal cancer from LS and in general, by shifting the laboratory testing approach toward tumor next generation sequencing.
These three highlights begin to paint a picture of larger public health benefits of universal tumor CRC screening.
A universal tumor sequencing test can identify LS patients as well as guide treatment of CRC patients who do not have LS. The test can identify CRC patients with MSI-high tumors who may respond well to PD1 blockade immunotherapy, recently approved by the Food and Drug Administration.
While LS is the most common form of hereditary syndrome associated with colorectal cancer, other genes are involved. In a study of 450 CRC diagnosed under 50 years via the Ohio Colorectal Cancer Prevention Initiative, germline DNA analysis for mutations in 25 cancer susceptibility genes was done in addition to assessing microsatellite instability and/or immunohistochemistry for MMR deficiency. Of all tested patients, 16% had gene mutations. With such a relatively high frequency and spectrum of mutations, genetic counseling and testing with a multigene panel may be beneficial for all patients with early-onset CRC. Recent data show the prevalence of all hereditary cancer syndromes in CRC may be around 10%, and for those diagnosed under age 50, it is closer to 16%.
A recent study compared the performance of tumor next-generation sequencing to the current multistep approach (using microsatellite instability (MSI) testing and/or immunohistochemistry (IHC) for MMR proteins). As part of the multicenter, population-based Ohio Colorectal Cancer Prevention Initiative, tumor DNA was sequenced for 419 consecutive CRC cases undergoing standard universal tumor screening and germline genetic testing, and 46 patients with CRC known to have LS due to a germline mutation in a mismatch repair gene. Tumor sequencing identified all 46 known LS cases from the validation cohort and an additional 12 LS cases from the 419-member prospective cohort. Testing with MSI or IHC, followed by BRAF p.V600E testing missed five and six cases of LS, respectively. Tumor sequencing alone had better sensitivity and equal specificity to conventional tests. Tumor sequencing also identified 284 cases with KRAS, NRAS or BRAF mutations that could affect therapy for stage IV CRC, avoiding another test. Finally, TS identified eight patients with mutations that confer toxicity to fluorouracil chemotherapy, which could also be useful for treatment selection and/or dosing. Overall, tumor sequencing was found to be a simpler and more sensitive test compared to current tests. This could provide critical information for LS diagnosis as well as CRC treatment selection overall. Though not a primary aim of the study, tumor sequencing also has the potential to identify putative germline mutations in other cancer susceptibility genes.
The recent study has some potential limitations as discussed by the authors and will require further validation. Nevertheless, if confirmed, it strongly suggests that tumor sequencing may be a better alternative to current laboratory practice not only in finding patients with LS but also in making a bigger public health impact on treatment and prevention of colorectal cancer beyond Lynch syndrome.
Posted on

by
---
Page last reviewed:
May 3, 2021
Page last updated:
May 3, 2021