HLBS-PopOmics: NHLBI and CDC partner to launch a public health genomics knowledge base for heart, lung, blood, and sleep disorders
Posted on

by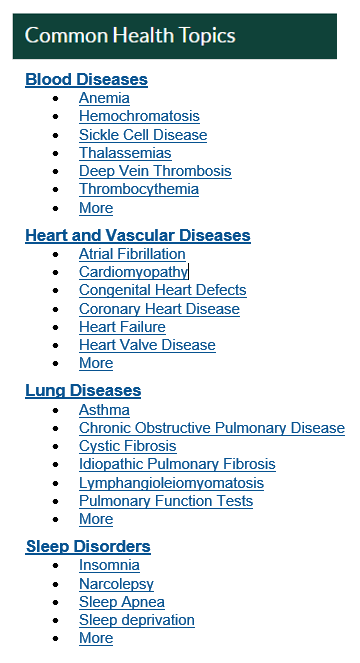 Timely and targeted dissemination of published research findings is an important step in accelerating the pace of turning discovery into health. To achieve this goal in human population genomics, the NHLBI has partnered with the CDC Office of Public Health Genomics (OPHG) to launch a heart, lung, blood, and sleep disorders knowledge base in population genomics (HLBS-PopOmics). It is an online, continuously updated, searchable database of published scientific literature, CDC and NIH resources, and other materials relevant to the translation of genomic discoveries into improved treatment and prevention of Heart and Vascular Diseases (H), Lung Diseases (L), Blood Diseases (B), and Sleep Disorders (S). HLBS-PopOmics is a specialized database of the overall CDC Public Health Genomics Knowledge Base (PHGKB). Scientific publications about PHGKB can be found here.

The inaugural posting of HLBS-PopOmics on February 27, 2018, featured seven entries on blood disorders,1-7 six on heart and vascular disorders,8-13 one on lung diseases,14 and one miscellaneous article on expanded prenatal carrier screening for conditions such as cystic fibrosis.15 Although there were no entry for sleep disorders on that day, entering "sleep disorders" in the search box retrieved all articles in the database related to population genomics and sleep disorders. Only the first two entries have been shown here and they address the search for insomnia genes involving 1.3 million people and described as "the largest genetic study ever"16 and a news article in Frontline Genetics that explores why some people outperform others when sleep-deprived.17

The list in the accompanying figure shows the HLBS-PopOmics health topics, which is based on the NHLBI Health Topics. Although only a few topic examples are shown, the entire NHLBI A-Z topics are available and searchable using the HLBS-PopOmics search box. The free text search function is an important feature. For example, although "bicuspid aortic valve" is not a term on the NHLBI Health Topics A-Z list, entering it in the HLBS-PopOmics search box retrieves several important population genomics articles, including these five articles.18-22

HLBS-PopOmics is an extension of CDC and NIH partnership efforts to map the translational trajectory of discoveries of genome-based discoveries in population health benefits. In 2015, the CDC launched the Public Health Genomics Knowledge Base that features an easy to search one-stop shop to find epidemiologic studies, translational and implementation studies, evidence synthesis, guidelines, and programs relevant to a wide variety of diseases. PHGKB has been adapted for cancer topics as well as for infectious disease genomic applications. MyPHGKB also allows users to personalize their search results by choosing specific databases and topics.
HLBS-PopOmics will allow researchers, policy makers, and practitioners to stay on top of the rapidly moving developments in genomics and related fields. Most importantly, it allows them to rapidly access information on the status of translation and implementation of the relevance of emerging science in reducing the burden of heart, lung, blood and sleep disorders.
SELECTED CITATIONS
Blood Disorders
Heart and Vascular Disorders
Lung Diseases
 Advances in the Diagnosis and Management of Cystic Fibrosis in the Genomic Era.  Wiencek Joesph R et al. Clinical chemistry 2018 Feb.
Miscellaneous HLBS
Expanded Carrier Screening.   Gregg Anthony R et al. Obstetrics and gynecology clinics of North America 2018 Mar 45(1) 103-112.
Sleep Disorders
A search for insomnia genes involving 1.3 million people is the largest genetic study ever   A Regalado, MIT Tech Review, Feb 2,2018
Genetics May Explain Why Some People Outperform Others When Deprived of Sleep   Front Line Genomics, Jan 15, 2018
Bicuspid Aortic Valve
Posted on

by
---
Page last reviewed:
May 3, 2021
Page last updated:
May 3, 2021