New Products from the EGAPP Working Group: Further Development of Evidence Review Methodology and More Recommendations in Genomic Medicine
Posted on

by
The independent EGAPP working group (EWG) held its 27th meeting on May 13-14, 2013 via a virtual online venue. The EWG has been very active since the last meeting.  Highlights included: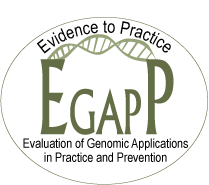 The EWG has four new publications since the last meeting:
Two EWG recommendation statements on the validity and utility of genetic tests are pending publication on:
The Knowledge Synthesis Center (KSC) presented an update on two systematic reviews:  familial hypercholesterolemia and colorectal cancer screening – the latter topic is being done in conjunction with modeling by NCI /CISNET .
The EWG heard a presentation on an ongoing review by the KSC, on MSI status and response to 5FU chemotherapy in Lynch syndrome patients, to consider drafting a recommendation.
In an effort to further the field of evidence-based review processes, the past and present EWG members have submitted a manuscript to Genetics in Medicine entitled, "The EGAPP Initiative:  Lessons Learned" to inform stakeholders of the possibilities and pitfalls of their efforts. Furthermore, the EWG expects to have three additional new recommendations and one to two recommendation updates in the next year.
The next EGAPP Working Group meeting will be held on August 19-20, 2013 in Atlanta, GA.
Posted on

by
---
Page last reviewed:
October 31, 2022
Page last updated:
October 31, 2022