Increasing Use and Impact of Family Health History in Medically Underserved Populations: Work in Progress
Posted on

by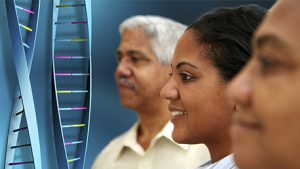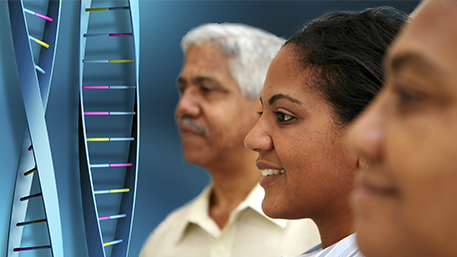 Despite years of public health efforts, family health history remains underutilized in clinical care, especially among people who are medically underserved. To address these issues, CDC's Office of Genomics and Precision Public Health hosted a webinar on November 14, 2022, in conjunction with National Family Health History Day (Thanksgiving). The speakers called for better informed, systematic, and tailored efforts to address inequities in clinical use of FHH (watch video here).
Studies have shown disparities in use of clinical genetic services, with lower access among people who are medically underserved. Their electronic medical records often lack important information, including family health history, that can be used to guide referrals for genetic services. For non-English speaking patients, language barriers can exacerbate existing disparities in completeness of electronic medical records. Customary marital patterns in some communities, which include consanguinity, can affect genetic risk and make collection and use of family health history especially important.
Addressing the needs of different cultures
Dr. Nadeem Qureshi, MD, a clinical professor at the University of Nottingham School of Medicine in England, presented first on the webinar. His research shows the need for multi-faceted community engagement and empowerment in order to establish trusted and accessible services for people from racial and ethnic minority groups. Dr. Qureshi described how at-risk patients need support in their own community to make informed choices. Community support can come from community health experts, patient champions, family, friends, community leaders, and religious advisers. They become the patients' support network, and outreach to these community members can increase community engagement with healthcare providers.
On the healthcare delivery side, Dr. Qureshi argued for the need for a service redesign featuring a multi-agency partnership. In order to improve the delivery of primary care services and integrate genomic medicine services, this approach would focus on capturing accurate data, recording self-reported ethnicity, and completing a family health history questionnaire that is integrated into the EHR. Workforce needs would include training more language interpreters and health advocates how to collect family health history and recruiting more genetic counselors from diverse backgrounds.
Dr. Qureshi leads the FAMCAT study of electronic case-finding and genetic testing in primary care, which seeks to improve identification of familial hypercholesterolemia in primary care populations. The goal is to increase appropriate referrals for specialist assessment. One key to the study's success is the comprehensive collection of family health history.
Addressing the needs of non-English speakers
Dr. Kimberly A. Kaphingst, ScD, Director of Cancer Communication Research at the Huntsman Cancer Institute in Salt Lake City, Utah and co-Principal Investigator of BRIDGE (Broadening the Reach, Impact, and Delivery of Genetic Services), presented next at the webinar.
BRIDGE is an NIH-funded study that compares different delivery models for cancer genetic services and examines whether the impact on uptake of services differs by race/ethnicity and rurality. One aim of the study is to identify unaffected primary care patients who meet guidelines for evaluation for hereditary cancer. To do this, researchers in this study developed an algorithm that uses family health history information documented in the patient's electronic health record to evaluate whether a patient's family history of cancer meets National Comprehensive Cancer Network guidelines for testing. The algorithm is based on family health history elements such as type of cancer diagnosed in a relative, degree of relationship, and age of relative at cancer diagnosis.
When the researchers implemented the algorithm in two large healthcare systems in the U.S., they found an underrepresentation of Spanish-speaking patients among those identified by the algorithm, compared with the underlying primary care patient populations. In examining reasons for this, the researchers discovered that these patients had less available and less comprehensive family health history data in the electronic health records in both healthcare systems. Providers identified several factors that influenced this disparity, including variability in clinical workflows, different provider approaches to eliciting family health history information, Spanish words having different meanings across Spanish-speaking countries, limited patient knowledge of family health history due to reasons such as physical distance and cultural taboos, and limited patient health literacy. Providers perceived that having interpreters present during office visits led to more complete family health history information in electronic health records.
National Family Health History Working Group welcomes new participants
The National Family Health History Working Group, now hosted by the CDC Office of Genomics and Precision Public Health, welcomed current and new members following the webinar. One goal of the working group is to improve uptake and impact of family health history in communities and countries that are medically underserved. The Working Group is forming smaller subgroups that will focus on specific areas of interest, including:
Family health history collection tools, common standards, and integration of family history information into electronic health records (the data)
Patient and provider equity and education
Family health history in research
Implementation of family health history in clinical care and public health (policy, business, and clinical practice)
If you are interested in joining one of the subgroups, please email genetics@CDC.gov for more information. You may also submit your input and comments below.
Notes
 See a paper that guides a healthcare provider or patient in determining the quality of a  FHH app.
Posted on

by
---
Page last reviewed:
December 30, 2022
Page last updated:
December 30, 2022