The Road Ahead for Genomics Research: From Technology to Population Health Impact
Posted on

by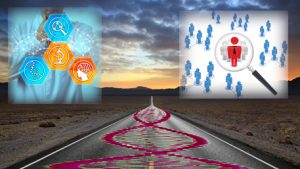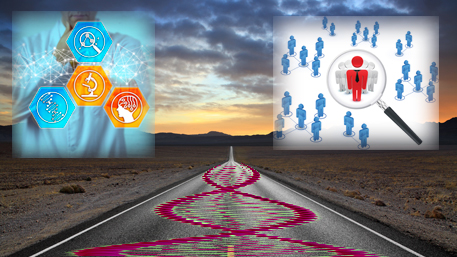 We often reflect on the promise, progress and challenges in the translation of genomics research into population health benefits. A recent commentary in Nature Reviews Genetics featured 12 key scientific challenges and opportunities in the field. Leading scientists took stock of the current state of science and discussed needed research in the next few years for genomics to benefit population health. Of the 12 topics (see table), we chose five with current interest in medicine and public health. Read the article for more details.
Genome Sequencing at Population Scale (Stacey Gabriel)
The promise of genome sequencing lies in population-scale sequencing, at the level of tens of millions of people. Coupled with clinical, environmental and social data, large population studies and databases (biobanks) will enable interpretation of genomic and other information in predicting disease risks and response to treatment. Several large biobanks, or repositories of samples to be used in research, have already been established in the past decades. For example, the UK Biobank, a leading cohort study of half a million persons, has collected genomic, clinical and risk factor information and has contributed to numerous discoveries in human genetics. Implementing large scale studies across different populations could substantially enhance efforts to uncover the role of genetic factors in various diseases.
Making Genomics Truly Equitable (Amy McGuire)
To make genomics benefit the health of populations, equitable representation is needed in genomic research. Most genomics research comes from individuals of European descent. This research has led to 'information disparity,' that affects the reliability of genomic interpretation for underrepresented minority groups. More importantly, equitable access to the products of genomics research (such as diagnostics and therapeutics) can lead to better population health outcomes.
African Genomics: The Next Frontier (Ambroise Wonkam)
To fully meet the potential of genomic medicine, research into African populations is a critical. Studies of 910 individuals of African descent showed that at least 300 million DNA variants (10%) are not represented in the human reference genome. Greater availability of African genomes will improve our understanding of the role of genomic variation in genetic diseases and common complex diseases in all populations.
Decoding Multifactorial Phenotypes (Aravinda Chakravarti)
As a result of thousands of genome-wide association studies (GWAS), we know now that common sequence variants contribute to complex human health phenotypes (e.g., blood pressure and lipid levels), and common diseases (e.g. cancer and heart disease). However, this has not led to understanding how these genes specify health outcomes or how they can be translated into disease treatment or prevention. We need innovative approaches to understand complex traits, rather than simply expanding the use of GWAS in studies of larger populations. New studies will need to focus on enhancers and transcription factors, as well as genetic regulatory networks, and how changes in these networks can impact health and disease.
Integrating Genomics into Medicine (Eran Segal)
In spite of real progress in genomic research in the past 20 years, genomics has yet to deliver on its promise to have an impact on population health. Actionable insight is needed for better disease treatments and prevention strategies. Ideally, genomic markers discovered in population studies would be evaluated for their clinical utility in improving health.
Remarkable progress in science and technology has led to the development of powerful tools for genome sequencing and editing increasing ability to study gene expression and function at multiple levels from cells to populations. Although genomics will continue to be applied in research settings, real success will come only when it becomes an integral part of the practice of medicine. In order for genomics to improve the health of populations, it is worth emphasizing what Amy McGuire stated in the review article:  "It is imperative that we also confront one of the most difficult and fundamental challenges in genomics, in medicine and in society — rectifying structural inequities and addressing factors that privilege some while disadvantaging others. The genomics of the future must be a genomics for all, regardless of ethnicity, geography or ability to pay."
Table: The Road Ahead in Genomics: 12 Scientific Opportunities and Challenges
Reference: Nature Reviews Genetics, August 24, 2020
1-Making Genomics Equitable
2-Genome Sequencing at Population Scale
3-A Global View of Human Evolution
4-African Genomics: The Next Frontier
5-Decoding Multifactorial Phenotypes
6-Enhancers and Embryonic Development
7-Spatial Multi-Omics in Single Cells
8-Unravelling the Layers of the Epigenome
9-Long Non-Coding RNAs: A Time to Build
10-FAIR Genomics to Track Tumorigenesis
11-Integrating Genomics Into Medicine
12-CRISPR Genome Editing Enters the Clinic
Posted on

by
---
Page last reviewed:
May 11, 2021
Page last updated:
May 11, 2021