Accelerating Precision in Public Health Surveillance and Response
Posted on

by
When our communities face a health crisis, the research, clinical, and public health worlds come together and collaborate. Public health programs drive toward prevention, diagnosis, and treatment of the population, but they need the support and guidance of data-driven research behind them every step of the way. While most of the data needed to accelerate research, and clinical and public health delivery come from traditional sources—such as clinical encounters and lab tests—data feeds from nontraditional sources , such as genomics, smartphones and wearable devices, environmental factors, social determinants of health, and consumer data are increasingly becoming important to create a more holistic and longitudinal view of patients and populations.
The common denominator to advance this holistic and longitudinal view effectively is a technological infrastructure that is well connected and allows for more seamless flow of data and information.

Public health surveillance and innovative research are predicated on a promise: give us access to data and we'll look at it in aggregate to unravel new patterns and monitor trends over time. These patterns can help determine what health threats are on the rise and what actions can be taken to prevent the spread of disease and protect the health of communities. The ultimate goal is to disseminate effective prevention strategies, informed by specific risks and protective factors. This requires the uninterrupted and timely flow of quality data, across settings. Unfortunately, many policy and technical challenges exist in the current health information infrastructure.
To address these challenges, the Office of the National Coordinator for Health Information Technology (ONC) recently published National Health Information Technology (IT) Priorities for Research: A Policy and Development Agenda (Agenda). The Agenda articulates a vision of a health IT infrastructure that supports alignment between the clinical and research ecosystems. It has two overarching goals with nine associated priority areas to capture high quality data and advance health information technology infrastructure: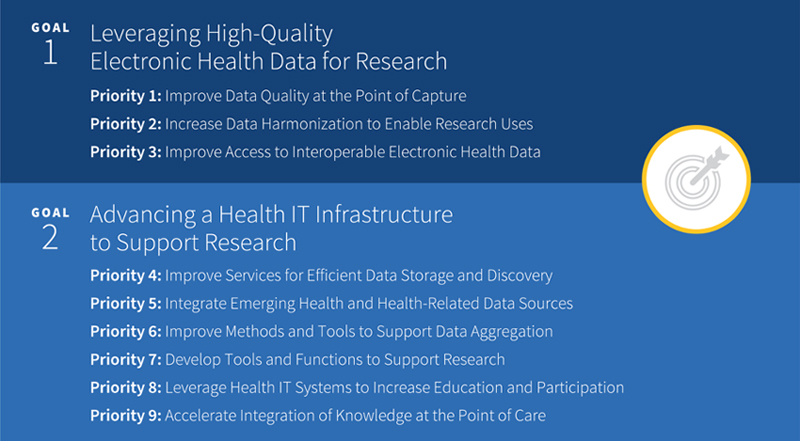 The nine priorities outlined by ONC have the potential to provide public health more streamlined access to data formatted in consistent ways across health IT products and outside the clinical walls. This improved access to "big data" accompanied by the unprecedented computational power that is now widely available on cloud-based platforms are two main drivers that can help realize the promise of precision public health. In particular, the approach articulated by ONC helps to support a "plug and play" environment in which public health guidelines and knowledge derived from public health data can be introduced to the point of care more quickly and easily than is possible under the current IT landscape. This has the potential to improve clinical decision making.
Although many of the priorities listed in the Agenda are directly applicable to public health, extensions to it will likely be needed to address public health–specific considerations. For example, in an emergency, it would be extremely beneficial for a treating physician to have network-derived intelligence—such as the local incidence of disease, signals from syndromic surveillance, indicators of vaccination rates, and the patient's complete longitudinal health data from the patient's various devices. Dr. Kenneth Mandl has stated previously that bringing this wide array of data streams into one view empowers that treating physician to better diagnose the patient's risk of disease and prescribe the best treatment or prevention protocol. The Centers for Disease Control and Prevention looks forward to collaborating with ONC on bridging any gaps needed for public health specific considerations and expanding the Agenda's impact on research.
The Agenda published by ONC goes a long way in helping to articulate how data needed for precision public health can be shared more creatively, productively, and responsibly. Soon, in part due to regulations recently promulgated by ONC and the Centers for Medicare & Medicaid Services, we will see more widespread adoption of digital infrastructure that supports diverse data flowing easily across boundaries. Connected ecosystems of different user groups including researchers, public health workers, and front-line clinicians will become the new norm. Health threats will be more easily foreseen ; treatments will be identified more quickly; and effective responses deployed more rapidly. This is the promise of the next generation public health.
"The findings and conclusions in this blog are those of the author(s) and do not necessarily represent the official position of the Centers for Disease Control and Prevention/the Agency for Toxic Substances and Disease Registry."
Posted on

by
---
Page last reviewed:
May 11, 2021
Page last updated:
May 11, 2021