Study of Children with One vs. Two or More Siblings with Autism Spectrum Disorder: Expected and Unexpected Similarities and Differences
Posted on

by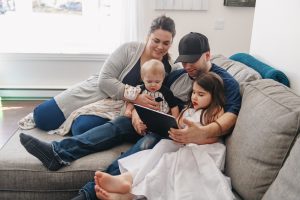 A recent prospective study from the Baby Siblings Research Consortium found that children with two or more siblings with autism spectrum disorder (ASD) were more than twice as likely to be classified as having ASD at age 3 than children with only one sibling with ASD. The Consortium was formed to facilitate prospective studies of children at increased risk of developing ASD due to having one or more siblings with ASD. Previous twin and family studies have shown that ASD has a strong genetic component, with a heritability of about 80%. A genetics work-up is recommended for all children with ASD.
The study investigators prospectively followed the youngest child from multiplex families (two or more children with ASD), and single-incidence families (two or more children but only one child with ASD). Researchers assessed children in the study at different timepoints during the first three years of life. At 6, 9, 12, and 15 months, researchers measured the cognitive abilities of participating children using the Mullen Scales of Early Learning (MSEL) and measured adaptive skills using the Vineland Adaptive Behavior Scales-Second Edition (Vineland-II). They continued to measure these abilities and skills at 18, 24, and 36 months and added the Autism Diagnostic Observation Schedule (ADOS) to measure ASD symptoms. Children were classified as having ASD based on assessment by expert clinicians and the ADOS score. Children who did not meet the classification of ASD were further classified as typical and atypical (developmental delays and/or social-communication concerns), based on ADOS and MSEL scores.
While children from multiplex families had higher rates of ASD compared with children from single-incidence families (36% vs. 16%), the children who met ASD criteria from both groups had similar ASD symptoms, cognitive abilities, and adaptive skills. Previous studies have shown higher rates of developmental disabilities in children with a strong family history of ASD who do not themselves have ASD, including high rates of subclinical ASD. (Subclinical ASD refers to social, communication, and personality differences, compared with controls, that are not significant enough to meet criteria for an ASD diagnosis.) However, in this study, the only difference in the children without ASD was lower cognitive abilities at 36 months in children from multiplex families, based mainly on lower visual reception and receptive language scores.
The authors point out that children from multiplex families were less likely to be classified as typical than children from single-incidence families (33% vs. 57%). However, the rates for atypical development are similar between the two, suggesting that the difference is mainly due to the higher rates of ASD in children from multiplex families. Differences in cognitive abilities and adaptive skills between children with and without ASD could be seen at 6 months and 12 months of age, respectively, for children from single-incidence families. In contrast, for children from multiplex families, differences in cognitive abilities and adaptive skills between those with and without ASD were not seen until 24 months of age. Because of this, clinicians might find it more challenging to differentiate children with and without ASD in multiplex families during infancy and early toddlerhood.
The study had some important limitations. ADOS and the other assessment tools provide more accurate scores for children at older ages, and classifications might change if done at older ages. (Most children with ASD are typically diagnosed at 4 years of age.) Some of the measurements include parent assessments, and parents with more children with ASD might be better attuned to ASD symptoms and thus more likely to report them in their children. Multiplex families tended to have more children, and thus more chances to have another child with autism. The study combined males and females when analyzing the data, even though ASD rates are higher in males and symptom severity may vary between the sexes. The majority of families were white and highly educated, and thus not representative of the US population. Previous studies have found differences in ASD rates by socioeconomic status. These findings suggest that children from low income families might be delayed in receiving diagnoses or misdiagnosed, which could lead to poorer health outcomes. To address this issue, CDC's Study to Explore Early Development (SEED) enrolled a diverse sample of families that vary by race, ethnicity, income, and other sociodemographic factors.
The higher rates of ASD in multiplex families suggests a strong inherited component of ASD seen in these families, and studies looking for genetic etiologies of ASD might benefit from focusing on these families. However, the similarity in ASD symptoms suggests that the cause is not fundamentally different—for example, the study authors suggest inherited mutations as the cause in multiplex families and de novo (new) mutations in single-incidence families, but both might affect the same genetic pathways. Furthermore, family health history is important in assessing risk for ASD, and the rates in both groups are substantially higher than the current 1 in 59 estimate for the general population.
The authors conclude that children from multiplex families should be assessed early and often and referred at the first sign of concern, which should be the case for all children, even those without a family health history of ASD. CDC promotes early identification and intervention through the Learn the Signs. Act Early. program. Even among children with a family health history of ASD, children present with symptoms at different times and with unexpected trajectories. By finding these children early, interventions and therapies can begin sooner.
Posted on

by
---
Page last reviewed:
May 11, 2021
Page last updated:
May 11, 2021