How Genetic Counselors are Dealing with Direct-to-Consumer Genetic Testing
Posted on

by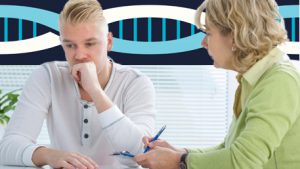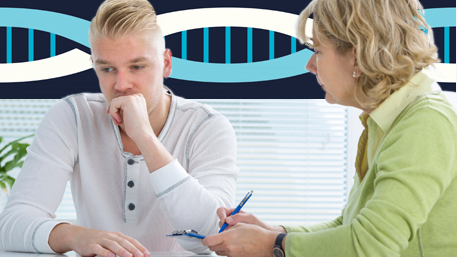 After receiving ancestry information from a direct-to-consumer (DTC) genetic testing company, Ellen Matloff, a certified genetic counselor and frequent writer about the limitations of DTC tests, downloaded her raw data file from their website for interpretation by a third party service. She was shocked to see that her raw data included a variant for Lynch syndrome, a hereditary cancer syndrome that causes an increased risk for cancers including colorectal, uterine, and ovarian cancers. As a genetic counselor, Ellen was aware of recent findings that 40% of variants found in DTC raw data files are false positives, meaning that retesting in a clinical laboratory showed that the variant was not actually present. Despite knowing that her result was probably not accurate, she still experienced the panic and fear that can accompany an unexpected result. Understanding results from DTC testing can be even more challenging for the millions of consumers who do not have specialized education and experience in the field of genetics, like Ellen does. Where should they turn for support?
Genetic counselors might be the first option that some would consider when looking for help in understanding their DTC test results. Genetic counselors recognize that there is demand for counseling about DTC test results. The topic has started to be covered in graduate training programs and continuing education courses, though no genetic counseling core competencies specifically address DTC testing. Genetic counseling is projected to have a growth rate of 29% from 2016 to 2026. However, there are currently only 4,818 certified genetic counselors in the US, while about 26 million consumers have used DTC genetic testing. Most clinics prioritize patients who have a clear indication for genetics services, for example, because of a strong family or personal history of a disorder, suspicious signs and symptoms, or abnormal genetic test results. While some individuals with DTC testing results will meet these criteria, most will not.
Most DTC companies do not provide in-house genetic counseling for their customers, although a recent Bloomberg article described how some DTC companies provide training for their customer service representatives on how to handle calls related to sensitive test results. To accommodate patients with DTC results, some genetic counselors are providing DTC group counseling, where they will meet with a group of patients with similar concerns, then discuss individual concerns with each patient. Some independent genetic counseling companies have been created to help address the growing need for genomic services, including DTC test result interpretation, through in-person and virtual services. The National Society of Genetic Counselors developed blogs about DTC testing and a brief interactive tool to help DTC consumers better understand their results and how (and if) to act on them.
As most consumers do not have immediate access to genetic counselors, primary care providers (PCPs) are often the first ones approached with DTC results. A recent study found that primary care providers have concerns about their ability to address DTC testing results and a desire for clinical decision support to help in interpretation of results. There have been some opinions published about how PCPs should approach DTC results, but there are no standardized guidelines for handling interpretation or referrals. Not every DTC consumer needs genetic counseling, but some may. Primary care providers and genetic counselors can work together to ensure that genetic counseling referrals based on DTC test results are made appropriately. PCPs can work with their patients to decide if the concerns can be effectively addressed during their appointment, or if a genetic counselor would be in a better position to help them. For example, people who, like Ellen, have used a third-party interpretation services for their raw data file and received an unexpected diagnosis may benefit from first having their PCP order genetic testing by a CLIA-certified laboratory to confirm the results. Genetic counselors can work with PCPs to provide feedback about which referrals are most appropriate.  This may include people who test positive for a genetic variant associated with an increased risk for disease, such as certain BRCA mutations which increase cancer risk.
Broader public health efforts are needed to educate the large number of DTC testing consumers, prospective consumers, and healthcare providers. Educational campaigns for consumers could include more thorough guidance on understanding DTC test reports, as well as information about if and when they should consider seeking support. To assist PCPs and other providers with interpreting DTC testing results, provider education could include explanations of the methodologies and limitations of DTC testing. It could also include information about how to do genetic testing in a CLIA-certified laboratory to confirm results and identify false positives prior to referral to genetic counseling. Clear guidance on these concepts may help PCPs address most concerns or questions from patients. These efforts should make it possible to assist a larger portion of the population, given the limited number of available genetic counselors. Genetic counselors could play a role in these public health efforts by aiding in the development of these materials. They can also help raise awareness of these campaigns amongst referring providers and other genetic counselors, letting potential patients explore these options first. DTC testing does not appear to be going away any time soon. Through collaboration and public health efforts, we can work to maximize the potential benefits and minimize the potential harms of DTC testing.
Posted on

by
---
Page last reviewed:
May 7, 2021
Page last updated:
May 7, 2021