Public Health Genomics: What's Next?
Posted on

by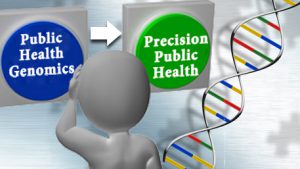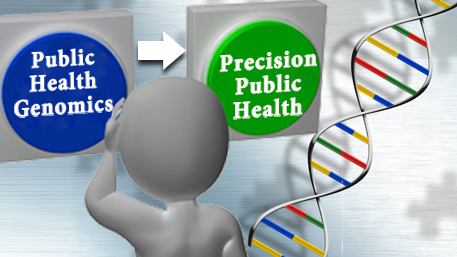 In the 1990's, the excitement surrounding the Human Genome Project led the public health community to plan for the future role of genomics in health care and disease prevention. The field of public health genomics was launched to identify opportunities for the new science to impact health, inform public health programs and health care providers what works and what does not, and integrate evidence-based genomic applications into programs that can improve health and prevent disease.
So much has happened in the past twenty years. In a recent article, we summarized our 20 year journey and how advances in genomics are beginning to impact cancer prevention, heart disease, birth defects and rare diseases, newborn screening, and the public health response to infectious disease threats. In the next decade, three issues will continue to influence the applications of genomics and other precision technologies in public health. These issues were also articulated in a recent Genome Medicine editorial board commentary about progress in the field.
First, we will see an acceleration of implementation of evidence-based genomic applications in medicine and public health. While most applications are still not ready for routine clinical practice, there is a growing number with adequate evidence for clinical validity and utility to merit integration into practice. The CDC classifies and updates genomic applications into three levels of evidence. These applications can be found in the CDC's Public Health Genomics Knowledge Base. In addition to newborn screening, some of the most promising applications are in the fields of cancer, pharmacogenomics, congenital disorders and cardiovascular disease. Our collective challenge today is to use principles of implementation science to maximize population health benefits.
Second, we will see model processes for evaluation and integration of whole genome or exome sequencing into health systems as part of routine care, including the integration with electronic health records. Several health systems in the US and elsewhere are integrating whole exome or genome sequencing into routine primary care. In our recent paper, we proposed a research-based approach to the return of genome sequencing results, a genome-first approach can accelerate evaluation of clinical utility of many genomic applications, including several pharmacogenomic tests and promising genetic risk scores, using randomized trials and implementation science.
Third, the emergence of precision medicine as a field that integrates genomics with environmental and social information to evaluate personalized intervention strategies has led to precision public health. Simply put, precision public health is an approach that uses the best available data including genomic and other health information technologies to target interventions to the right populations at the right time, and address health disparities. Applications of pathogen genomics to public health surveillance and outbreak investigations are one example of precision public health. Other applications include spatial analysis, machine learning, and data science to improve public health surveillance and health policy decision making.
While these topics are only the tip of the iceberg, clearly, there are now tangible genomic and precision health applications that can benefit a larger segment of populations and contribute to the overall mission of public health.
Our office will evolve by continuing to keep a close watch on developments in genomics and precision health fields, and apply evidence-based approaches in improving population health. We are interested in hearing your thoughts and feedback on how genomics and precision health technologies can drive public health practice.
Please submit your comments here.
Posted on

by
---
Page last reviewed:
May 7, 2021
Page last updated:
May 7, 2021