A summer internship at CDC
Posted on

by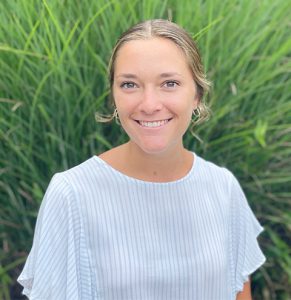 My name is Georgia Parsons, and I am an undergraduate student at Johns Hopkins University. This summer I interned with CDC's National Center for Environmental Health (NCEH) and the Agency for Toxic Substances and Disease Registry (ATSDR) Office of Communication.
NCEH/ATSDR protects people's health from environmental hazards that can be present in the air we breathe, the water we drink, and the world that sustains us.
My primary role as an intern with the NCEH/ATSDR Office of Communication was to help develop communication materials for various environmental health topics, including emergency preparedness.
Beginning My Internship Experience
Through the Hispanic National Internship Program (HNIP), I was matched with CDC/ATSDR and began my nine-week experience on June 21, 2021. The HNIP is an internship program of the Hispanic Association of Colleges and Universities (HACU) that pairs students with federal agencies and corporations. The HNIP provides direct experience matched to majors and career goals in a wide range of positions in the federal sector, including CDC/ATSDR. HACU partners with government and corporate sector organizations interested in developing the next generation of dedicated public servants and business leaders.
Upon starting my summer internship, I was introduced to my mentor, Germaine Vázquez, who is a health communication specialist and HNIP alumni. Shortly thereafter, I began working with her to contribute to NCEH/ATSDR's communication efforts. I was provided with information about the agency and the environmental health topics I would be working on in addition to helpful resources to assist me in completing my tasks.
My Role in the Office of Communication
One of my main projects involved developing social media messages related to CDC/ATSDR's investigations of the human health effects of per- and polyfluoroalkyl substances (PFAS). PFAS are a group of approximately 5,000 human-made chemicals that have been used in industry and consumer products worldwide since the 1950s.
People can be exposed to PFAS by drinking contaminated water, eating fish caught from contaminated water, accidentally swallowing contaminated soil or dust, and eating food that was packaged in material that contains PFAS. People can also be exposed to PFAS through consumer products such as water-repellent clothing, stain resistant fabrics and carpets, some cosmetics, some firefighting foams, and products that resist grease, water, and oil.
The communications team creates content for various social media platforms to help the public learn more about PFAS, CDC/ATSDR's PFAS research projects, and the potential for harmful health effects. To develop more effective social media messages, I compiled and analyzed PFAS messages published by CDC/ATSDR and identified trends to maximize the reach of future messages.
In addition, I wrote two articles for CDC/ATSDR's "Your Health—Your Environment" blog.
The first blog discussed cyanobacteria, also known as blue-green algae. Cyanobacterial blooms are mostly found in fresh water, such as lakes, rivers, and streams. Cyanobacteria may produce toxins that can be harmful to humans and animals. The blog focused on what cyanobacterial blooms might look like, how to avoid contact with them, what to do if people or pets come in contact with them, and the harmful health effects of cyanobacteria. CDC is conducting a research study to find out if breathing in cyanobacterial toxins can make people sick.
Second, I developed a blog for National Preparedness Month observed in September about emergency preparedness and emergency kits.
This blog discussed survey data which showed emergency preparedness in the United States is lacking: 54% of adults had no emergency preparedness plans and 64% did not have an emergency supply kit. Disasters can strike at any time, and it is important to be prepared when they do. An emergency supply kit and plan can help you stay safe and healthy in the event of a disaster.
What I've Learned and Where I'm Going from Here
I learned so much from this internship experience. I am very grateful to HACU/HNIP, CDC/ATSDR, and the communications team for making it possible.
One of the most rewarding aspects of my work this summer was following each of the projects I contributed to from the earliest stages to the point of being published. As a public health student, I have always looked forward to contributing to meaningful work that has a positive impact on the health of large groups of people. This summer I was able to do just that.
Being a part of the communications team has solidified my interests in health communication and education and I feel more prepared than ever to enter this field.
Upon completion of my undergraduate degree this spring, I will begin my Master of Science in Public Health at the Johns Hopkins Bloomberg School of Public Health. I want to express my sincerest thanks to everyone who made my experience at CDC/ATSDR so special.
I want to thank my mentor who helped me to step outside of my comfort zone, gain self-confidence, and learn so much while doing so. I feel so fortunate to have been placed in this assignment and cannot wait to continue working in the field of health communication.
Internship Opportunities at CDC/ATSDR
CDC/ATSDR offers a variety of hands-on training programs for students and recent graduates to learn more about public health science and develop leadership and critical thinking skills. All internships provide a unique experience in one of many public health fields, including health communication and environmental health.
If you are interested in learning more about internship opportunities at CDC/ATSDR, visit: https://www.cdc.gov/fellowships/short-term/index.html.
Posted on

by
---
Page last reviewed:
November 2, 2021
Page last updated:
November 2, 2021