Staying Safe from Cyanobacteria (Blue-green Algae) in Fresh Water
Posted on

by
Summer Scenario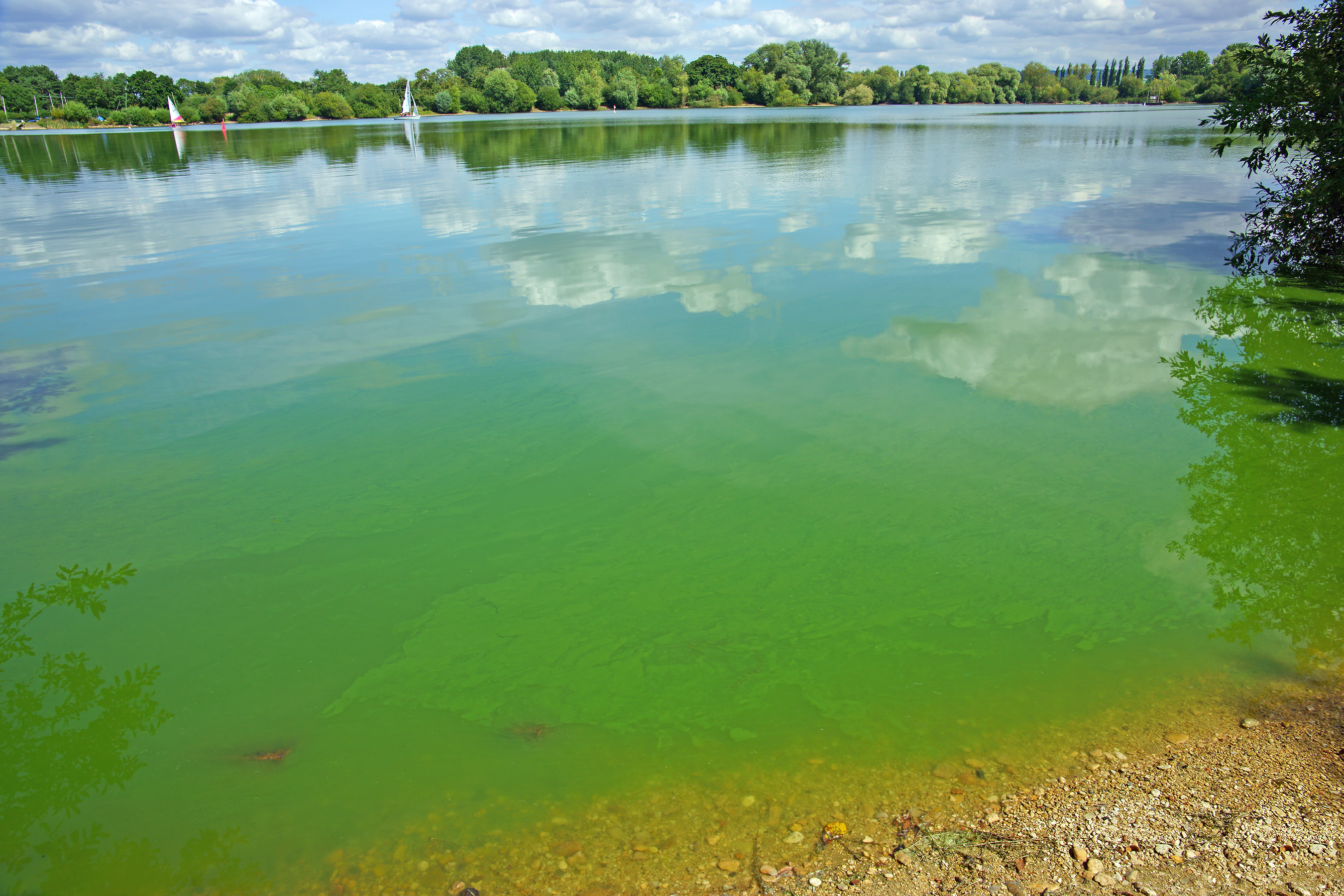 This summer, a family went on a hike around their favorite lake with their dog Max. Brian, the dad, led the way and chose a route known for its lake views.
Midway through their hike, the family stopped for a break and to admire the view. Mia, the family's mom, looked out over the water and noticed the color was different from what she expected.
"Brian, don't you think that looks odd?" Mia asked as she motioned to the green, paint-like streaks on the water. Brian was sure it was just some plant matter from the lake washing toward the shore, and their teenage daughter, Jessie, agreed.
As their day of hiking came to a close, Brian and Mia let Max run ahead to go for a swim in the lake. They always let Max swim on their hikes, but when they returned home, they knew it had been a mistake. Max stumbled out of the car and threw up multiple times in the yard. Brian called the family's veterinarian. He explained Max's symptoms and mentioned that the family had just returned home from hiking at the lake.
The vet asked if Max went swimming in the lake and instructed Brian to rinse Max immediately with clean water and then bring him into the office. Max had swum through a cyanobacterial bloom and been exposed to the toxins (poisons) that the bloom produced. Max required several days of supportive care.*
*Note: This vignette is a fictional account showing the potential health effects of cyanobacteria for pets.
What do we know about cyanobacterial blooms and related illness?
The scenario described above highlights the potential health effects of cyanobacterial blooms for pets. Cyanobacteria, sometimes called blue-green algae, are simple, plant-like organisms that live in all types of water, including fresh, salt, and brackish (mixture of fresh and salt). Under certain conditions, cyanobacteria can grow out of control to form a bloom. Cyanobacterial blooms are mostly found in fresh water, such as lakes, rivers, and streams.
Some blooms, such as the one that Max encountered, can be harmful to humans and animals by producing toxins (poisons) or releasing harmful gases. Swimming, wading, or playing near contaminated water can cause illness. The signs and symptoms of illness can differ based on how someone was exposed, and include skin, nose, or throat irritation; vomiting; stomach pain; and dizziness.
Blooms vary widely in appearance, but if you know what to look for, you can keep yourself and your pets safe. Some characteristics include:
Change in the water's color to green, blue, brown, red, or another color.
Bad smell coming from the water.
Foam, scum, algal mats, or paint-like streaks on the water's surface.
Dead fish or other animals on the water's shore.
It is impossible to tell just by looking at it if a bloom is producing toxins that could be harmful to people and animals. It is important to keep yourself and your pets or livestock out of water that shows signs of a cyanobacterial bloom.
Protect yourself and your pets from cyanobacterial blooms.
Harmful cyanobacterial bloom-related illness can be very severe, but you can take action to prevent yourself and your pets from coming into contact with the toxins that make you sick.
Check local advisories before visiting a body of water.
If you notice signs of a bloom in the water, stay out!
Follow state and local guidance related to blooms.
Check local shellfish and fish advisories before eating anything you collect.
Do not boil and consume water that may contain cyanobacteria because boiling may concentrate toxins.
Think you might have been exposed to cyanobacteria?
If your pet has been exposed to cyanobacteria, they may have symptoms such as vomiting, stumbling, foaming at the mouth, diarrhea, loss of energy and appetite, excessive drooling, tremors, or other unexplainable illness. Wash your pet with clean water immediately and call your veterinarian if you suspect they may have come in contact with a bloom. Other helpful hotlines include the Pet Poison Help Line (1-855-764-7661) and ASPCA Animal Poison Control Center (1-888-426-4435). (Note: there is a fee for these calls).
CDC is working to learn more about exposure to cyanobacteria and associated health effects.
CDC's National Center for Environmental Health is conducting a research study in Florida, called the Cyanotoxins in Air STudy (CAST), to find out if breathing in cyanobacterial toxins (cyanotoxins) can make people sick. If you live or work on Lake Okeechobee, St. Lucie River, Caloosahatchee River, or Cape Coral Canals, you may be eligible to participate in this study. Participants will receive incentives for volunteering their time and must satisfy the following criteria:
Be 18 years of age or older
Live or work near a canal or river
Spend at least 2 hours outside on most days
Be willing and able to participate in study activities, including a lung function test
If you are interested in learning more or participating in the study, visit https://www.cdc.gov/nceh/cast/participate.htm or call 561-297-4631.
More information about cyanobacteria:
Posted on

by
---
Page last reviewed:
August 9, 2021
Page last updated:
August 9, 2021